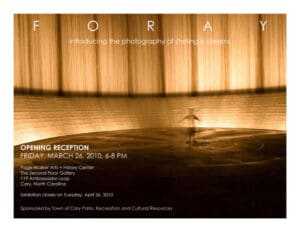 March 8, 2010:
  Wow, it's time! My first solo showing,
"Foray"
, is happening on the second floor gallery of the Page-Walker Arts & History Center in Cary, North Carolina. The address is 119 Ambassasor Loop. The opening reception is on Friday, March 26, 2010 between 6-8pm and the 24-piece show be on display through April 26, 2010. "Foray" is being sponsored by the Town of Cary Parks, Recreation and Cultural Resources.
December 15, 2009:  I'm happy (maybe more than happy!) to announce I've been awarded a 2010 Regional Artist Project Grant from the United Arts Council of Raleigh and Wake County.
November 3, 2009:  The Fall 2009 issue of ArtSync Magazine is out! Among its MANY goodies, the issue includes an interview with international artist H.R. Giger (p. 60) and the first installment of my new regular feature, "Dare to Revel". (p. 20-21). Check it out online, should be available in print across North Carolina soon! (Looks great Christine!)
August 1, 2009:  I'm pleased to announce that I'll be a contributing writer with ArtSync Magazine! Thanks to Christine Clemmons, I'm looking forward to the opportunity!
June 25, 2009: Just wanted to thank the North Carolina State Fair for the shoutout in their blog!
September 25, 2007: JPG Magazine, Issue 12 features nine designers who photograph, including myself. To get JPG, you can subscribe, or find them in bookstores such as Barnes and Nobles and Books-A-Million.
I was the latest artist interviewed by SolidSnake Designs, an interactive online art community filled with many web resources. It was a lot of fun, thanks Whitney!
September 1, 2007 – I'm one of the featured artists at the Carolina Scenes show, part of the Junior League of Raleigh's SPREE! at the RBC Center. It is co-sponsored by the Visual Art Exchange for the fund-raising benefit of JLR, truly a worthy cause in the spirit of voluntarism. The show will take place during October 17-21, 2007.