It's not every day you get to commercially photograph a building in the same location you've shot art photography. However, that was the case for Blok Architecture's recent infill project in Durham, North Carolina. I, like many local photographers, have captured this previously practically abandoned alley over the years. As Durham has dramatically grown from the doldrums of the past several decades, with shiny new buildings and renovations popping up everywhere, the city seems to be seeking to strike a balance between necessary gentrification and Keeping Durham Dirty.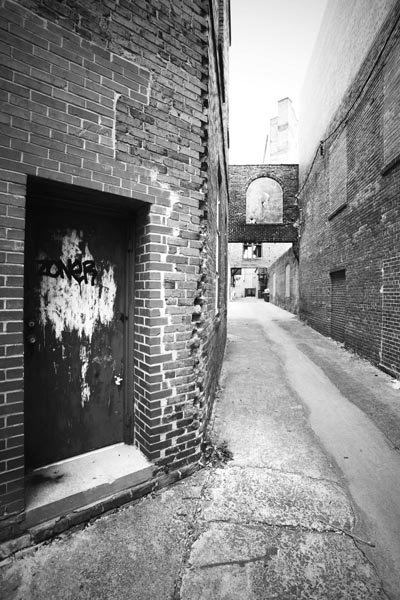 When the architect, Sasha Berghausen, informed me of the project's location and relayed the design, I channeled my inner Barney Stinson and was like, "You designed a what? Where?"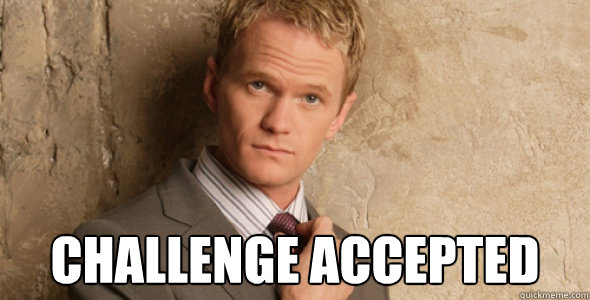 To describe this as an infill project doesn't really get to how "infill" the location really is- the two story office building has no street frontage and as is completely surrounded by other buildings with only an alley serving as entry. Check out this drone shot Sasha took earlier this year above the roof. As you can see, much of the building footprint is consumed by a necessary fire exit staircase.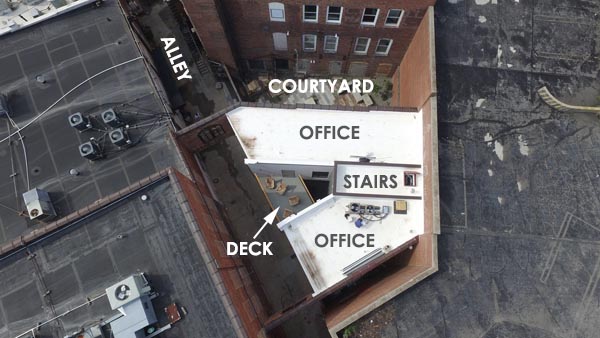 Good architecture is about forming tangible and inferred connections through purposeful design. See how this modern design with equally modern materials visually fits within its surroundings, utilizing the existing brick wall yet emerging from it.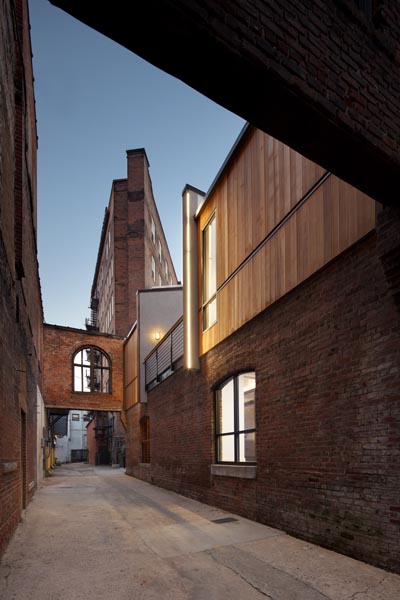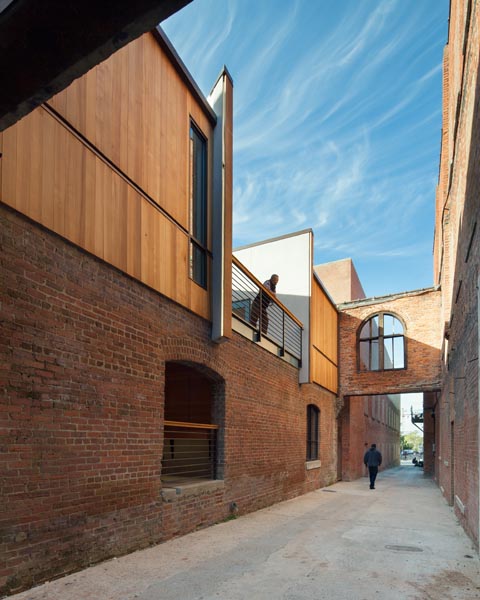 Visitors pass through a rusted metal entry gate to enter the courtyard. Nice, right? Get this – it's wheelchair accessible – that's right, the concrete pavers organically yet gradually slope up towards the building's entry.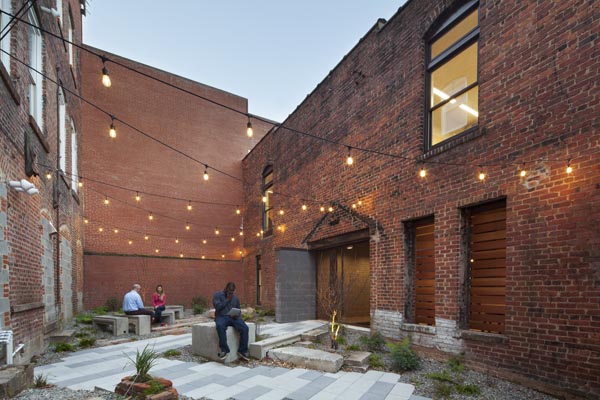 Upon entering, you're greeted by an outdoor-indoor space. You can continue into conditioned portions of buildings to the left, or stick around to the right for a break or entertainment. Large rolling wood doors open to reveal the outdoor alley and close for security measures. After all, this still is Durham. You'll notice the courtyard (or atrium? it's so tiny I don't know how to accurately label it) reveals the sky above, bringing in elements of light and air to enjoy the day.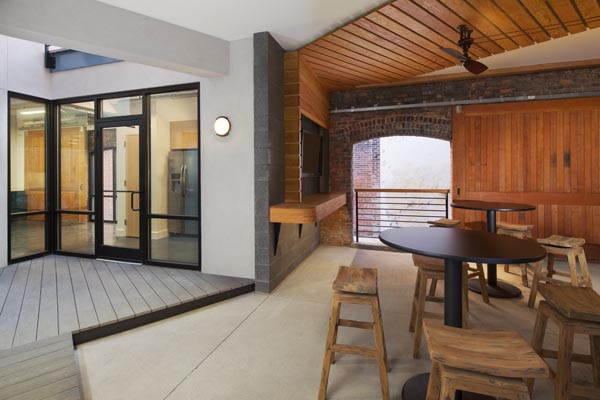 Looking up allows view of the deck above and the sky beyond.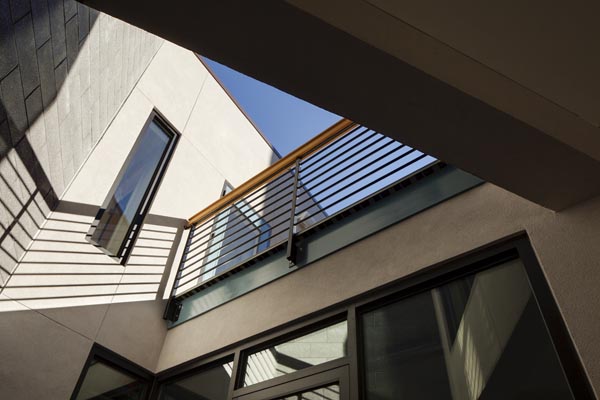 As a former designer, I fully appreciate how much thought goes into a small project like this, so as a photographer, playing with scale, layering, and how spaces connect was fun. This photo illustrates how much design is jam-packed into this tiny crevice. I shot it from inside the conference room, which narrows into the kitchenette. Simultaneously, through the glass, you can view into the outdoor break area and courtyard/atrium. A second-story office window can be spied in the upper-right corner of the image. Finally in the rear you can see hints of the entry courtyard beyond.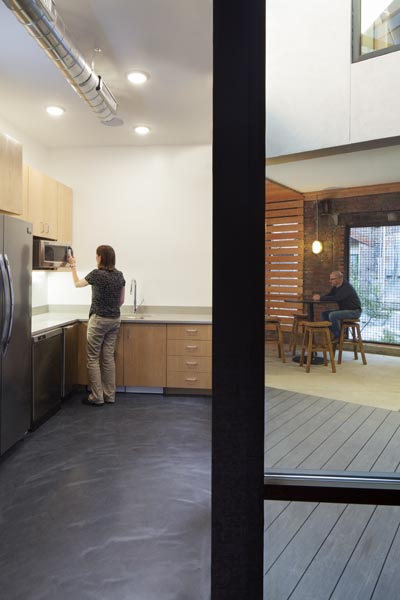 Below is the conference room. Another large wood door opens to allow natural light in and maintain security.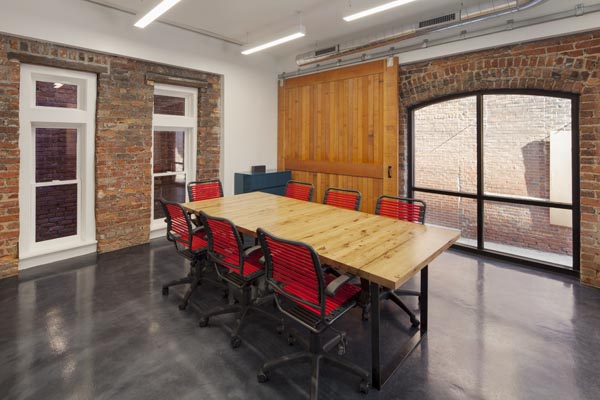 The second-floor office spaces all find a way to interconnect with each other. Rolling interior doors allow for privacy and division of space.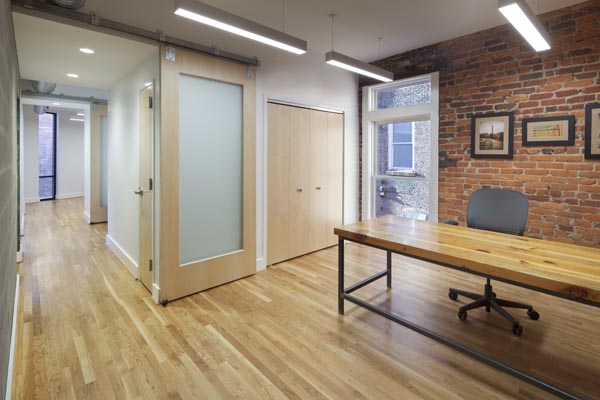 Each individual office has some sort of window view, whether into the courtyard, to the alley, and/or deck.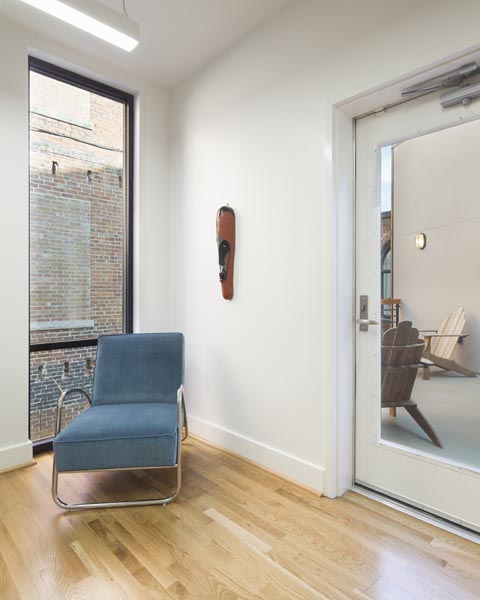 When I studied and practiced architecture, I developed an intrinsic interest in infusing new energetic design with maintaining the integrity and personality inherent to existing urban environments. (I just wanted to see how many big words that start with the letter "i" could be fit into one sentence.) This is the type of project I would've loved to tackle, so it's great to live vicariously through those who actually get to do it. A little bit of old mixed in with the new, this building succeeds in keeping Durham dirty yet cleans it up at the same time.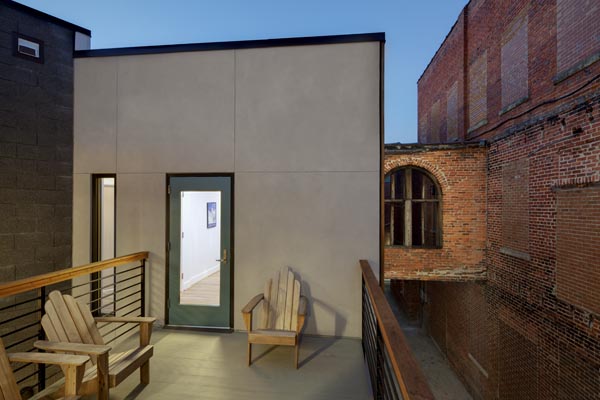 What a 2015! This is the last project blog for the year. I hope you've found my descriptions of viewing architecture through photography informative, and gained insight into what makes both professions.