That's right – more rural photography. Two fellow photogs and I recently traveled to meet up in West Virginia with two other photogs at the abandoned Trans-Allegheny Lunatic Asylum. Since we all a) like photography b) appreciate abandoned places and c) enjoy trespassing to do so, we thought it'd be an ingenious idea if we did all three simultaneously in group form. Before we left in the morning, I got a little North Carolina exploration out of the way by revisiting a house I discovered a few days before on the way to a job site.
DAY ONE: OCTOBER 18
There was a lot of junk in this abandoned site, but what personally stood out were old "Plain Truth" magazines from the 1970s strewn across the floors.  I happened to have grown up in the Worldwide Church of God, the original publishers of the magazine.   Without rehashing details, I haven't really looked back since those days.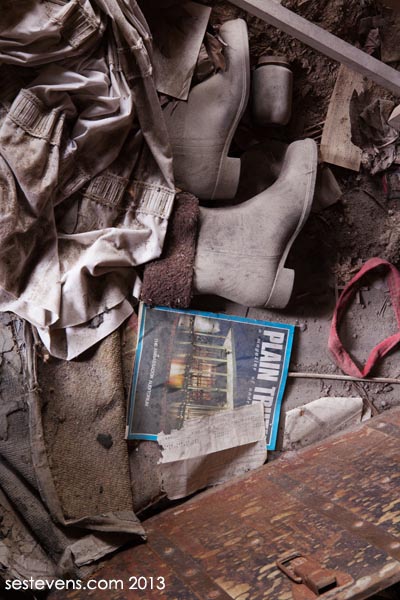 Plain Truth (2013)
I had no clue Windex was aerosol spray cans, but it makes sense, I guess everything was back then!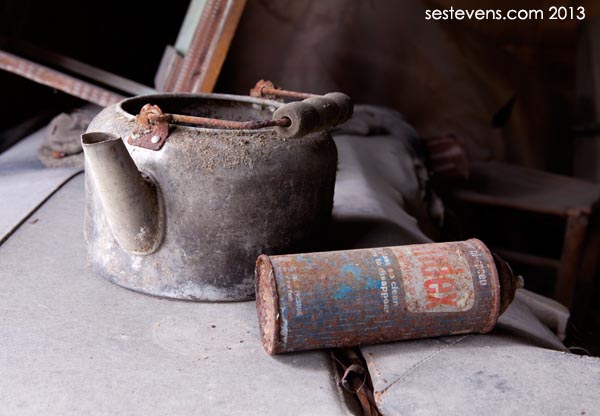 I always like walking into an abandoned site and see where all the photographers who discovered the site before me set up their props.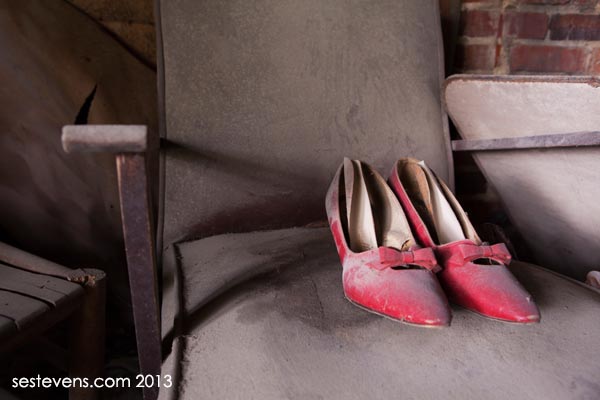 My absolute favorite part was the rear of the house.  It looks like it's been squatted in, though not anytime recent.  There were disintegrated mattresses, empty alcohol bottles, and some sort of journal or log with entries that dated back to 1910.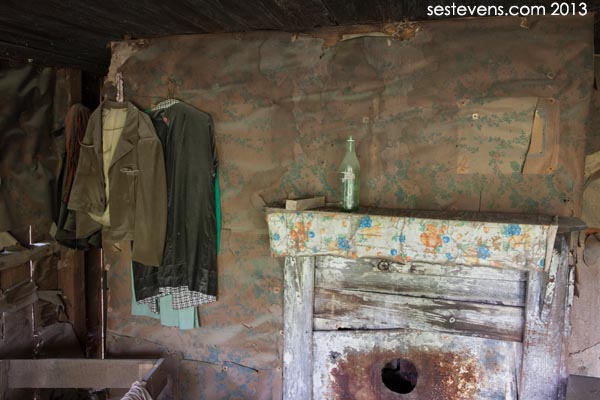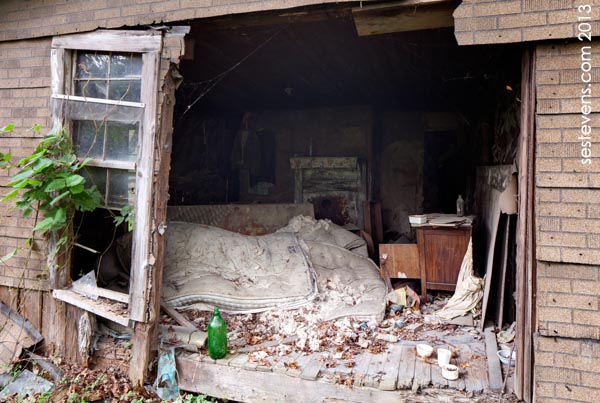 Everything Falls Apart (2013)
Satisfied, it was onward through the hills of West Virginia where we saw several beautiful locations yet heard nary a banjo.  What's up with that?
I didn't shoot at every location we stopped at, but these were the particular sites that interested me.  The first was some sort of general store that appeared shut down since the 90s.  Plenty of props – er, artifacts – here.  Below isn't a typical shot for me, thought there was something very beautiful about the plants and the guardian angel.  I'm usually not that sensitive with my photos. 😉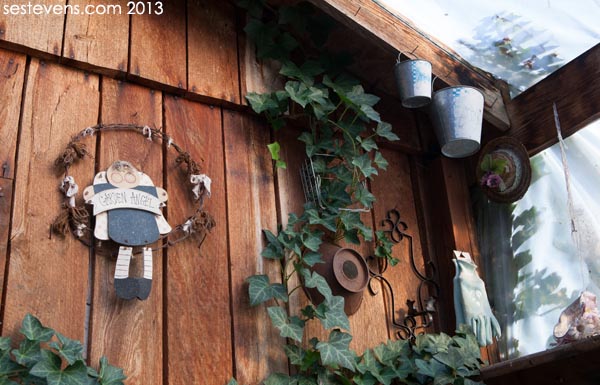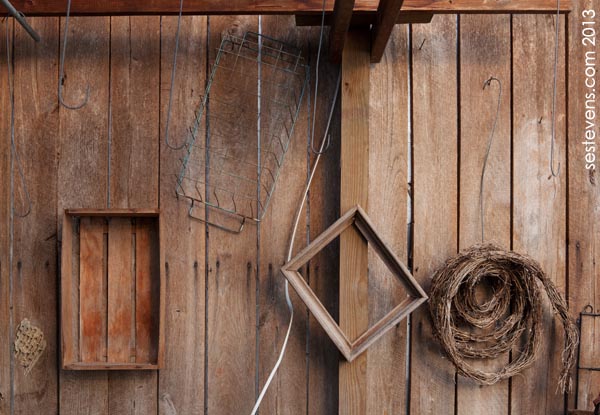 The woman's hat also wasn't a typical shot, but you've got use depth-of-field SOMETIMES.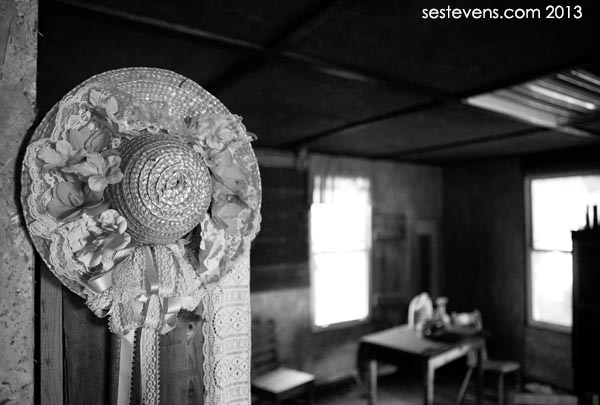 I'm always surprised walking in and seeing how many preserves, bootleg, and other homemade products are left behind in places like this.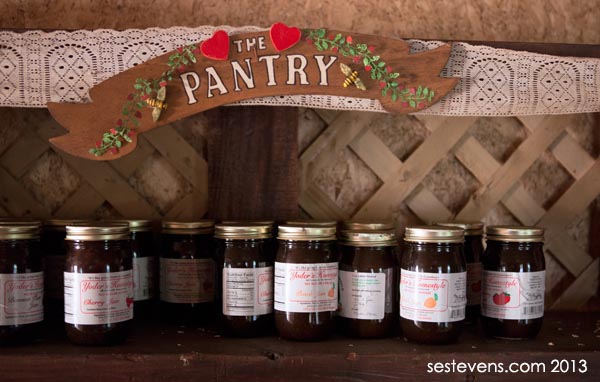 DAY TWO: OCTOBER 19
We were set on traveling to Babcock state Park early in the morning.  I was stoked because it was my first time visiting since 2009 and I wanted to see how my photography progressed since then. Not to mention it was peak colors in West Virginia and overcast.
Before we arrived, my travel companions found this barn on top a hill.  It's my favorite I've seen since traveling through Arkansas last year.  Two things I think made it different was the ajar door – which was perfect – and its companion tree. The sight felt like two lifelong friends who've spent their entire lives talking every day, watching the world go by.  Some have said the tree looks like an animal head and one of my friends labeled it the "big bad wolf".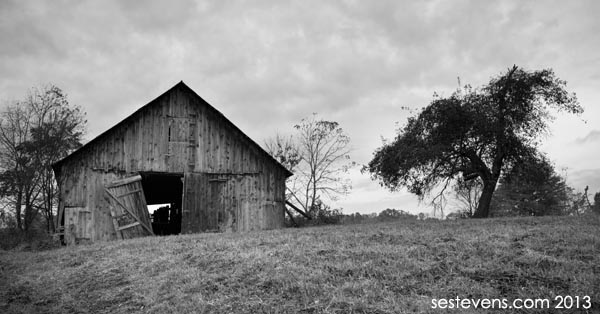 Two Old Friends (2013)
An hour later we were at Babcock State Park.  In 2009, I came away disappointed with the result of my early morning view of Glade Creek Grist Mill.  To be honest, I may have been looking forward to this new autumn opportunity with greater excitement than anything else on this trip.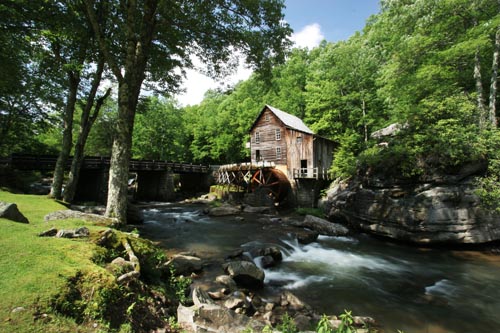 Sometimes you're unsure if you got the shot you desired.  This was not one of those times. I walked away confident that if nothing else went right on this trip, I pulled off the exposure I wanted.  What a perfect, peaceful overcast day, there must've been about another 20-30 photographers all over this location and it was as quiet as a library.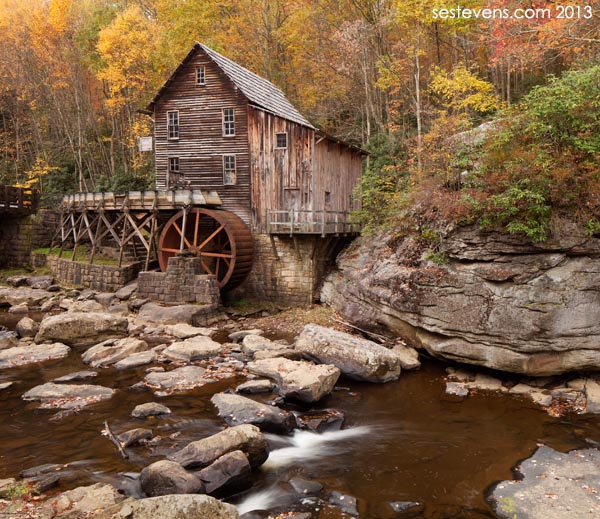 Glade Creek Grist Mill (2013)
On overcast days I really don't like the way clouds and skies come out.  You'll notice on the above photograph I was very careful to ensure nothing but fall colors filled the frame. The image below makes for an easy comparison between sky and lack thereof.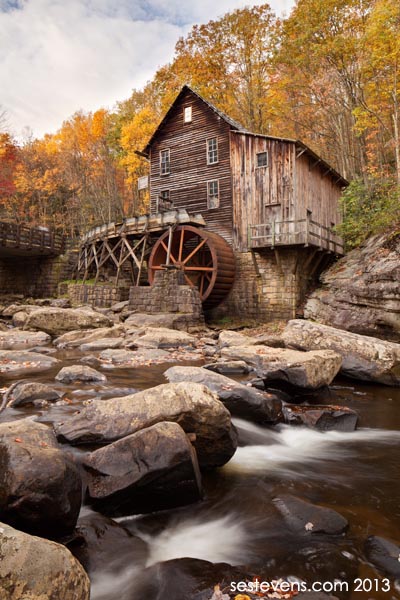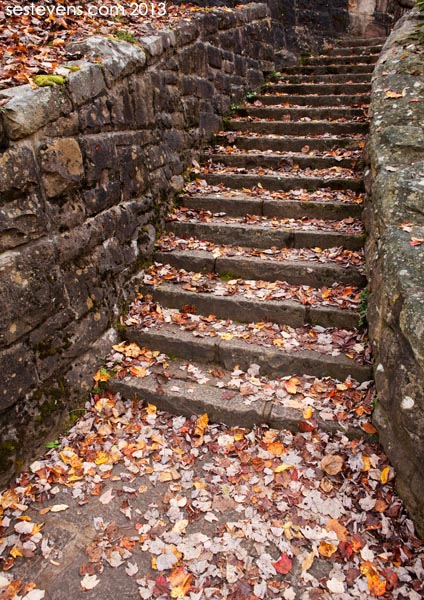 I'm not sure what I was thinking here.  I guess the red popped out.  It's so…nature-y.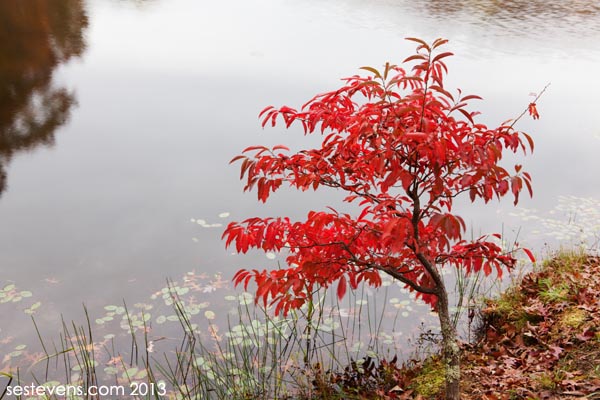 We found several rural barns and houses.  This abandoned house was located on some sort of ranch.  Not sure how old the house is, but I'm going to guess 19th century.  No interior plumbing so also guessing there was once an outhouse.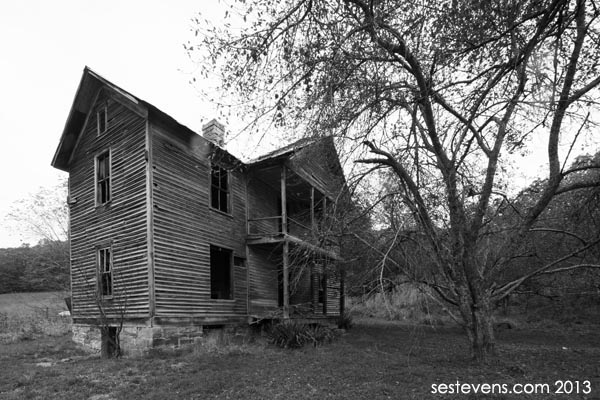 Can't beat the wallpaper in some of these houses.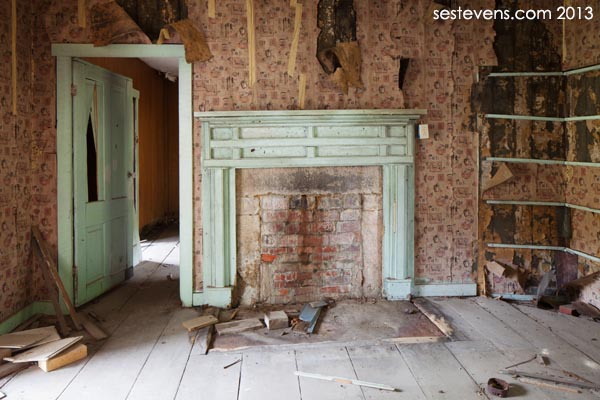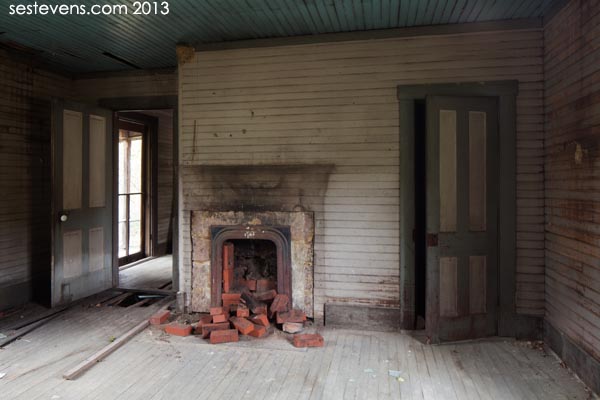 This is one of the few places that I've seen that didn't look it had been touched by other photographers!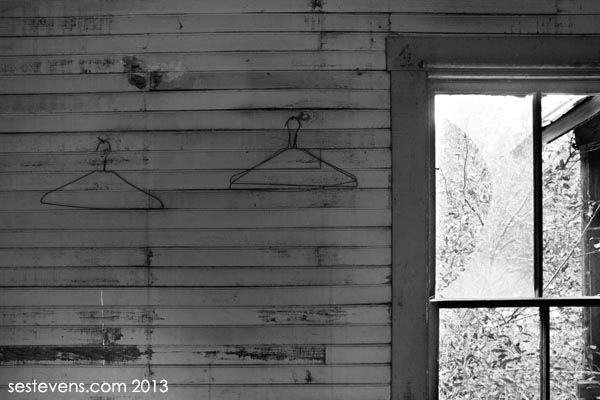 DAY THREE: OCTOBER 20
We almost passed up what became my favorite abandoned house of the trip.  Located near one of the state parks, we doubled-back to check it out.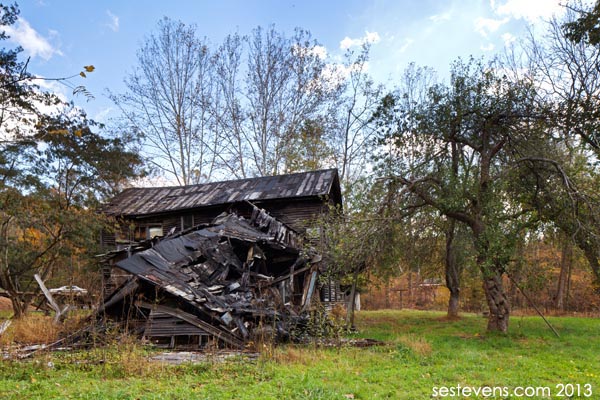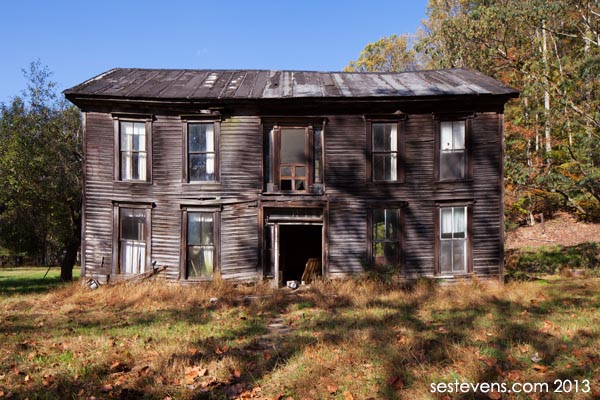 We ventured in and was surprised at the wealth of memories that were inside. Most calendars inside said 2004, so I'm guessing that's when the fire was.  It's as if once the fire started, the people inside immediately vacated and left everything behind in its current state.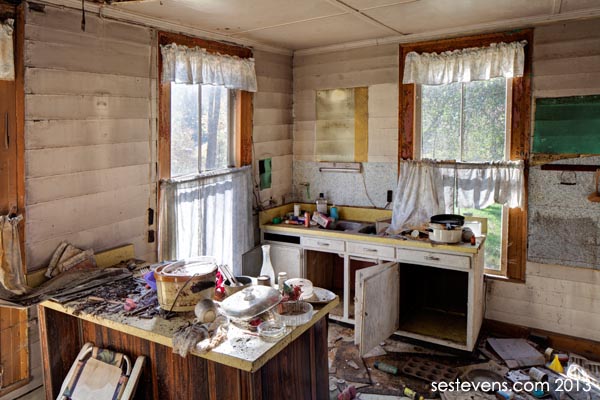 Of everything we'd seen – this house had by far the most colorful and diverse interiors.  The closet below has become one of my sentimental favorite views.  It's the red shirt that really sets this one off.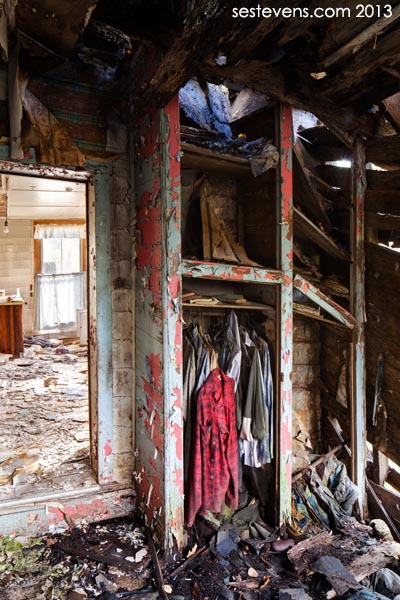 Vacated (2013)
Second floor was kind of unstable, but c'mon…I mean look at this.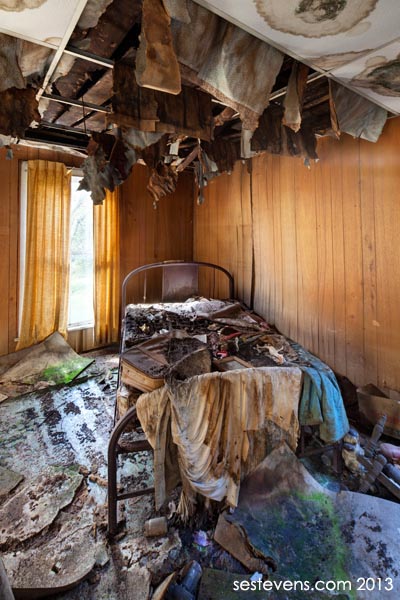 The last house we discovered was a hoarders paradise – so filled with junk it was impossible to get a clean view anywhere. I did take one shot in an open closet space upstairs though. Not sure what it is, but many of the disintegrated houses I've lately come across have clothes in them.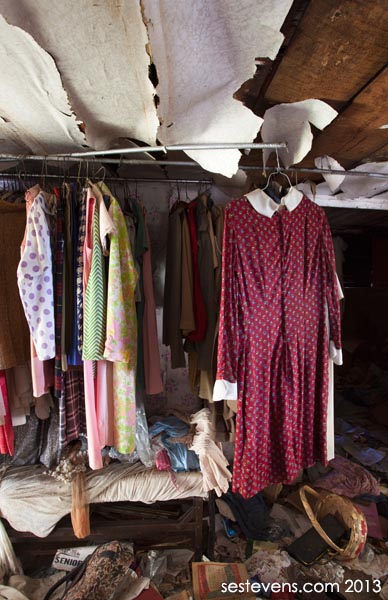 Okay, that's it with the fun stuff for now. I'm not sure when I'll post about the abandoned asylum as they're sitting on my drive and I haven't had time to look at the pictures yet. We'll get there before the year is out. 🙂