So I recently took a two-week road trip that I will completely present out of order. The first stop is Memphis, TN in which I stopped briefly on the way in and stayed for a weekend on the way back to Carolina. My friend, Jerry Coleman graciously hosted me and it was great to catch up with him and meet his family. Jerry was my TA during my first design studio in architecture school and though we've kept in touch, I hadn't seen him in at least 15 years. He's been making it with his design firm for the past several years and might I add, doing quite well!
This is Memphis. There's much about the city I still have to explore, areas I'd like to revisit and some sites I didn't get to photograph that I hope to in the future when I visit there again. The night life alone Beale street is a little touristy, I'd eventually like to catch it on an "off" night.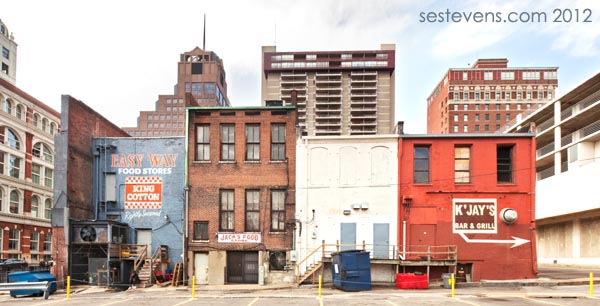 Of course, I shot some of the local landmarks such as the Peabody Hotel and Orpheum Theatre. Though photographing the Orpheum wasn't quite catching lighting-in-a-bottle such as when I took the Chicago Theater, I was geeked with the final result.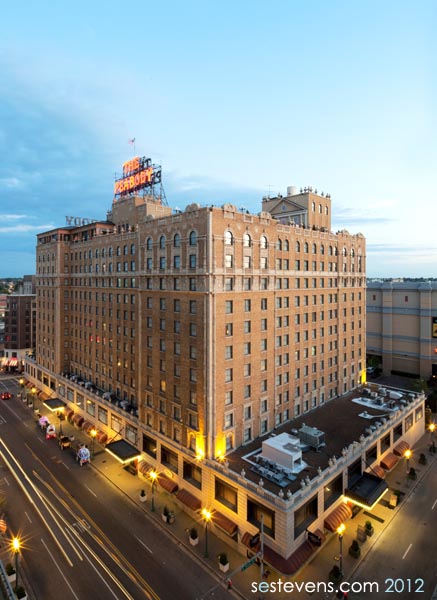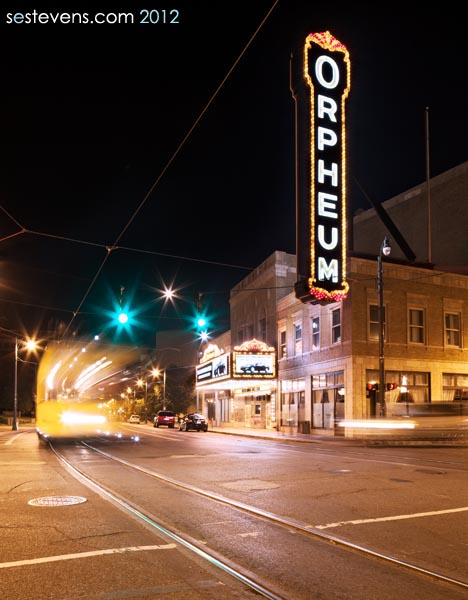 The Orpheum (2012)
The industrial vernacular permeates both traditional manufacturing and shipping structures as well as contemporary office buildings. You can see some of that in the alphabet-block design of MIFA and the Bridges Center near downtown (gee, I wonder what the inspiration for BRIDGES was?)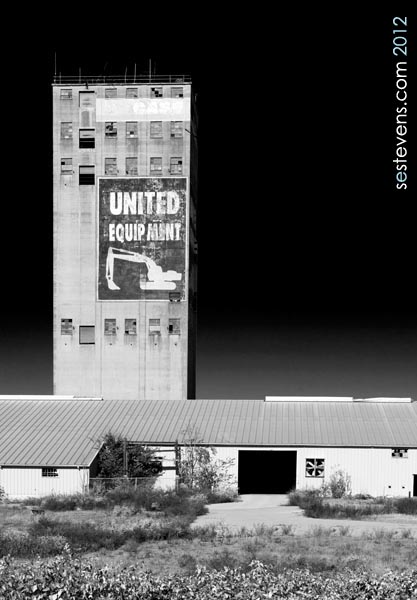 United Equipment (2012)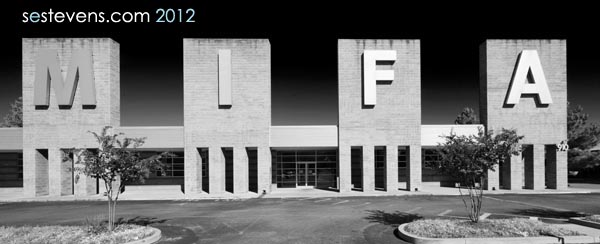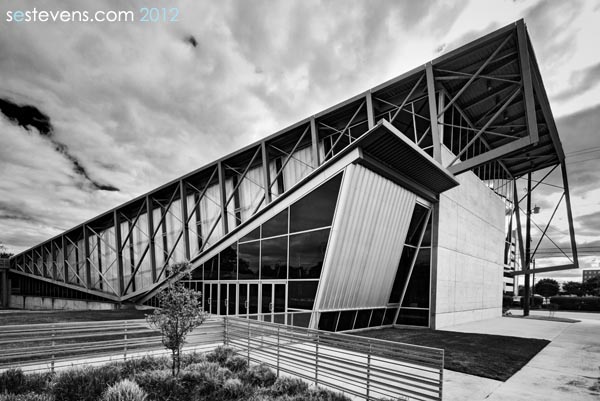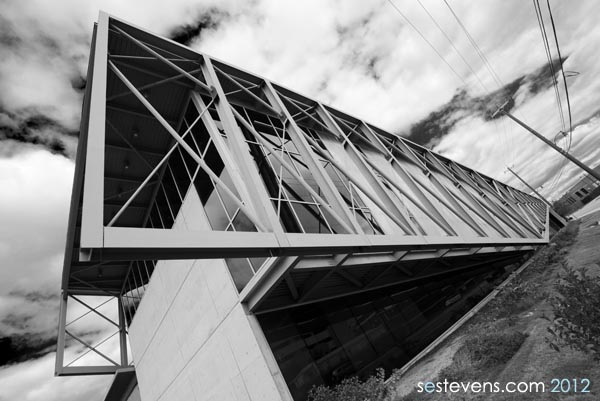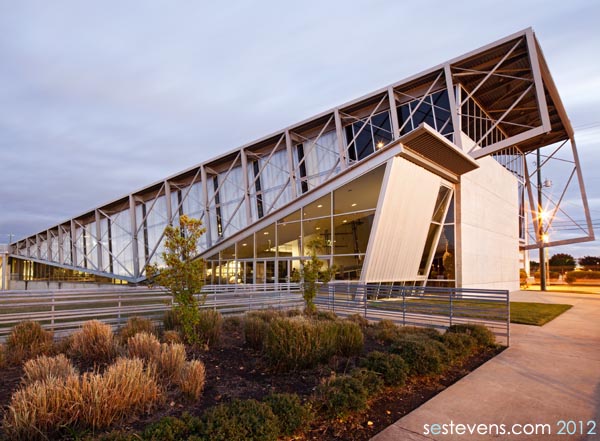 Bridges (2012)
One of the places I absolutely had to see was the National Civil Rights Museum, in which I had mixed feelings. Having been so directly impacted by the movement to revisit the circumstances in which Martin Luther King Jr. was assassinated and what it means, to see exactly where it happened, how it's been preserved/reconstructed, was an emotional experience. On the other hand, I'm going to have to say – it's a little touristy and the interior of the main museum could use an upgrade. It's just weird seeing people take family pictures in front of the wreathe, you know? Anyways, this was one shot I took with my cell phone as I was leaving.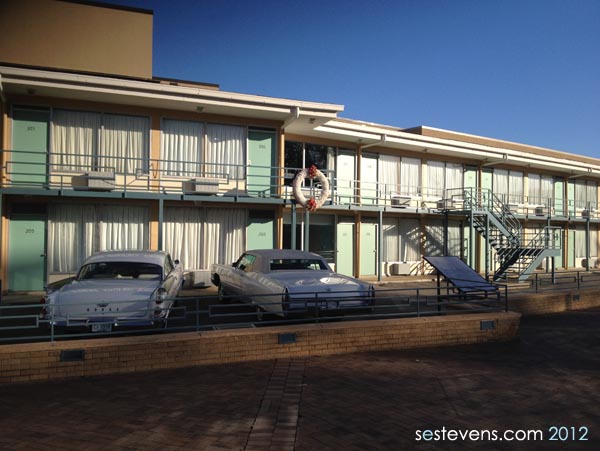 The introductory movie in the theater is well worth seeing all 32:44 – it's interesting how many things have changed, and how much hasn't. Incredible how many buzzwords and concepts linger strongly in the majority American mindset to this very day.
The Witness: From the Balcony of Room 306 from Marc Altshuler – Human Music on Vimeo.
That's about it. Just like most of the road trip, I saw more than I actually photographed, which I think is the point of having a real break! It's just great getting out to see new places, people, and things. Of course, it's also nice to revisit old favorites, like White Castle.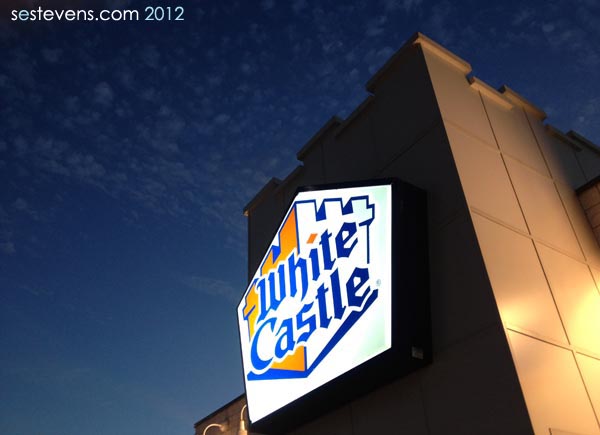 Oh yeah (drool).
White Castle.