When I planned this latest trip, I knew I'd hit Memphis and Dallas, but noticed there was this state in-between: Arkansas. What in the world is in THAT state? So I asked my Facebook. After several people suggested driving through without stopping, many friends stepped in to make recommendations, which launched my planning for visiting the northwest part of the state.
After spending a combined 8 days in the region, I traveled enough of northwest Arkansas to fill two blogs worth. I highly recommend checking out this gorgeous state, excepting the town of Harrison and some other outliers – I'll get to that in the second part. However, to everyone who suggested I simply skip the state, I present you with this very mature response:
NANANANANANEEEEEEEENER, NANANANANANEEEEEEEENER
Moving on – if you're a die-hard American conservative or Republican, I realize you're feeling a bit sensitive post-election, so you may want to skip the first few photographs.
To everyone else, man, the Clinton Presidential Center in Little Rock, Arkansas is pretty sweet. There's simply no other presidential library like it, and sustainable at that. I can't wait to see what the Obama one will eventually look like.
DISCLAIMER: I accept no responsibility if you have to go to the emergency room after reading that – it's your own fault.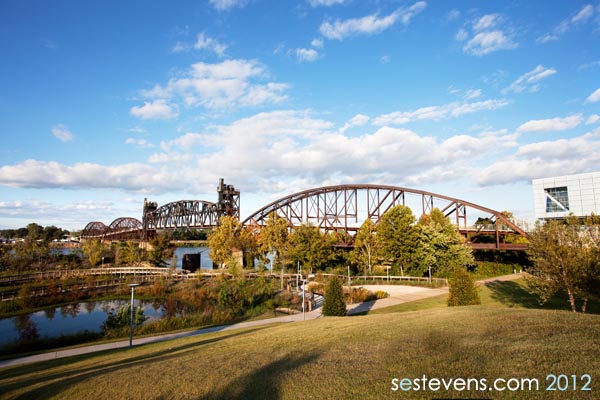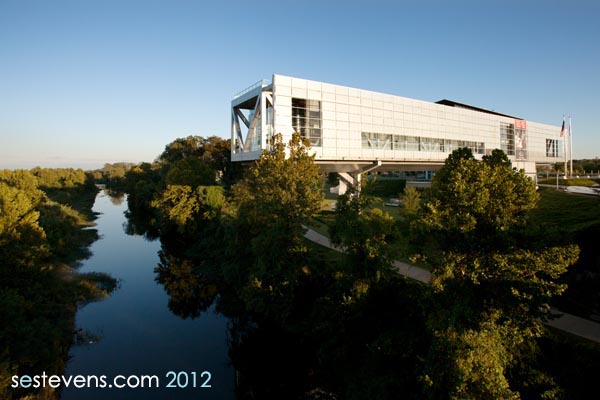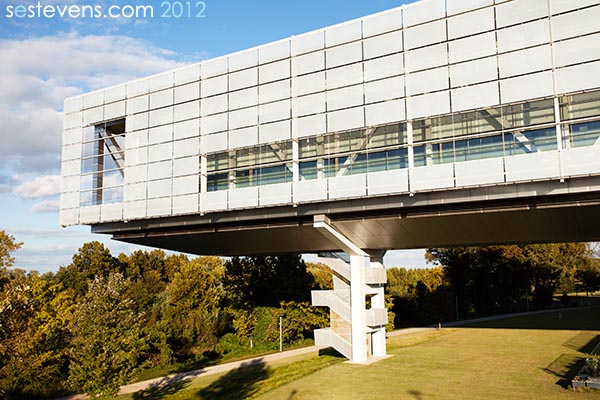 Okay, the rest of you can rejoin the blog narrative now. Usually I'm able to pick out something to document in any city, but Little Rock didn't inspire me at all. In fact I didn't take many pictures during the first five days of my trip, so I don't know if I was just too exhausted, weary of taking photographs, or what; sometimes you just need a break. I also checked out Hot Springs, Arkansas, a city that is an ode to Art Deco. Again, didn't really take any shots here except these apartments (below) that don't even fit into the city. I mainly just wanted to see it as a tourist. There's a nationally historic row of bath houses, most active, that shows how Hot Springs really lived up to its name. I'd love to see this area have some sort of economic revival it could use it.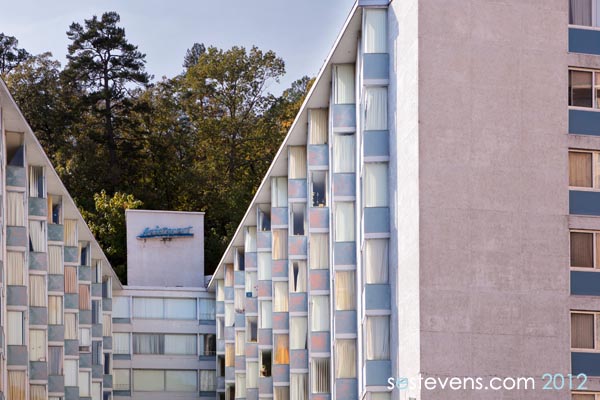 Got to see the architectural wonder Thorncrown Chapel in Eureka Springs and its metallic knockoff the Cooper Memorial Chapel in Bella Vista. Couldn't really take pictures at Thorncrown since they have rules about where you can go – though that would've been awesome – but at least got to see it in person, which is the important part.
Wal-Mart is headquarters in Bentonville, Arkansas and lemme tell you – there are Wal-Marts EVERYWHERE in Arkansas. Driving through Fayetteville, I easily drove past six different Wal-Marts in about 15 minutes; all different types too – it was the first time I had seen Wally World grocery stores. The Walton family fully funded the Crystal Bridges American Art Museum in Bentonville. Pretty neat structures. I'm on vacation, one of the few times I really shoot for leisure, so was a bit bummed out with the poor weather, overall dry conditions that affected the waterfalls, and not being able to capture Thorncrown, particularly at night. At least I had Crystal Bridges, right? During my first visit, security was cool and initially allowed me to take pictures of the outside of the building, but during my second visit security was not so cool (boo, hiss). However, it's their house, their rules and you have to respect that even if it they seem to be making it up as they go along. So before getting too in the dumps about it, I called it a night – there was no need feeling further frustrated. These are the few captures I managed there though. 🙂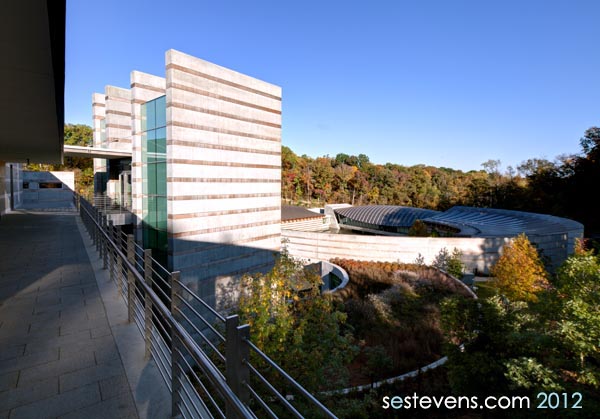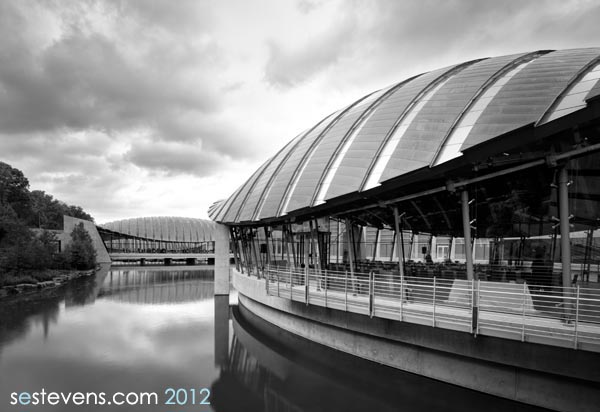 Crystal Bridges (2012)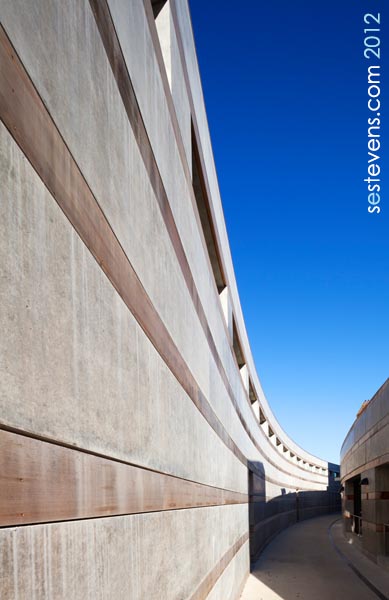 I did much exploring the natural Arkansas landscape and hiking while I was there. While driving between two locations, I stumbled across a sight I'd never seen before at an industrial plant in Russellville. At first glance, I thought it was a slew of palettes, but instead it was an immense field of stacked railroad ties. I was so enthralled with it, I attained permission from the company to shoot photographs there and had conversations with a couple of the men who worked this particular area. At first I thought they'd treat me kinda weird, but I think they could clearly tell I was interested in what they were saying and was more than happy to talk about their jobs. Lemme tell you something, the workers I talked to at this plant LOVE their jobs, LOVE who they worked for, and took obvious immense pride in their work. It turns out this plant is the largest railroad tie manufacturer in the nation. They explained to me how they cut, stacked, and allow the wood to cure before shipping these ties throughout North America. As a railroad fanatic, the kid in me found it to be fascinating.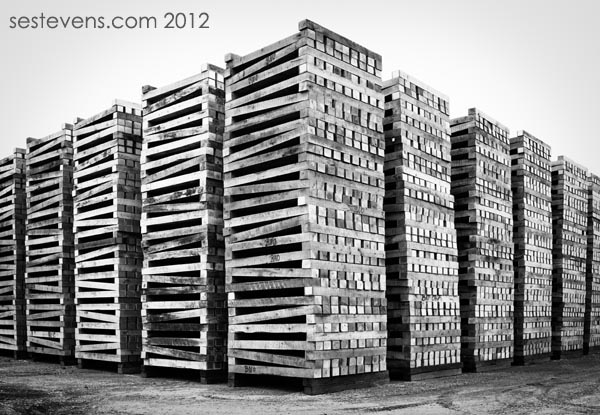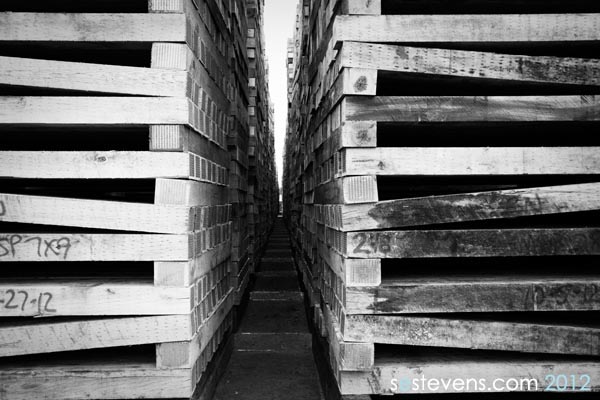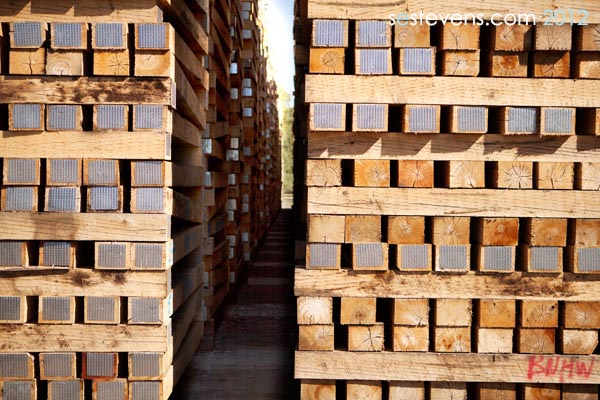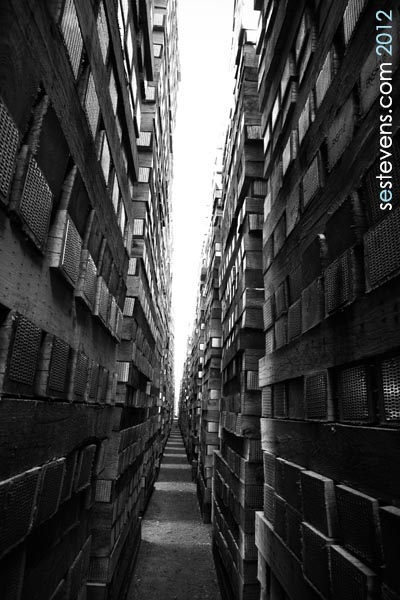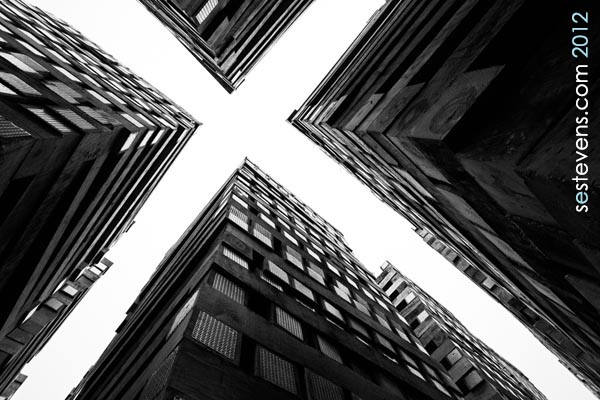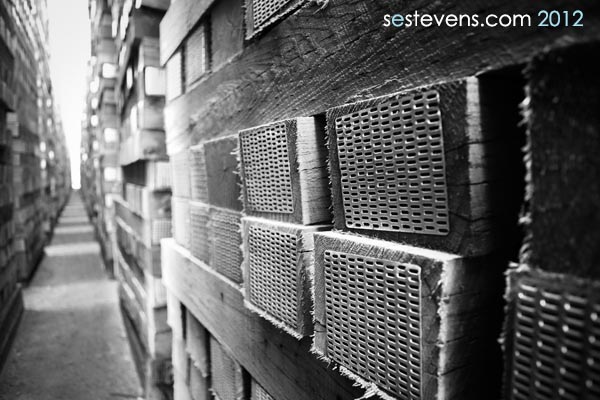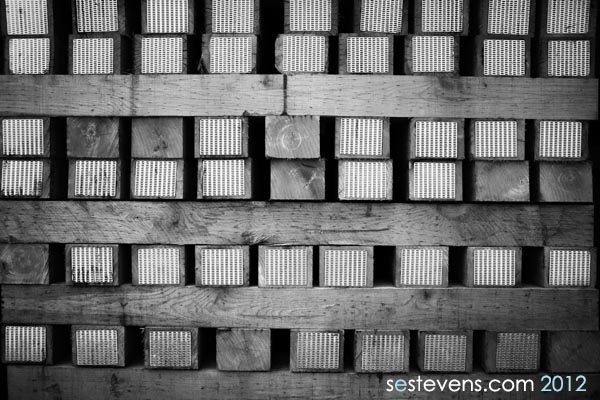 Stacks (2012)
These are a few more scenes I stumbled across on the many long drives through the Ozarks. There'll be a few more like this in Part 2!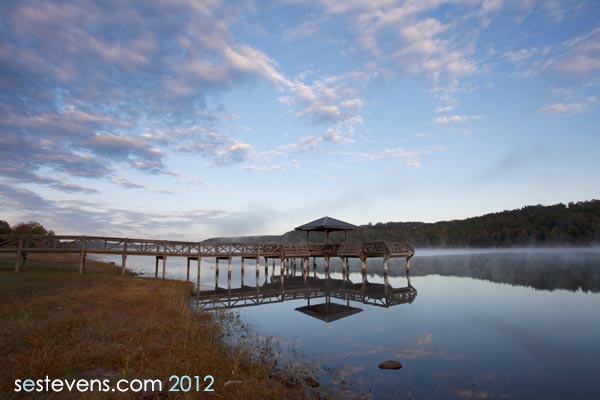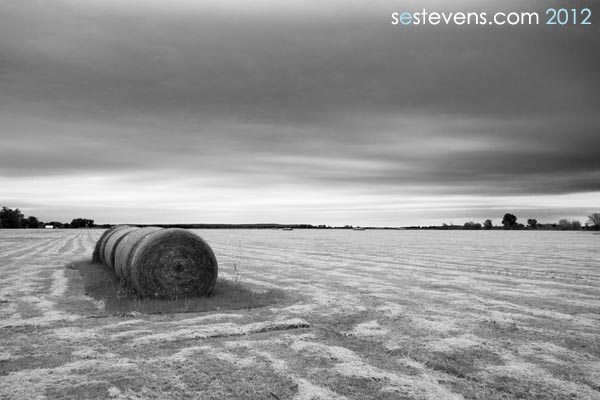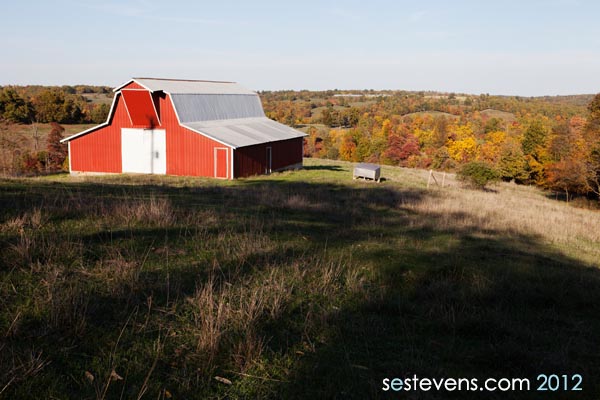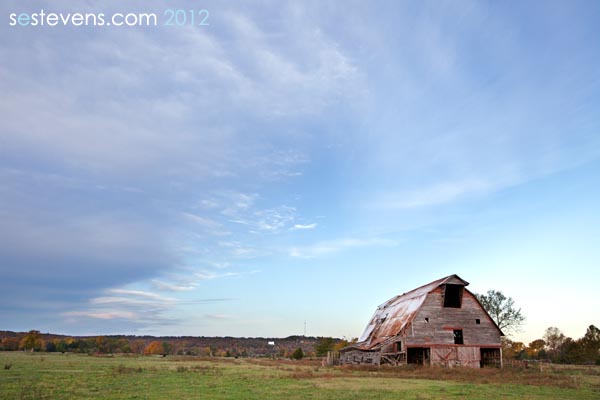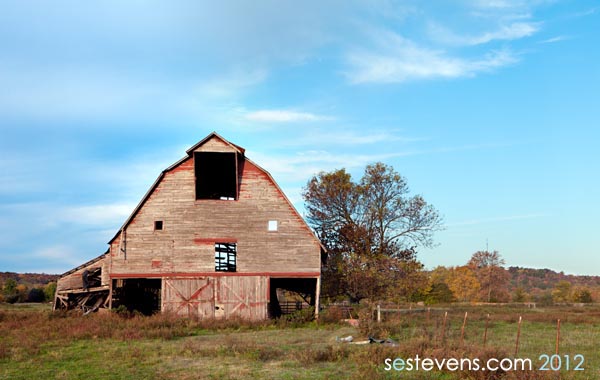 Left (2012)
Arkansas was pretty cool. Most folks very warm, friendly, and accommodating towards me. Had a few quizzical looks at the Yankee hat and camera gear, but whatever. 😀 I met a bunch of people, some through Couchsurfing, others while hiking, and had a good conversation with a fellow photog while at Haw Falls. One of those I met tagged along during a morning drive checking out some waterfalls which I'll get to in the next blog. I ate a ton of great food, but probably not a single vegetable the entire time I was in state.
Of course, there are some cultural oddities that this Jersey boy will never get used to. This safely qualifies as one of them.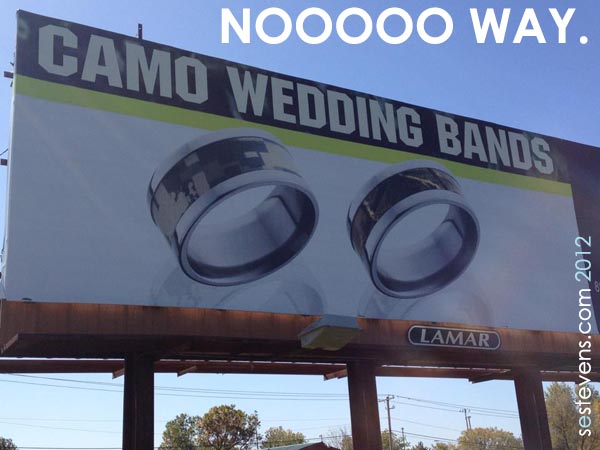 The above billboard may not seem weird to anyone in rural areas, but I guarantee you a bunch of people RIGHT NOW are thinking, "REALLLLLLLLLLLLY?" See you in Part 2! 🙂