So until this year, all of my State Fair photos were taken during the day. This was the first time I ever went to the fairgrounds after sunset.
Visit #1
I went on Tuesday night with a group of people I play volleyball with on Friday evenings, including Chris, Lisa, Karin, Ben, and Shannon. It wasn't as cold as we thought it was going to be, and it was certainly fun hanging out with them and chowing down on food. Or rather, watching Chris chow down on food. Okay, first of all, the man has to be like 5′-6″. First he wolfs down a gigantic gyro in like three minutes. He chased that down about 15 minutes later with some more food at another stand. His wife eventually joined us, ordered corn on the cob, and he finished off that for her. Less than hour later he was stuffing his face again. I watched with continuous slack-jawed awe feats of gastrointestinal fortitude that I could have only hoped to have achieved during my early 20s.
Apparently it must've been Republican Night or something, they were in full-force with their t-shirts, buttons, etc. All that was missing were the white hoods and sheets with McCain-Palin logo stamped on the side.
Just so you know, I had a small funnel cake and Italian sausage. They were greasy and good. Around 9:40 were the fireworks. I managed to get off a few shots, but let's face it – fireworks aren't my forte – and if you're not a firework photography freak, they all wind up looking the same. I thought this was the best one: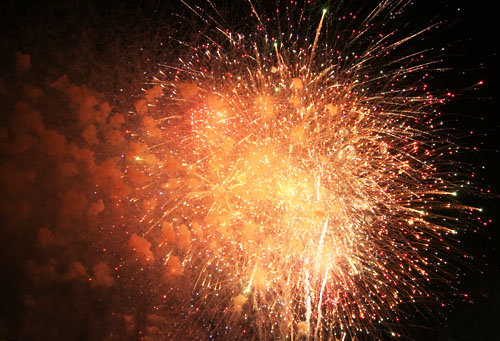 Visit #2
Tuesday night was a good chance for me to scope out the fair and see where I wanted to do my night shots. The next evening I returned with my bag of equipment and a tripod, and set up in front of the two adjacent ferris wheel rides. I set up camp between about 7:00pm and 9:30pm.
During that time, there had to be at least 15 photographers with the same unique and brilliant idea that I did. And lemme tell you something, during the entire 2 1/2 hours, both rides were operating simultaneously only three times. It took a bit of patience and lemme tell you – it was a bit cooler that evening. Out of all of the thousands of random people and passersby, I was very happy and surprised to see Meghan, Owen and two of their friends at that spot. They kept me entertained and it was a pleasant diversion from freezing my bazookas off. I wonder if Meghan finally conned Owen into taking the roller coaster.
This time I had a polish sausage and fries.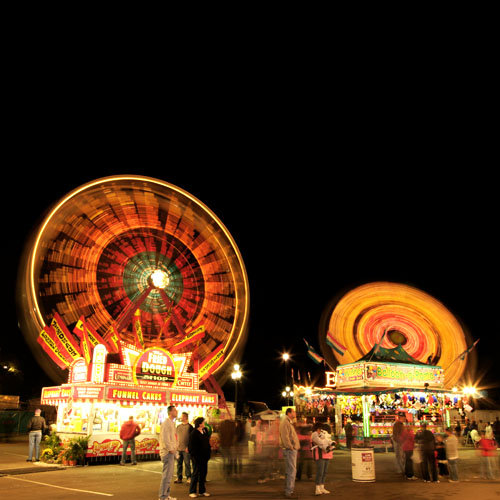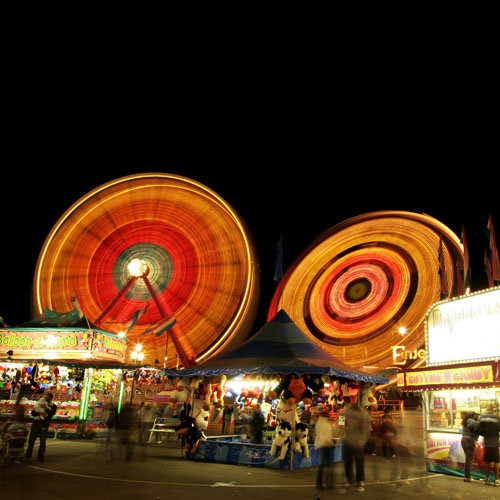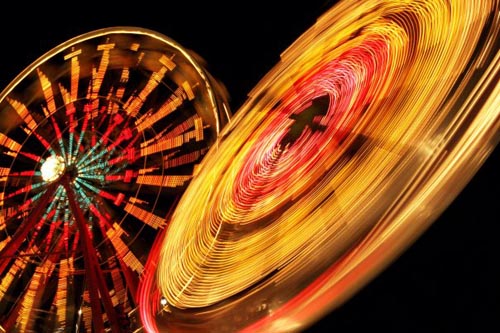 Visit #3
I plan on returning to the Fair either Saturday or Sunday. During that time I plan on getting a Fried Cheesecake, Fried Cheese, an Apple Dumpling and NC State Vanilla Ice Cream. If you're interested in coming with let me know.
Really somebody needs to make a t-shirt with either Nutrition Facts from the State Fair or something with a checklist of items to eat. If it's edible, it can and will be deep fried. These are the items I saw or heard of at this Fair.
1. Deep fried candy bars
2. Deep fried cheeseburgers
3. Deep fried cheesecake
4. Deep fried Coca-Cola
5. Deep fried ice cream
6. Deep fried macaroni and cheese
7. Deep fried ocra
8. Deep fried Oreos
9. Deep fried pecan pie
10. Deep fried peanut butter and jelly sandwiches
11. Deep fried pickles
12. Deep fried Twinkies
13. Deep fried Wisconsin cheese
Not to be outdone, my old friends Chanda and James reminded me that when it comes to grease and foodstuffs that are guaranteed to eliminate entire calendar months from your life, you cannot outdo the ingenuity of Texans.
Deep fried lattes and my favorite of all time – deep fried bacon.
Yeah, bacon wasn't bad enough as it was, right? I fully expect to see this phenomenon at the NC Fair next year.