Saturday
It was an overcast morning and I left for Southern Pines around 9:30 a.m. to pick up some photography for a group show that I was in the previous month. Earlier in the week, on Monday, I called the art gallery to ask if they would be open on Saturday so that I could pick up my work from this show. The woman on the phone confirmed in the affirmative and said that they would be open between 9am-4pm.
At 11:00 am I arrive at the gallery house and…
…no one's there. I drove 90 minutes for this? I left my photography business card at the door, with a surprisingly pleasant handwritten comment that I called ahead of time, the hours that they claimed they'd be open, and to please call me ASAP. From there I took the remainder of the day to drive to the Carolina Coast, taking pitstops at Jacksonville, Swansboro, and Morehead City. It was overcast and I didn't get much in the way of photography. Honestly, I didn't see very much along the way anyway, likely because I was irritated that I was going to have to take another trip to Southern Pines. I got to my hotel in Havelock where I went to bed early so I could head out to Cape Lookout.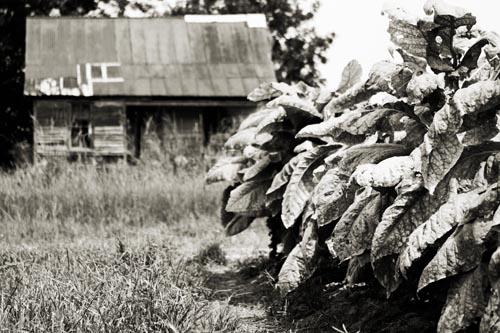 Sunday
The new Hampton Inns are pretty neat, filled with lots of black & white photography. Every door has a panel with the door number and a square black and white "old time" rural photograph. Even the elevator, as it closes, you see this black bar with white lettering and as it appears you read, "I scream, you scream…" and as the door closes a photograph of a white-pickup truck in front of an ice cream parlor appears. Pretty neat.
Sunday morning, I had a not-so-old-fashioned microwaved breakfast downstairs from woke up at 6 am and drove through Morehead City and Atlantic Beach, cruising around for a couple of hours before heading out to the docks on Harkers Island.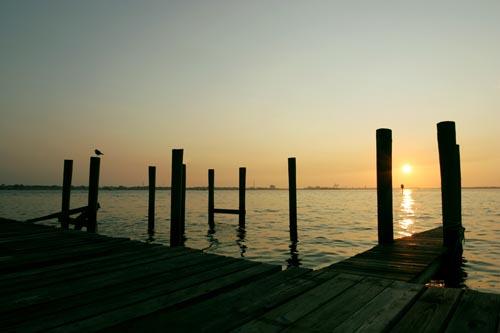 I paid a $30 fee for the ferry to Cape Lookout and Shackelford, wanting to get on the island before it got too crowded on the weekend. The lady asked me where I was from (I get that a lot from Southerners). I said Raleigh. Then eventually had to say that I grew up in New Jersey despite the fact I haven't lived there for like 15 years. I swear I'm going to be 80 years old and people are going to be like, "You ain't from around these parts, are you sonny?"
Cape Lookout was pretty neat but was full with people and turning quite boring after an hour. Shackelford was alright. I spent about three hours walking the island. The 'legend' is that Spanish ships crashed on the island and wild horses roam the island. Which is somewhat true. They're really the mildest bunch of flea-bitten ponies I've ever seen. Though they don't recommend it to cover themselves, you can pretty much walk right up to them and take their picture. Which is what I did, but none of them came out spectacular. Some parts of Shackelford Island were populated and other parts, it was just me and the horses. Ferries would slow down to point out the horses and I can just hear the tour right now:
(radio sounds throughout the touring ferry)"And over here are the wild horses of Shackeford Banks. Historical research indicates that these wild horses descended from a core group of Spanish horses that were imported over 400 years ago."
(pause, and the radio sounds again)
(pkshh!) – "And what you can see, suspiciously close to the horses with a camera in hand is an unsupervised black man. We imported those around four centuries ago too."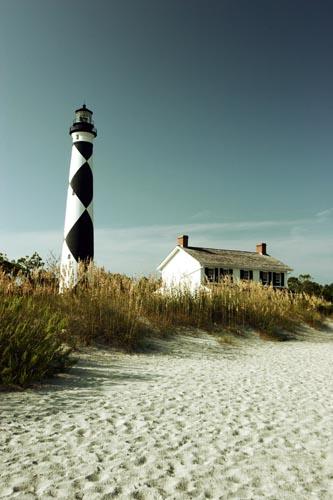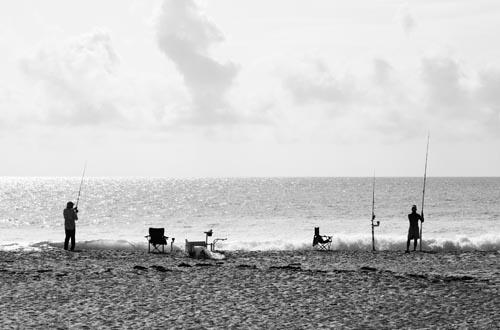 I was done by about 3pm in the afternoon and figured I'd head to Atlantic Beach and visit the most popular aqurium in the state. There are several of them throughout North Carolina – most of them weren't anything special. I had never visited this one, so I was going to give it a chance and spend an hour there.
At 4pm as I neared the aquarium entry, the tire-gauge pressure on my Toyota went off. No big deal, I figured. I stopped by a gas station with an air pump and as I inspected my tires, I noted there was a slash on the right rear tire. Oh no. It was 4pm. On Labor Day weekend, on the Carolina coast, which is not exactly the most metropolitan of areas. The next day I was scheduled to take some photographs for my architectural office and this was going to put a crimp in my schedule if I didn't get it fixed immediately.
So I slowly and cautiously left Atlantic Beach and went over the bridge on the way back to my hotel in Havelock, hoping to find a tire place that would stay open long enough to replace my tire. In front of a mini-mall, I could hear metal rims on pavement, so I pulled into the parking lot. I removed the donut from the trunk of my car and inspected the rear right tire – and it was still inflated Instead it was the FRONT right tire that had deflated, apparently from something totally unrelated. There was a hole in the tire, like a nail struck it.
By the time I replaced the front tire it was after 5pm and every automotive was going to be closed. I hoped my rear tire wouldn't go kablooie as I slowly crawled back to Havelock. I called AAA for some assistance in finding an available tire place, but they had just as much luck as I did – zero. They could've towed me, but it would just be to the towing place that would tow me to somewhere else on Tuesday. I told them forget it and I'd just see what I could do on Monday. I then called one of my co-workers, Trish, and told her that I was going to be late to work on Tuesday.
Monday
Fortunately, there was a tire place caddy-corner across Hwy 70 from my hotel and it was open. Woohoo! I got both tires replaced while thoroughly clogging my arteries at the local Waffle House. I didn't get to leave the area until midday. I took the vehicle ferry from Minnesott Beach, which was an interesting experience. All the cars went through this megasize security detector thingy. Just like the ones you go through at the airport, except it you could drive an 18-wheeler through it. I had never seen anything like it before, I should've taken a picture of the thing.
When I arrived to Oriental, NC the project I originally intended to photograph in the morning was totally cast in afternoon shadow. Well I'm all the way out there, there's no way I'm going back without these shots, right? I take some "just in case" photos around the building, and there was a man with his dog sitting at the front of the house, sipping some wine underneath the trelace. We strike conversation and apparently one of his several ex-wives studied architecture out in New Mexico. He invites me back in the morning to take some interior shots, which I wouldn't have gotten had I actually arrived in the morning. I spent about an hour or so there, then drove 90 minutes to Greenville to shoot the other project, which was also cast in late afternoon shade.
Tuesday
I stayed overnight at a cheap hotel in Greenville (I don't think they have anything else), then got up around 5 am to head back to Oriental. Along the way back I got some morning shots.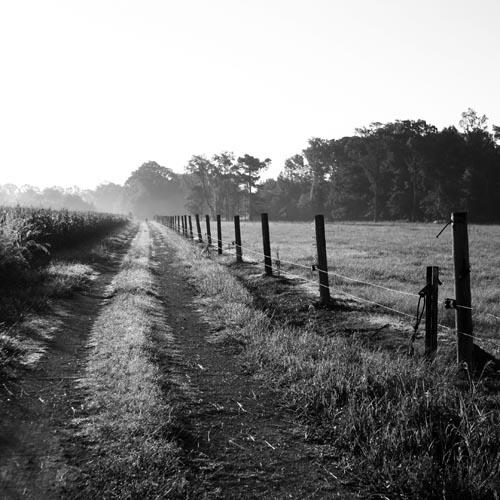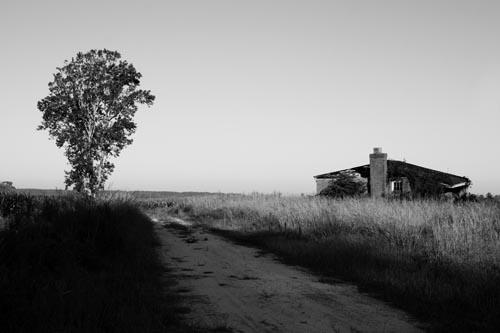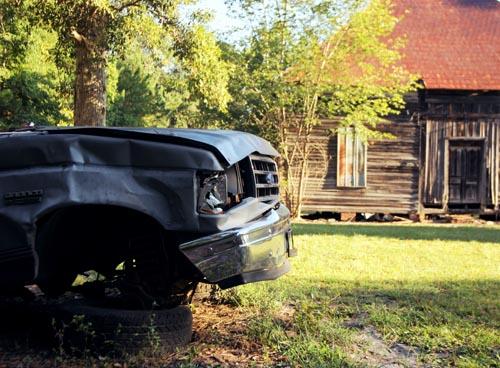 I get to Oriental and get all of the exterior and interior shots I wanted. I finished up about 10 am, and was going to head back to the office. I'd probably make it there by about 1pm, pretty good time all things considering. That's when I received a phone call from the art house in Southern Pines. They were hanging a new show and could I pick up my work now?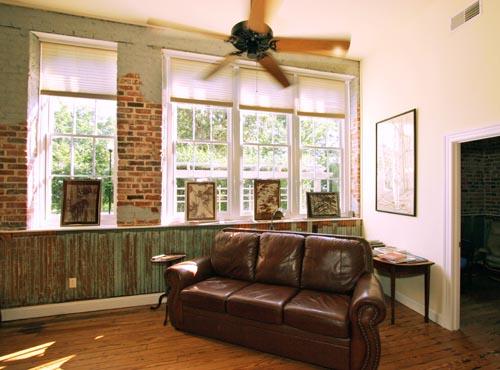 Are you kidding me?
There is NO direct route from Oriental, NC to Southern Pines, NC. In fact, this is the route I took. I didn't get until Southern Pines until about 2:30pm. By the time I got my photographs, I was like…forget this. Called into work and told them I'd see them tomorrow!