First, I want to thank my Dallas friends for being such gracious wonderful hosts and dealing with my topsy-turvy schedule- James, Chanda, Haewon & Dan, Marcia, Steve & Cindy, Laura & Bob. It was wonderful to see and hang out with all of you even if it was for a brief spell. Next time I'll try to make it a bit longer. 🙂
And it was good to eat Freebirds again. For those of you who have not had the experience of Freebirds, please observe the following pecking order of American-type Mexican grills:
Freebirds > Chipotle > Moe's.
In fact Freebirds = 2 (Chipotle + Moe's)
It was originally a Texas A&M thing that has now franchised in several cities across the state. If you visit to Texas, go to Freebirds. I'm ordering you do so.
Dear North Carolina State Fair: please don't de-friend me on Facebook for what I'm about to present in this blog. I still like you. Really, I do!
Summarizing the State Fair of Texas requires sensitive and superfluous vocabulary and grammar. I must string together my words in a detailed descriptive way that truly captures this experience.
Okay. Ready?
OMIGOSH, THE STATE FAIR OF TEXAS IS FRIGGIN HUGE!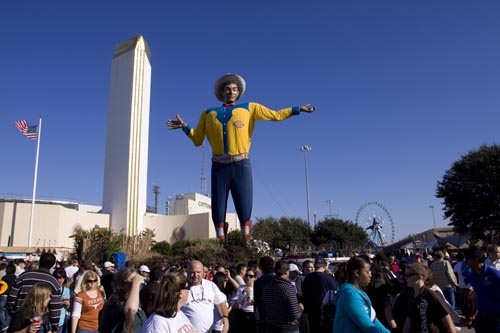 LOOK! WHEN YOU GET IN, SOME GINORMOUS INFLATABLE BEHEMOTH OF A TEXAN GREETS YOU! ITS DISTURBING DETACHABLE JAW OPENS AND WORDS COME OUT OF ITS MOUTH! AVOID IT SO IT DOESN'T EAT YOU!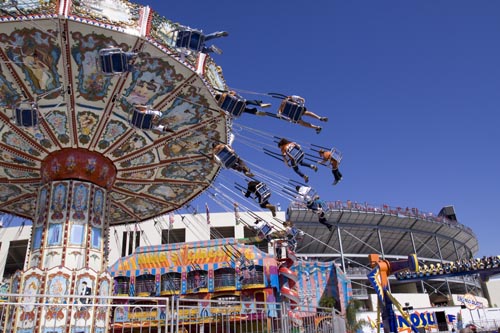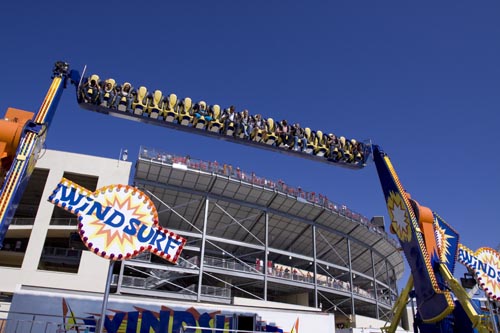 THE JOINT IS SO LARGE THAT THERE'S A FOOTBALL STADIUM IN THE MIDDLE OF THE GROUNDS! UNIVERSITY OF TEXAS AND UNIVERSITY OF OKLAHOMA WERE PLAYING COLLEGE FOOTBALL IN THE CENTER OF THE WHOLE THING WHILE I WAS THERE! PEOPLE WERE EVERYWHERE, MUST'VE BEEN OVER 100,000 PEOPLE ON SITE AT ONCE! THOUSANDS OF CUTE CLONE-LIKE COLLEGE GIRLS IN COWBOY BOOTS WERE INFESTING THE ENTIRE CITY!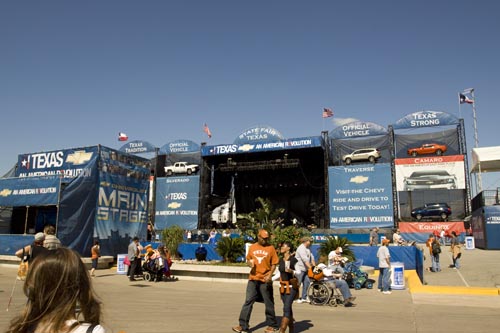 SEE THAT AUTOMOBILE ADVERTISEMENT BELOW? THOSE AREN'T PICTURES OF CARS, THOSE ARE ACTUAL VEHICLES PARKED INSIDE OF A DISPLAY CASE! IN THE CENTER? IS A LIVE PERFORMANCE STAGE! THE TEXANS ARE ABSOLUTELY OUT OF THEIR MINDS!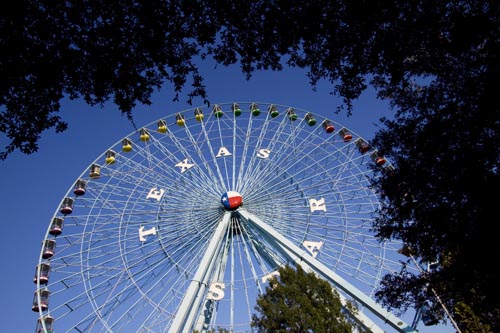 SEE THAT FERRIS WHEEL? IT'S MONSTROUS! THE LARGEST NORTH CAROLINA FERRIS WHEEL FITS WITHIN THE CONCENTRIC LETTERS FORMING "TEXAS STAR"!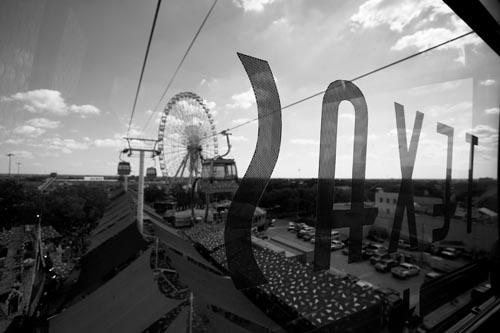 A LENGTHY SKY-TRAM RUNS FROM ONE END OF THE MIDWAY TO THE OTHER EVEN THOUGH THE ENTIRE PLACE IS ON FLAT LAND! NOT A SKI SLOPE OR HILL IN SIGHT!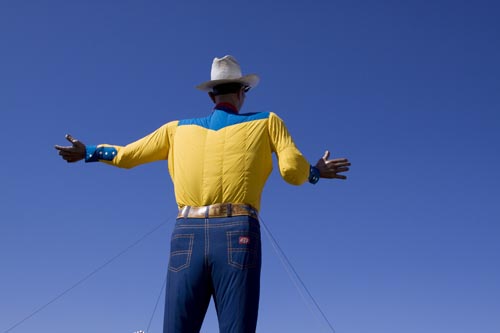 And at the vision of Big Tex's lack of a posterior, the amazement suddenly grinds to a halt. Now you know why he needs that big 'ol belt. He sort of reminds me of some of my university professors…
I went to the State Fair on Saturday with Marcia and on Sunday with Chanda. To update everyone on the food report, I had during those two days: Italian sausage, a chicken leg fit for a viking, and fried cheesecake.
It was so good, I had the fried cheesecake twice. Wasn't what I expected…it was like a warm crepe with cheesecake filling.
I'm not sure what it was like at the NC State Fair, but the fried butter at the Texas Fair was selling like hotcakes. To further stretch the limits of your gastrointestinal system, how about some chocolate-dipped jalapenos?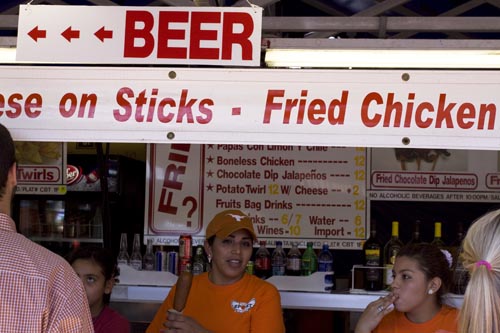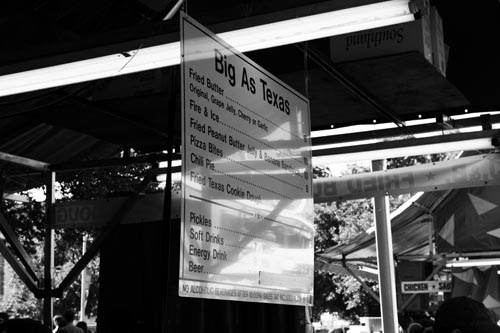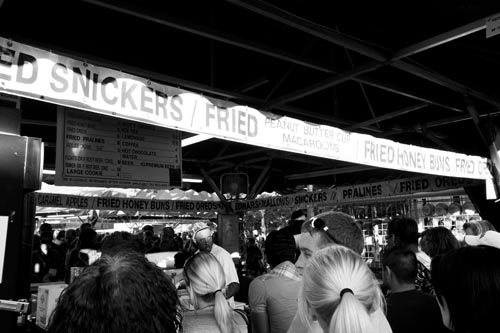 Yes, you read that right. The sign claims fried peanut butter macaroons. To further make your mouth saliv…well, do something, this vendor also had fried honey buns, fried pralines, and fried marshmallows.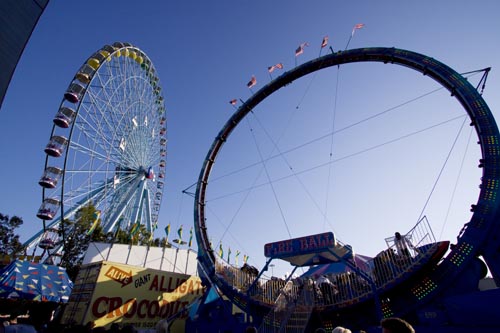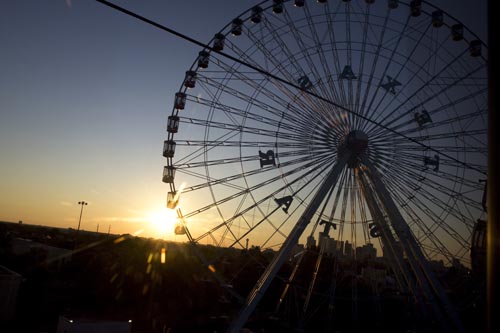 A couple of more snapshots and say g'night to the State Fair of Texas! It was huge, man. Literally.