Friday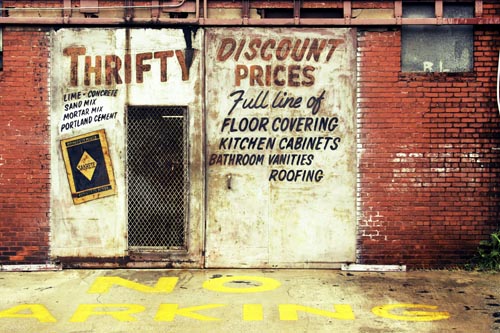 Thrifty (2009)
I was going to originally leave Thursday but had too many household items to tidy up. I arrived into Savannah on Friday morning, crossed the Talmedge Bridge and immediately got in trouble with the Feds.
Well, okay, not in trouble trouble – but if you're coming from the north, you'll notice the heavy industrial district on the river as you cross the bridge into Savannah. So I figure that would be a great place to start my shooting, right? As I'm doing photography some security dude approaches me, rattling off some sort of federal Homeland Security regulation that I can't shoot photos. I really had no clue, he was very nice to me and answered my questions, and as I left it looked like he was jotting down my license plate. I'm thinking to myself, "Oh great – next time I get on a plane, they're going to pull me to the side because I'm on some sort of list."
And if you think I'm paranoid about this, a few days later, my website receives an engine search with my FULL name, including middle initial, from Savannah. So how many of you know my middle name? Yeah, exactly. You mark my words, whenever I hop the jet to my next trip to Texas or California or something I'm going to get totally waterboarded because I thought the Savannah ports would make for some cool photos.
Having been properly chastised, I decided to do something less risky: take my handy-dandy SLR and roam the projects right next to the industrial area.
Yeah, no joke.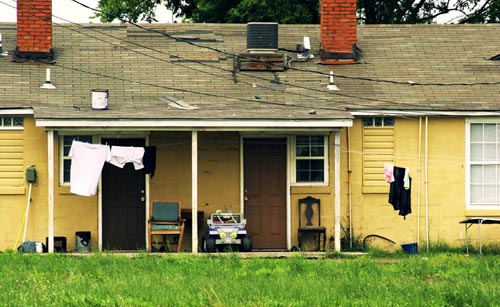 The Projects (2009)
It had been cloudy the entire day and by the time I hopped over to Tybee Island in the late afternoon it began to downpour. That would be the first time I got drenched.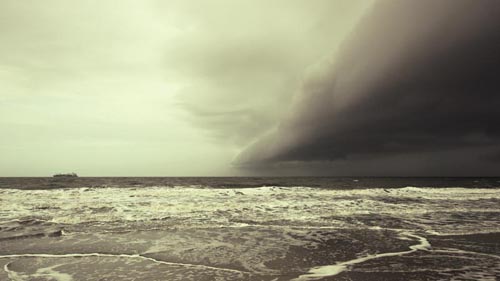 Storm Chasing (2009)
I was pretty exhausted by the end of the day and couchsurfed that evening with my hosts Cindy & Jim. Cindy went to SCAD is a good photographer in her own right, developing all of her own B&W film, mostly portraiture. From what I can remember, she had a bunch of medium format cameras and some Holgas, including the cutest purple Holga. Another couchsurfer stayed over at their place that night – Nicole, she came up visiting from Gainesville, Florida.
Saturday
Well the rain didn't stop that night, in fact it continued through to Saturday afternoon. That morning, Nicole and I drove to downtown where we had breakfast at this coffee shop she had found. -Very- good food. She was really cool and I had no plans that evening, so decided to join her on a "ghost" pub and crawl tour. We parted paths after finishing our coffees, she to go shopping and I, to play photographer in the rain for drenching #2.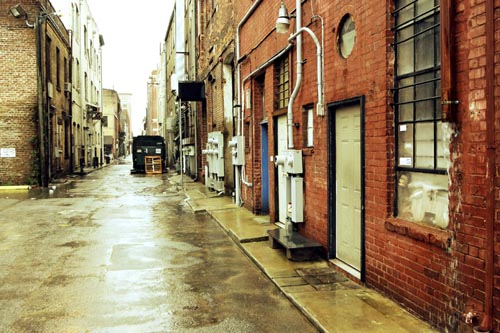 Back Alley (2009)
From downtown I went over to the Roundhouse Railroad Museum and took the rail "tour". Currently the rail tour is fairly limited, but they'll expand it over the next several years into more of Savannah. The tour guide was the entire entertainment during the tour – fortunately, both informative and interesting. I spent an hour or so afterwards shooting around the facility.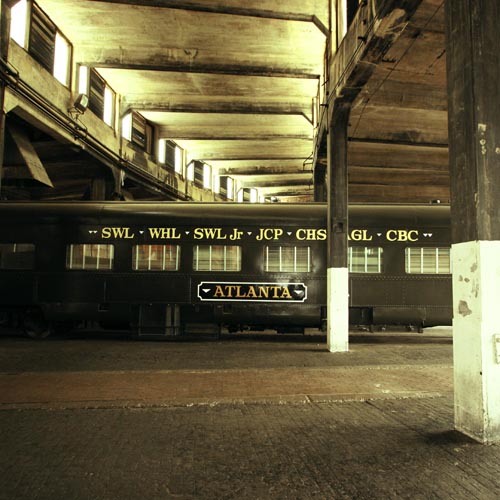 To Atlanta (2009)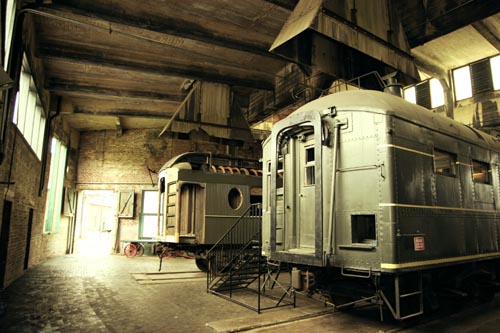 Roundhouse Railroad Museum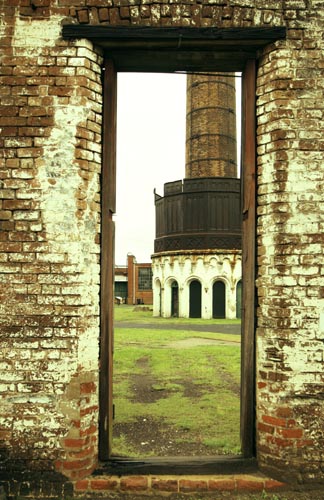 Tower of Babel (2009)
The rain was beginning to break after visiting the railroad museum. I roamed Savannah's historic neighborhoods for a few hours, including Forsyth park.

A Savannah Welcome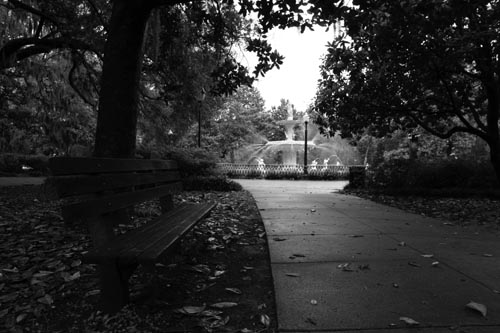 Forsyth Park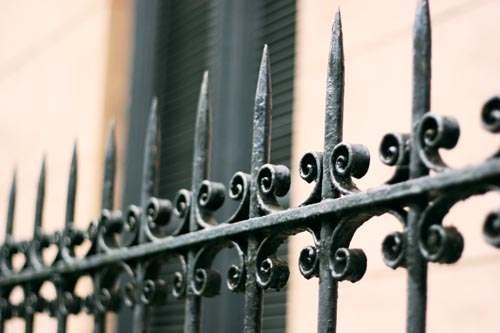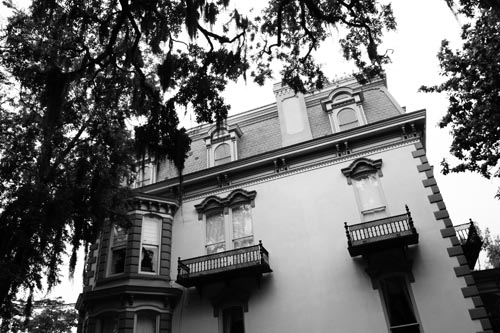 Savannah (2009)
As I left downtown, I decided it was a good idea to visit more dilapidated low-income urban areas.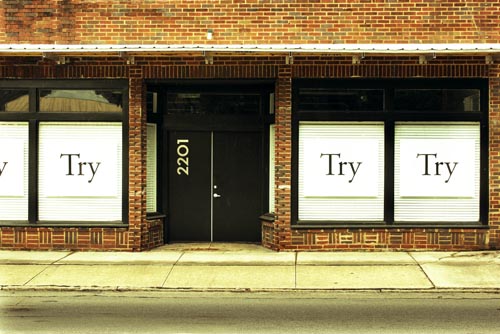 Positive Reinforcement (2009)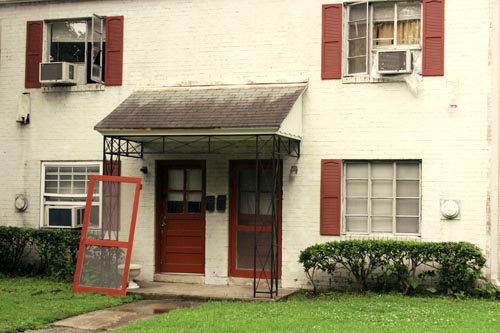 Having spent 8 hours attempting to shoot during and between downpours, I was tired and wanted to get an old-man nap at Cindy's house before going out that evening. I woke up a couple of hours later. Nicole apparently had the same brilliant idea, as she was sleeping on the couch.
We drove back to downtown and had pizza at this place she found, called Vinnie Van Go-Go's. Oh man, definitely the best pizza in the city, and the best I've had in quite some time. Their pizza with spicy Italian sausage topping is primo. After inhaling our food, we quickly scooted over to the pub to start our tour.
The tour was okay, and the guide was a riot – he had this weird New York / Georgia mashed-up accent. He had a lot of ghost stories which Nicole and I shared a huge skepticism for. We also shared annoyance with this one shrieking chick on tour with us who was totally drunk off her rockers. But we got to see some cool places, including some dilapidated rotten interiors of old buildings we wouldn't have seen otherwise.
Savannah is totally cool because you can walk around downtown, freely drinking with cups of beer in your hand. Just for the record, since so many people reading this blog know me…I actually had two beers.
During the tour, I decided to expand what I label my "anti-bucket list". What is the anti-bucket list, you might ask? It's basically everything I don't EVER want to have happen to me or do in my life. So far, the list is very short, but perfectly understandable (at least I think so):
I don't want to get run over by a postal-delivery truck moving at 20 miles per hour between mailboxes.
I don't want to suffer a nasty papercut while licking an envelope.
When I die, I don't want a highway public restroom named in my honor. If the summation of my life ends in the opportunity for you to take a dump in the Sterling E. Stevens Rest Area, I'm perfectly comfortable with passing away with complete anonymity.
I will not be forced to deal with my psychotic ex-girlfriend again without exacting the severest of legal repercussion.
After hearing the tall tales and the involved horrific context surrounding these supposed ghost sitings, I've decided to add, "I would like to prevent a bizarre gruesome death to avoid becoming part of ghost-telling folklore." to the list.
Sunday
Neither Nicole or I saw Cindy and Jim very much during the entire stay, but they were pretty kickin'. Left that morning for "historic" Bluffton, on the way to Hilton Head, South Carolina.
Bluffton is overrated.
And for that matter, so was Hilton Head – that may be the most boring beach destination I've ever seen, and I've been to Myrtle Beach. It was here that I experienced Drenching #3. I was waiting to pick up one of my photographs from the local art show and spent much of my time wasting away in Starbucks, in an existing elevator shaft that was converted into a regular room.
So at 6:00 p.m., I go to the art gallery to pick up my work from the juried exhibition and WOW – I usually have mixed feelings about what I see on the walls, but I was stunned with what I considered to be the quality of work. 150 juried pieces from artists around the United States and there were only a few I didn't like. And surprise upon surprise, my photo received an honorable mention!
I must've appeared unexcited because the gallery director didn't realize I was the artist until I was about to leave. I just didn't want to look like a giddy idiot. But by the time I stowed away my photo and got into the car, I started to excitedly pump my fist and go "YEAH! OH YEAH! WOOO!"
Two parking spaces adjacent from mine, the woman sitting in the car was looking at me kinda weird…I don't know why. It could be because I broke into the cabbage patch.
Monday
I got into Charleston on Sunday and finally got to hang out with Lewis & Jamie, who are both totally kickass. We ate lunch then roamed the downtown wharf area and some of the neighborhoods. The city was not very crowded at all, I think much of the Memorial Day crowd waned because of the soggy weather, high gas prices, and shaky economy. Regardless, the lack of crowds was awesome. I had to expose them to the desserts at Saffron then accidentally took them in the wrong direction on the way back! Sorry Lewis! I felt bad, he was so red from the sun. But we all had fun and I'm looking forward to hanging with them again!
Tuesday
Between Sunday and Tuesday, I barely took any photos. But the weather was so perfect, I knew I was going to get the photo I had been wanting a chance to re-take for the last six years – a good photo from the top of the Holiday Inn.

The City of Charleston, South Carolina – Riverview (2009)
(click here for a larger view)
I had been playing phone tag with a buddy from grad school, Ben, and we finally caught up in downtown Charleston. He showed me his architectural office, some of the work he was doing, then we for a drink and appetizers. Was good to catch up with him and talk shop, had been a couple of years since we had last seen each other.
From there I traveled to Folly Beach where I was able to view some of the area before sunset.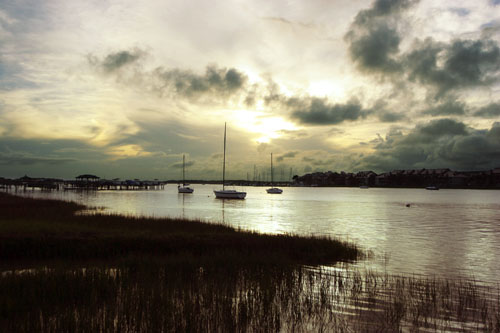 Sunset on Folly River (2009)
And that's when I began to sneeze. I had a tickling sore throat the night before, but now I was suffering under sneezing-fits galore. I barely got any sleep Tuesday night and the sneezing pretty much lasted through Wednesday. I was so miserable by the time I got home I crashed (and took some Vitamin C), which apparently did me a lot of good. I guess that's what I get for shooting in the rain. But overall the trip was good, despite all of the dreary weather conditions!