I recently shared this anecdote during a photography tutorial with the Avent Ferry United Methodist Church in Raleigh. This stemmed from my first photography blog on Sept 2, 2007, eventually to be edited and sanitized for publication in ArtSync Magazine's Spring 2011 issue, titled, "Shhh…Just Shoot!
Upon the moment of my arrival, I immediately fell in love with National Arches Park. It was a spontaneous, unplanned excursion after being convinced to make the side-trip while visiting a fellow photographer in Durango, Colorado. Following an entire day of road travel from Denver, hearing "You must go to Moab, it's only three hours away from here!" seemed relatively infallible logic. As a photographer accustomed to the rolling hills labeled as mountains in the Appalachians, I began an unforgettable journey through east Utah, navigating among the most unique series of natural formations, outcroppings, and canyons I had personally witnessed. One of the most famous and photographed formations on park grounds is the Delicate Arch. Two footpaths to view this wonder stem from a nearby parking lot. Because I arrived near sunset, I took the quicker and less intimidating uphill hike to view the arch from across the canyon. Despite being in good physical shape and already having three days to adjust to the high elevation above sea level, the walk left me slightly winded with all of the camera equipment strapped to my back. Upon reaching the top of the climb, the Delicate Arch and its immediate surroundings were in clear view. Beyond the arch were tiny specs of people grouped throughout the area. As the sun began to dip behind the western mountains, a thunderous sound of applause resonated from across the canyon. An adjacent photographer and I exchanged surprised glances upon hearing the clapping. Wow, I thought, the sunset must be so unspeakably beautiful to evoke such an emotional response — I must see that tomorrow! I decided to stay overnight in Moab and take advantage of the extra day to witness the effect of morning daylight on the landscape that I could not see the previous evening.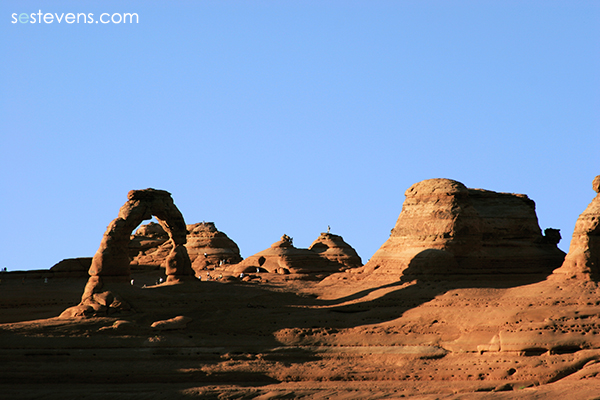 Early the next afternoon, I took the longer and moderately strenuous 1.5-mile hike in 95 degree heat to witness the Delicate Arch up close and personal. The entire 90 minute was worth it. Laid before me was an expansive rock amphitheater from which to take in the awesome scene. Immediately beyond this natural seating area is a large patch of sloping land. At the canyon's edge sits the arch with views of the landscape beyond. Travelers also recognize that it is one of the optimum locations within Arches National Park to receive cellular reception. As I began to unload my camera equipment, a young woman in her early 20s was chatting it up on her mobile phone. "Oh my God, you won't believe where I am! I'm in front of one of the most photographed places in the world. There are a few guys with cameras here. I'm at like the top of a mountain and can't believe I get reception here! I can't get my phone to work anywhere else in the park." She paused only to respond, "Yeah, I know, right!" Out of morbid curiosity, I flipped open my own mobile phone and was amused to see I had four bars — the best reception I'd have during my entire travels. The time said it was approximately 3:30 pm. Not wanting to be bothered by random phone calls, I turned my phone off. There were perhaps 10 or 15 people around, including two other photographers with tripods.
I was glad to have arrived early because it is inherently difficult to shoot a photograph of the Delicate Arch without people in it. As more people arrived, visitors and their families would pose in front of the arch or sit directly on it. I found myself occasionally frustrated with capturing a clean shot, but there remained several hours to shoot. I discovered a nook with an advantageous viewpoint within the natural amphitheater and patiently camped.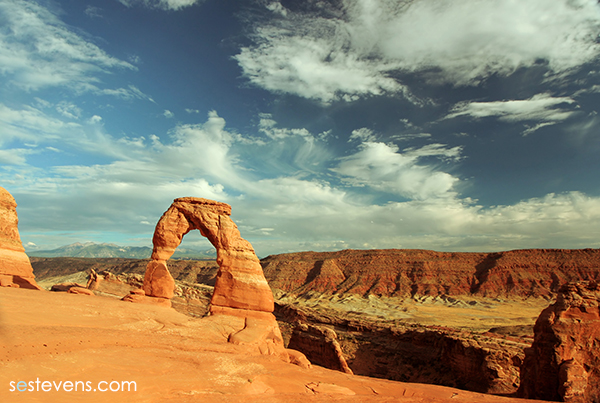 The Delicate Arch (2007)
Over the next few hours, the entire area became teeming with hundreds of visitors, including a slew of photographers with their assorted equipment. The shutterbugs were an amusingly serious bunch whose intent was clearly to capture the exact same pictures that many millions of other photographers before them already took. I began to take more time to observe the people around me rather than the color transformation the arch would soon undergo. I was exposed to many international visitors and languages over my two day visit to the park. At the Delicate Arch, fellow photographers found it equally frustrating to find a clear capture and many were sharing their internal misery by mumbling and exchanging annoyed glances. An adjacent photographer gesticulated with impatience toward the arch as another group of tourists took snapshots in front of the it. He expressed his irritation in French, a language I had long forgotten since high school, yet what he said translated in any tongue:"I wish they'd get out of the way, what in the world are they doing?"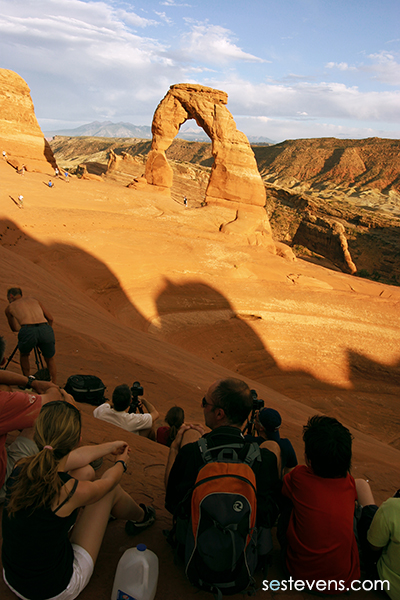 I chuckled and grinned in response, shrugged, then replied, "Yeah, I know." As the photographers became increasingly restless, I remained more interested in the new social dynamic than the natural scenery. Yet more travelers continued to pose for photos in front of the arch, seemingly oblivious to the growing grumbling collective. As the sunset caused deep shadows on the glowing red landscape from the rocks behind us, a group of at least twenty photographers frantically waved towards the people in front of the arch, yelling in at least five different languages, "C'MON GET OUT OF THE WAY — MOVE!" The United Nations could never achieve such levels of international unity. Suddenly aware of the irritated mob of photographers, the other visitors scurried away from the Delicate Arch.
That's when thunderous sounds of applause echoed through the canyons.
---
Though I considered the experience a humorous testament to the human spirit, I have a few recommendations to photographers when visiting any tourist attraction:
1. Travel during the offseason. The best time to shoot popular tourist attractions is between Labor Day and Memorial Day. Cheaper travel during the nine-month window between September and May is an added bonus! Further, there are some dramatic opportunities in shooting photographs with fall colors, winter weather, or the first hint of spring.
2. Arrive early and stay late. Whether you plan a trip during the summer travel season or not, know what to expect. Be patient and be willing to go early and stay late to avoid crowd interference, not to mention fellow photographers. Besides, the hours surrounding sunrise and sunset typically offer the best natural light to shoot.
3. Venture off the beaten path. You don't have to capture the same photograph everyone else has. Accept the challenge as an artist to portray something you may not
have considered before.
4. Just shut up and shoot! As photographers, the notion the world is our studio does not grant us ownership privilege. We certainly did not create these natural wonders and every person with a camera phone has the same right to enjoy these publicly accessible sights as well-equipped photographers. Perhaps our pictures could take on greater meaning if we humbly took in these awesome sights rather than strutting around with our egos.
5. Visit less touristy areas. Last September, I visited the Kasha-Katuwe Tent Rocks National Monument, a lesser-known national park in New Mexico, and experienced the benefits of shooting rugged landscapes as the only visitor present in the entire park. (You read that correctly, I had the whole place to myself!)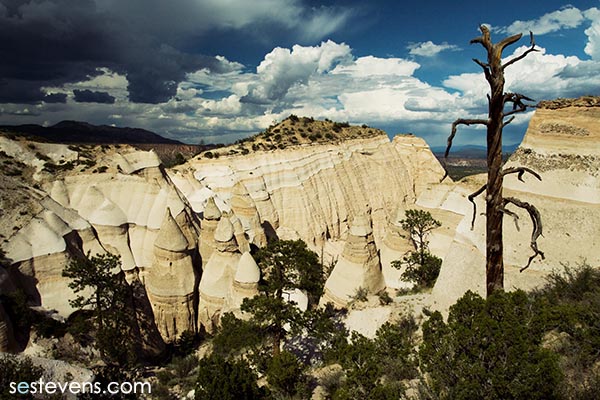 Kasha-Katuwe Tent Rocks National Monument (2010)