You read my previous two blogs from this trip, right? Of course you did, but in case you didn't:
I was pretty stoked to see the natural scenery in the Ozarks. The first location I stopped by was Petit Jean State Park, which has Cedar Falls. After 45 minutes of hiking, I finally reached the waterfalls to find…this trickle. The outlines on the photo illustrate how wide the falls normally are.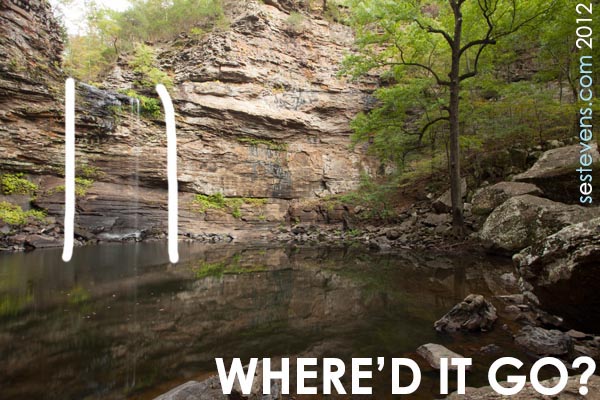 The next day I went to Falls Branch Creek at Lake Catherine State Park in Hot Springs and got this: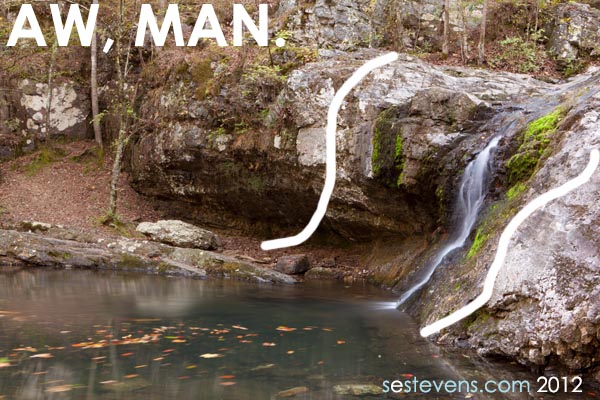 During my second leg through Arkansas, I met up with an amateur photographer named Peggy. She wanted to learn more about photography, so she tagged along with me one morning while checking out some waterfalls. We left early morning from Fayetteville out to the town of Natural Dam (you'll never guess what it's named after). But before we got there, there were some cows in the mist that demanded to be photographed.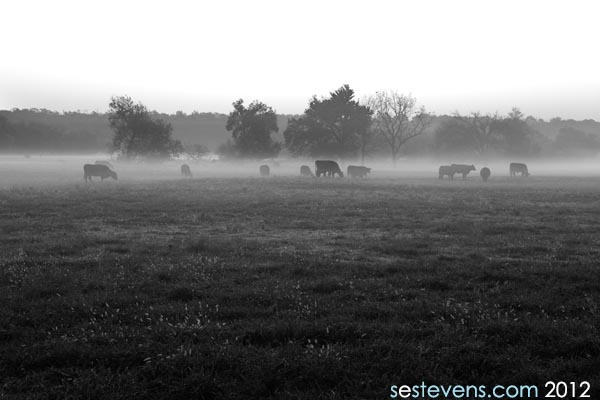 One Arkansas Morning (2012)
We arrived at Natural Dam another ten minutes away. The cool thing about the formation appears man-made, but it's natural. I was excited to get there, but was just slightly disappointed at the water flow. Normally the entire dam would have water falling, but the drought meant only intermittent water spouts here and there.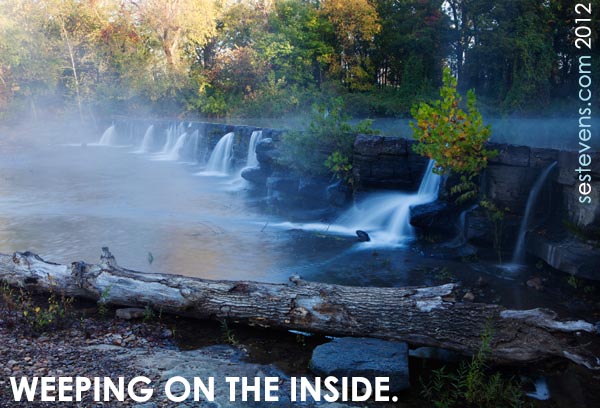 However, you can freely stand on top of the dam, which is not a normal condition.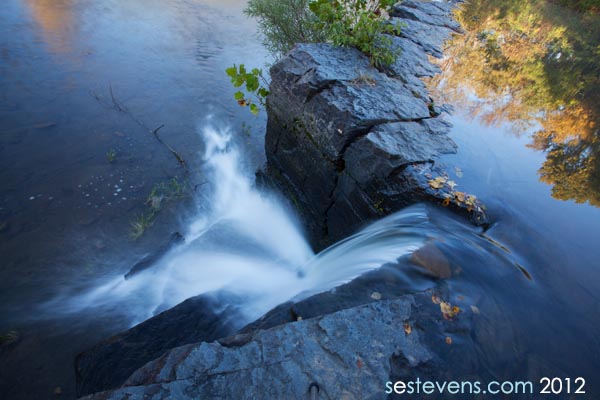 So you can already tell where all this is going. Devil's Den State Park? Dry. Pig Trail Falls? Barely there. High Bank Twin Falls? Couldn't find it. Turner Store Falls? Not even there anymore. As a result I wound up skipping some waterfalls I originally intended to visit, but some places are SO cool I had to check them out. One of them is called the Glory Hole (no snickering). Basically you hike down to the top of a shallow cave formation with a large hole on top, formed by what I'm sure is hundreds to thousands of years of water streaming through it. You can hike down further to the cave and look up at the hole while the waterfall falls through it. Sounds cool, right?
It's a difficult location to find and had to perform a decent amount of research to mark it on a map. When you arrive, it's a moderate 25 minute hike down, but a killer on the way back up. After all the failures with waterfalls I had to give a shot!
And crossed upon the mighty, mighty Glory Hole.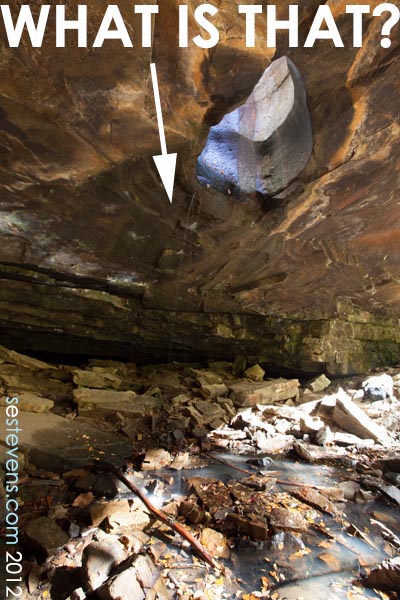 So there was another set of falls I wanted to see that required me to get up at 3 a.m. and drive two hours to get to Haw Creek. I had seen pictures of this wide expansive waterfall, similar in width to the Natural Dam but was scared at what I'd find. Screw it, it was a cloudy day with nice autumn colors and I'm here, so why not?
There's a campground adjacent to the falls and I arrived while it was still dark. I heard the sound of water, so that was a good sign. As the sun rose and I could see more clearly, it was obvious the falls were not as forceful as usual. In fact, much of the creek had pulled back. However, the scenery was so gorgeous anyways – and quite frankly – different than it normally was, that I had a ton of fun with it. I met a very friendly local Arkansas photographer while I was there and we talked shop for a little while, discussing our different travel plans in the area.
Again, the outlines portray what normally would be there.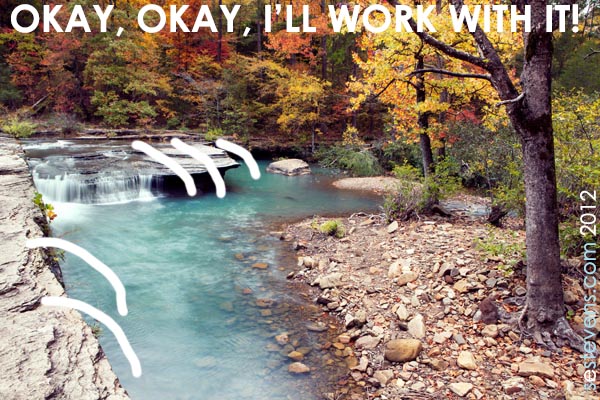 The thing that made these pictures different than normal is a lengthy horizontal rock shelf that forms deep shadows in the crevices below. There's something it I can't put my finger on that seems to add so much to the imagery.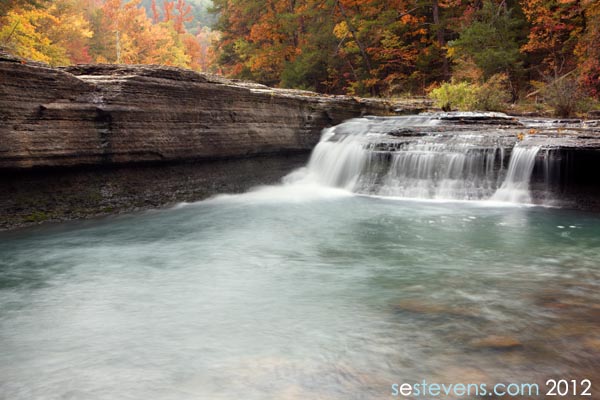 Every year I take a picture that for whatever reason, seems to stand out from the rest and Haw Creek provided the backdrop for this one. You can see how the creek receded at the top of the rock ledge, you can easily walk up there without getting your feet wet. There was only one major flow of water, and a minor one further back, but I happened to have been there during peak autumn colors and it worked. So I'm glad to be there when I did, no matter how all of the other falls worked out. Being a photographer is about patience and timing.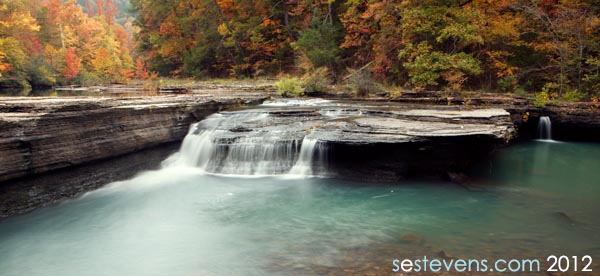 Haw Creek (2012)
On the way out of the area, just down the road near Pelsor, I discovered an abandoned house that is so apparent from the road that I'm certain a slew of other photographers had preceded me here.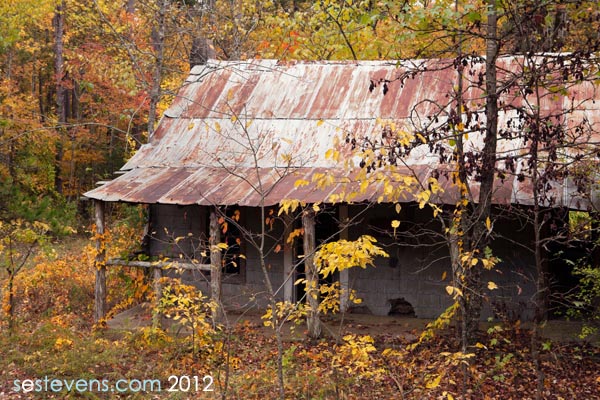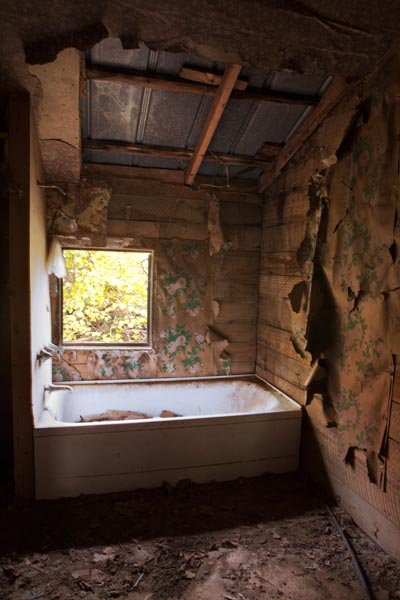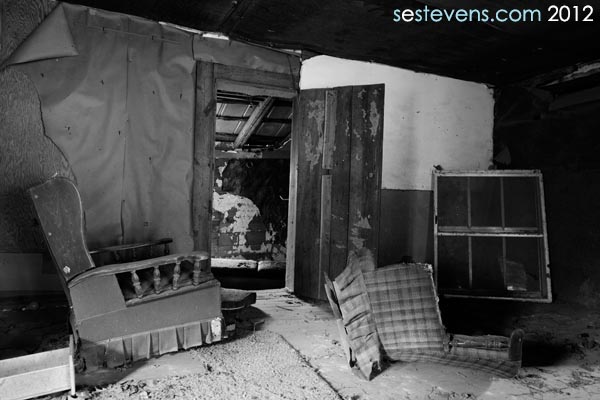 Broken Memory (2012)
And more shots I took along the winding, rural mountain highways.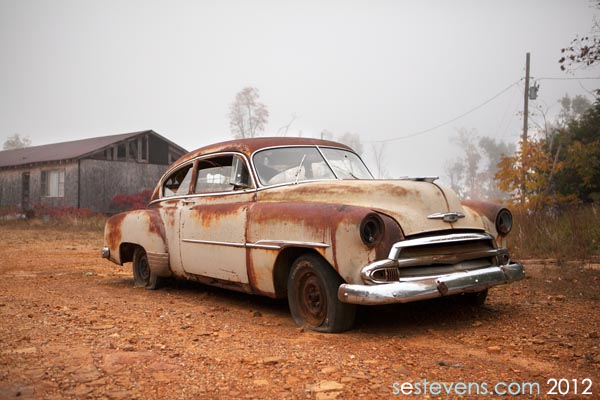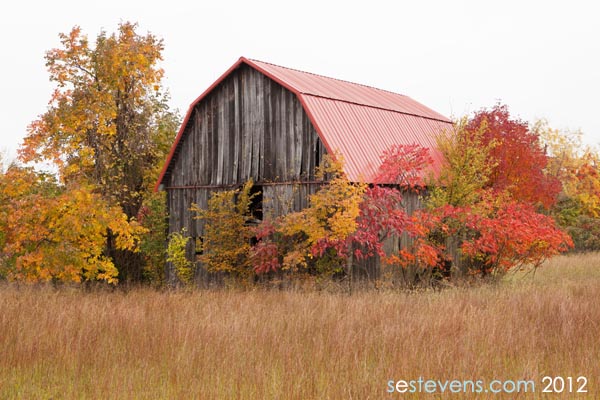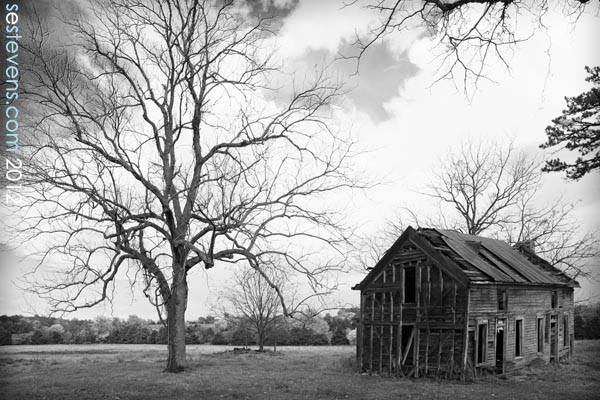 Haunt (2012)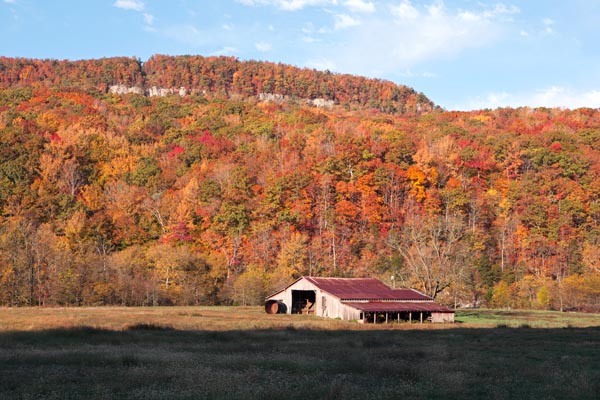 The Ozarks (2012)
Also made the drive (5 miles of it almost completely vertical in my 2-wheel drive Toyota) to Hawksbill Crag. I came during the middle of the day, so wasn't too concerned about pulling off a shot. If I remember correctly, it's about an hour hike, some of it hugging the bluffs so tightly, you can see straight down. That's not an exaggeration – I mean STRAIGHT DOWN. Probably not for hikers dumb enough to be too addicted to their cell phones. I had been sneezing the entire morning and didn't want to be the first person to plunge down the rocks below because his sinuses couldn't act right.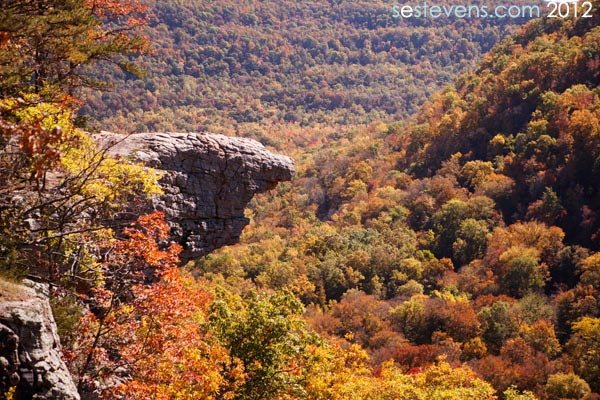 Because of how dry everything was I decided to skip Triple Falls and just visit Roark Bluff. Before I get to those great bluffs, I must temporarily pause for the truly ugly part of the blog. For those of you who do not already know, I am black; this is normally unimportant even with its funny quirks here and there as a traveling photographer. Upon learning I was from out-of-state, I was warned by several very kind people not to tread through Harrison, Arkansas, the largest town in the area, due to its racial history – and more critically – its racial present. A mere 30 minute drive away from Roark's Bluff, the town has the nearest collection of major hotels in the area, rental cars, many restaurants, and of course, gas stations. However, they live in the past and are more than happy to keep it that way. It wasn't until I returned home to North Carolina and did further research that I figure out this is where the Ku Klux Klan is headquartered. The town has ZERO black people and 13 Latino – not 13%, but a baker's dozen. The ridiculousness of these people are of cartoon-like proportion, but they are very real. Needless to say, I heeded the advice, took no chances, and in all seriousness share this information for others' benefit and safety.
Warning: If you are
not

white and visiting Buffalo River National Park, AVOID HARRISON. I am dead serious here, I am not paranoid nor am I joking about this. Don't be stupid.

If you ARE white and want to avoid this place out of general principle, fine, but I'm certainly not going to hold it against you if you must go there. I just have to deal with a little reality here. Besides myself, I did not see another racial minority in this entire region and the only reason I was there was because I'm on vacation. I traveled solo and had no issues during my travel through Arkansas, but anyone this affects really must use their brain.

Gas: Fill up in Jasper or in Huntsville, where the King River County Store is located.

Food: Jasper has some places, but the King River County Store is a great place to get local food and convenience items. Don't let the intermittent sight of Confederate flags throw you off – they're nice, friendly, inviting country folks who cook some great local food that hits the spot, all of it sure to clog your arteries. The address is 22784 U.S. 412 Huntsville, AR 72740

Sleep: Obviously you can camp at Roark Bluff, Camp Orr, and other locations along the Buffalo River. If you're a prissy traveler like me and demand a mattress, you've got some driving to do. Eureka Springs is an hour northwest. US 540/ AR-21 through Rogers, Springdale, Fayetteville, and Bentonville is approximately 1.5 hours to the West. Clarksville along I-40 is one hour to the south. There are some local hotels in Jasper but I'm not familiar enough to give you advice on that or anything to the east.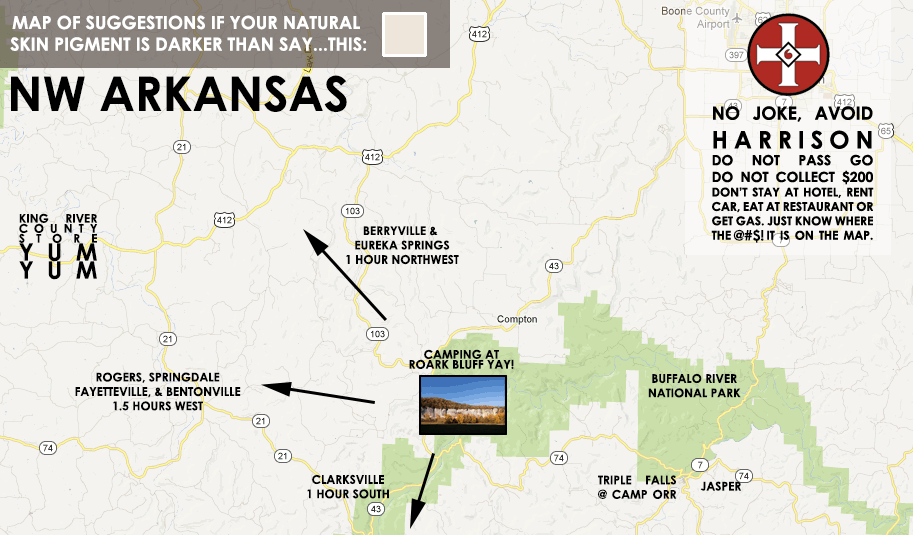 It was a pleasant afternoon and Roark Bluff is gorgeous. The river was dry so a lot of it has receded; I didn't go down into the river bed since I didn't have a camping permit. The last photograph was actually taken at twilight. There wasn't a full moon or anything, so I packed it up and headed back to Clarksville, from where I'd leave for Memphis TN the following day.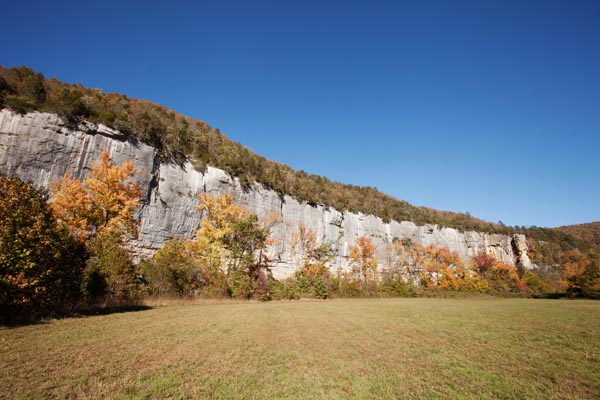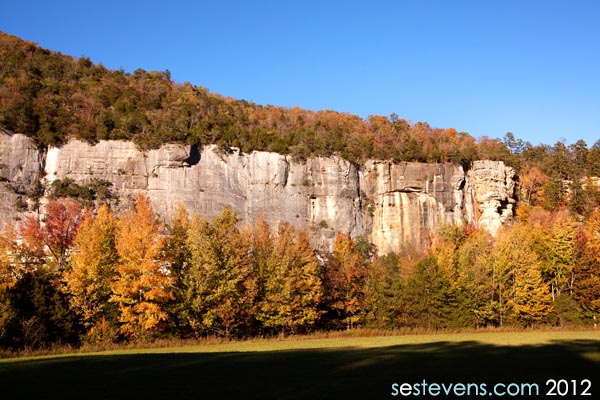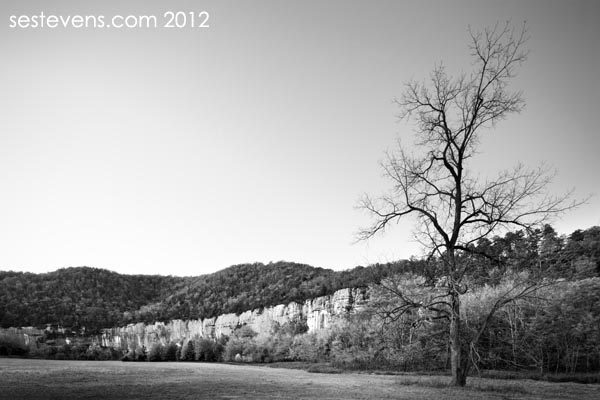 Roark Bluff (2012)
Like I said in the last blog post, I had a real blast in Arkansas. It was relaxing and though I didn't capture all the photography I wanted, was a nice break in a new place. There's a possibility I'll be returning there in the near future for commercial work, so…until the next time. 🙂