I'm very happy to tell you the First Friday opening, serving as benefit and exposure to the North Carolina Coalition Against Domestic Violence went incredibly well. With the July 4 weekend coming up, we weren't sure what the official response would be, and I was pretty nerve-wracked about the whole thing. Your response was AMAZING. There wasn't an official count, but with over 90 signatures in the guestbook, we estimate it was anywhere between 150 and 160 total people in attendance. In the interest of full disclosure, during the three hour opening we raised $550.92 combined in raffle tickets and art sales. Thank you so SO much for coming out and showing your support, it was such a good, warm vibe at the show and I could not have asked for anything more. I do apologize for being slightly overwhelmed at the event and unable to give the individual attention to everyone that I'd much have preferred; it had gotten to the point where I was forgetting and butchering people's names left and right! Again, I'm sorry for that and hope to correct that as I gradually getting better at adjusting to crowds. To everyone that I met at the show, I'm sincerely happy to make your acquaintance and hope to talk with you more in the future.
Before I continue with opening night, I want to talk a bit more about the actual fundraiser. For those of you in the Triangle area, most of the show will remain hanging at Edge Office on 400 Glenwood Avenue in Raleigh, NC through Friday, July 23, 2010 in which everything will remain on sale.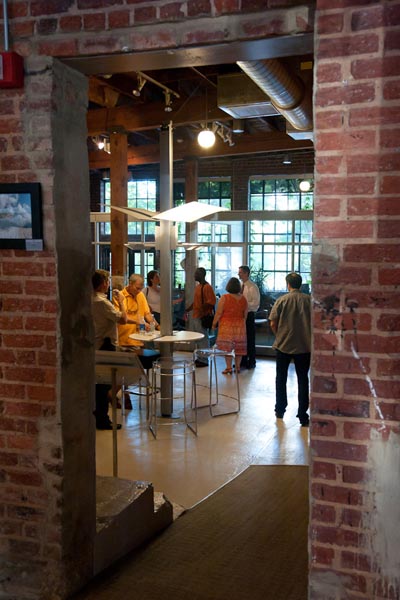 photography by Christian Coombes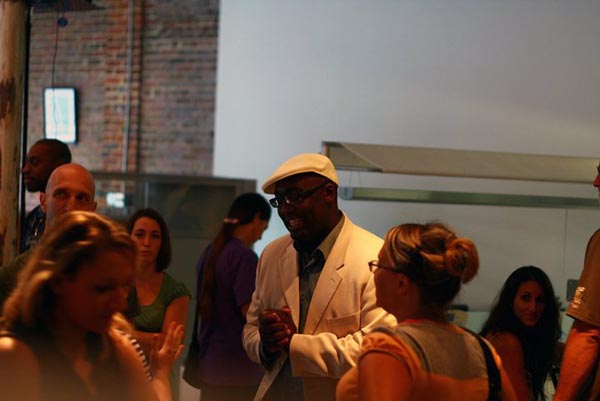 photography by Rene Wirtz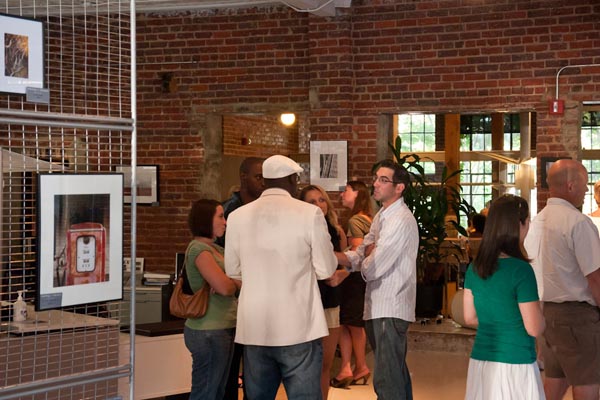 photography by Christian Coombes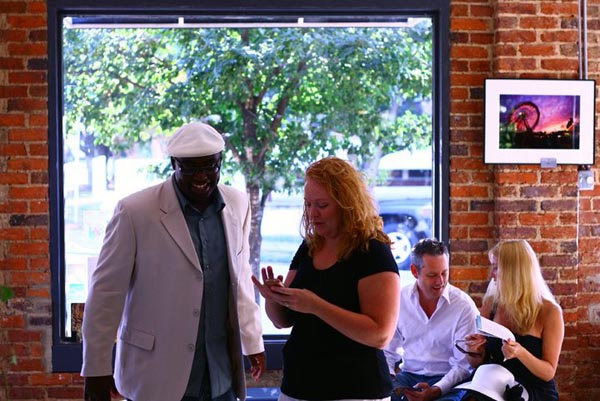 photography by Rene Wirtz
Raffle winners include:
Denise Alvarado-Wirtz and…actually I'm not sure who we gave the other t-shirt to at the show, but they both won a t-shirt with designs by Magando Studios.
Kathy Kendzierski will receive an art party hosted at her place of business or residence featuring the art of Christopher Terrell, in which she can receive any featured painting included at Terrell's party for free!
Scott Mais was awarded a half-page advertisement for his company or service in ArtSync Magazine, including ad design by ArtSync staff and web advertising on artsyncmag.com for one month.
Clarenda Stanley will receive a full-page advertisement for her company or service in ArtSync Magazine, including ad design by ArtSync staff and web advertising on artsyncmag.com for three months.
Lisa Coombes won a photo shoot with Simply Photography. It includes one day of shooting for an individual, couple, pet or family. There is no time limit, or limit to amount of shooting locations (around Raleigh). Session includes a CD with all pics fully edited and copyright release. This may include an engagement, bridal or trash the dress shoot, but not a wedding.
And finally, Julia Vo won a signed, matted, and framed print of anything in Sterling E. Stevens; fine art photography archive, including anything that's currently on the walls at the Dare to Revel Show. The maximum print size for the prize is 12? x 18? with a maximum frame size of 18? x 24?.
BIG thank yous to:
Camilla Eubanks and the entire North Carolina Coalition Against Domestic Violence, I've been very happy to work with them in coordinating and advertising this event.
Kelley Naylor and the entire Edge Office for being such kind and gracious hosts. Thanks Morgan for doing a great job picking the raffle tickets!
Phillip Jefferson and John Rodgers for setting up the show and Cary Photographic Artists for the display racks!
Reuben Gradsky for keeping the raffle and art sales organized (as well as keeping me not as scatterbrained).
Thanks to the awesome supporters who freely donated their prizes and time make the raffle a success – Cynthia and A.J. Viola, Christine Clemmons, Christopher Terrell and Earlica Forte, Meghan and Owen Beckmann, you all kick ass.
Thank you to Pam Hooks, Chuck Belden and the Raleigh Young Professionals, Christian Coombes and the Triangle Photography Club, Christopher Terrell and the Raleigh Art Meetup for sharing the event with their members and spreading the word.
If I've inadvertently forgotten anyone, just slap me upside the head! Lastly, but absolutely not the least – thank you for spreading the word about the show, your wholehearted support, warmth, and generosity. It was a truly wonderful end to the week and I couldn't be more happy with the way it turned out. Please take the time to visit NCCADV's website, they work with so many good organizations in developing public awareness, support and assistance, and government policy and legislation.