OCTOBER 10, 2003: Mom whipped her head around towards me slumbering in the back of the car and demanded, "Are you listening, Sterl?"
I drowsily raised my head from the nest I made between the back seat and rear window enough to mumble, "Yeah sure Ma."
Seemingly satisfied with this less-than-robust answer, my mother returned to pointing out farmhouses and vast landscape beyond my parents' car as my father drove us through the Georgia countryside surrounding Glenville and Claxton.  As with every trip to Georgia since I was a young child, I displayed idle interest in the rural scenery whizzing past my window as Mom continued to describe distant relatives I never heard of and ghosts of places that escaped my attention.  Having lived in the suburbs of New Jersey and cities of Houston and Raleigh, I felt little connection to these country surroundings and stories of my mother harvesting sugar cane.  At the age of 28, I was unsure why I still reverted to becoming a child each time I sat in the rear of my parents' car, but just like at the age of 8, would always soon fall asleep to the gentle hum of their vehicle.
We were on our way to see Aunt Claudia.  I had little to no memory of Claudia as a child, but often remembered her husband, Uncle Sam, when he'd visit our family up North.  Every year my uncle would jokingly stoop over, claiming he'd kidnap me down to Georgia to hunt alligator on their many acres of property, to which I'd vehemently shake my head and retreat in terror.  I was a homegrown Jersey boy and got my food from the supermarket, no way I was huntin' no reptile.
Sam was a sharecropper in the 1930s well before my mother, his sister, was born.  My aunt came from a well-read and educated family, a rarity for black Americans in the deep south during the Depression Era.  She was the first black woman employed by a bank in the state of Georgia.  When most of my mother's side of the family moved during the Northern flight of the early 60s, Sam and Claudia chose to stay at the only home they ever knew.
On this visit I recall Claudia, as sharp as ever, cracking jokes while sitting on the front porch of the humble country abode she and Sam owned for many decades.  A widow in her early-90s, she took care of herself and for safety had a shotgun she'd show no hesitation to use on any intruder.  Of course, the elders joshed me for my (still) aversion to hunting alligators.  While returning to our hotel near Savannah, I was awake enough to spy a blanket of cotton stretched beyond a nearby swamp.  The next morning, on a windy and overcast day, as my parents' drove further south, I felt compelled to return to Claxton before tripping back to North Carolina.
There was something haunting about looking over this cotton field in an area where so many of my extended relatives live to this very day. I suddenly understood everything Mom was trying to convey and couldn't help but wonder if our ancestors slaved this exact cotton field.  Many generations later, I stood free in front of the very crops they picked over.  It finally hit me that where I was is where I came from.
I took out my point-and-shoot Canon Powershot G2 and captured this image, one of my earliest compositions.

Claxton Fields  (2003) (click for larger view)
It was the last occasion I saw Aunt Claudia alive and the following year we returned to the Claxton area for her funeral. By this time, I had completed my Master of Architecture degree, relocated to the state of Georgia for work, was learning how to use my first digital SLR, and developed quite a budding romance for shooting the rural condition. Absorbing scenes such as this had a major influence towards my new passion for photography.
In the spring of 2003 I had renewed a fledgling interest in taking pictures that I hadn't since the mid-90s while taking a B&W film course in college. The presentation of Claxton Fields evolved out of my inability to seamlessly stitch a series of shots, as Photoshop and other programs were nowhere near the tools they are today. With nothing but a 4 megapixel point-and-shoot, I'd capture entire buildings by taking many photos and overlapping them.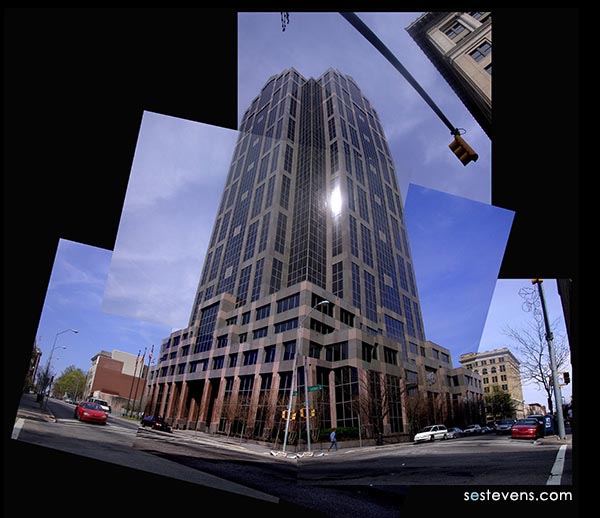 During my first visit to Baltimore on a trip with my architecture design studio, instead of merging individual photos and seeing exactly where they didn't match up, I selectively sliced photos and placed them down like puzzle pieces.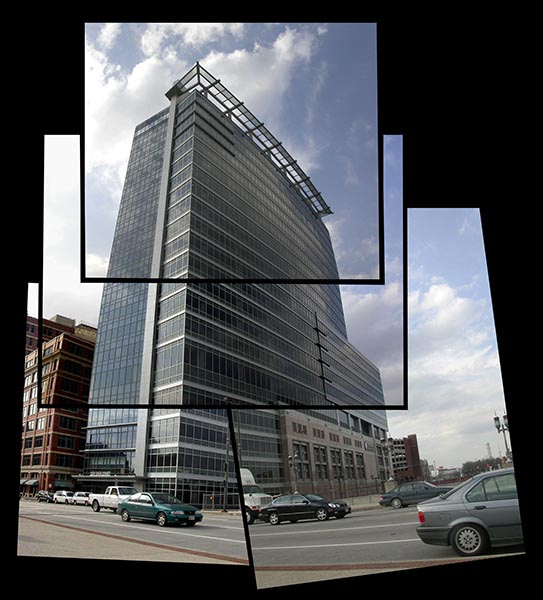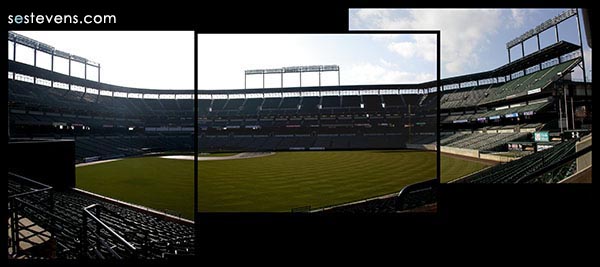 I began combining my architectural knowledge, graphic sensibilities, and picture-taking interest to not just merely compensate for my lack of photographic ability and digital prowess, but artistically inform the viewer by tying photo slices together to present a cohesive scene. Sometimes the experiment worked and other times it didn't.


(select for larger image)


(select for larger image)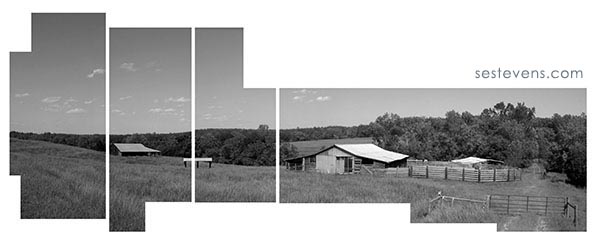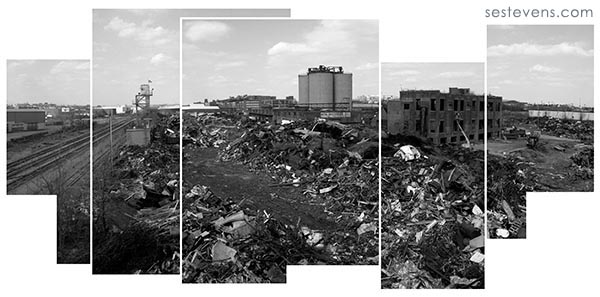 As I learned more about photography, had a digital SLR and wide-angle lens in tow, became handy with a tripod and with Photoshop, this style fell quickly to the wayside. However, Claxton Fields remains the lasting, penultimate result – conveying a timeless and personally emotive scene in a contemporary digital fashion – and the only image of this type in my portfolio.
Who knows, perhaps I'll revisit it someday.