Still in what I'm hoping is the first half of my photography career, I've gained enough latitude to start working on projects and with design practices that I really want to work with, purposefully steering towards people and places that would ordinarily be considered outside the architectural "boys' club". It's been a true pleasure collaborating with Alonzo Alston and Sol Studio Architects in San Antonio the past couple of years. Love his design sensitivity and most recently photographed the New Marbach clinic of Planned Parenthood, which has a few mid-century modern throwbacks and design cues, 21st-century-style.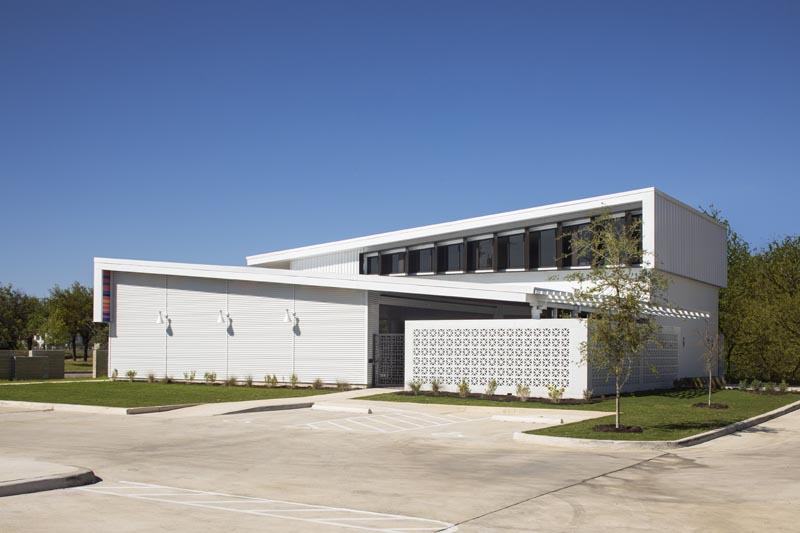 The clinic features two countering sloped masses that stack one behind the other.  The materials palette includes corrugated horizontal metal panels, vertical rib wall and standing seam metal panels, and concrete breeze-block.  The front, entry mass cantilevers downward sloping into a wood pergola.  The rear, street-side mass contains clerestory windows. Landscape features a board-formed concrete wall and more of that gorgeous breeze-pattern.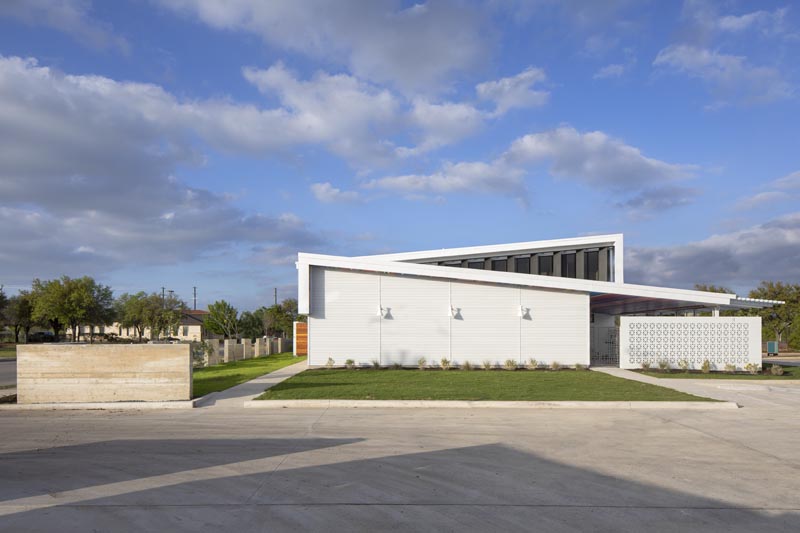 And look at at that beautiful rainbow-colored soffit!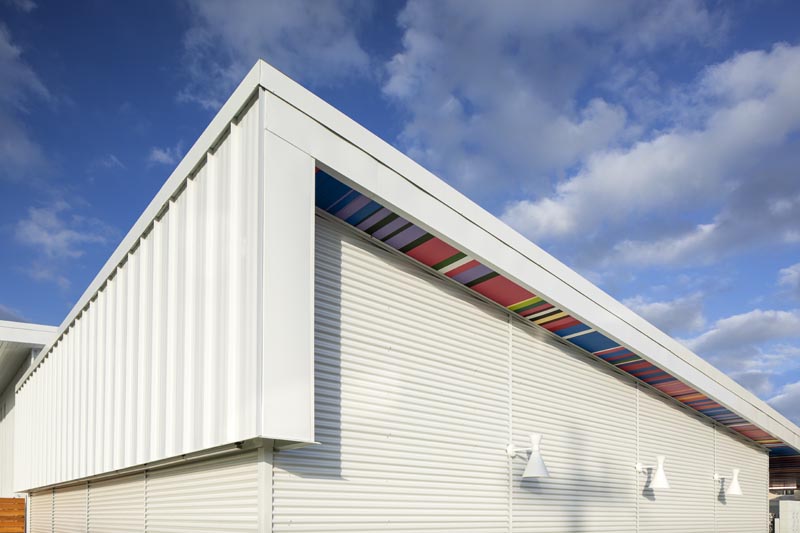 The soffit slopes down and expands to form the entrance  roof canopy that shelters a meditative rock garden.  This is a detail portraying the beam/column connection between the canopy and pergola that allows the form appear to hover over the breeze wall.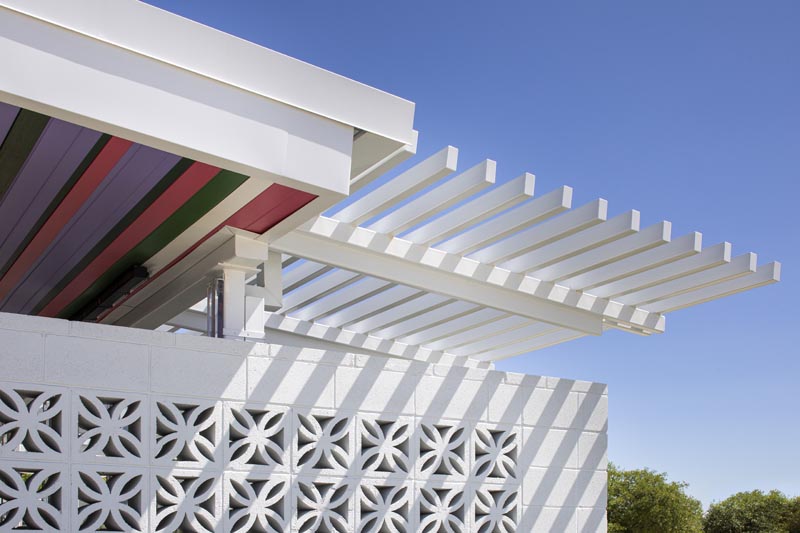 Returning to Texas to a lower latitude and warmer climate has also been a return to sizeable roof overhangs that cast deep shade, particularly during the summer months.  Here you can see the wood framework create a complimentary shadow to the concrete block pattern.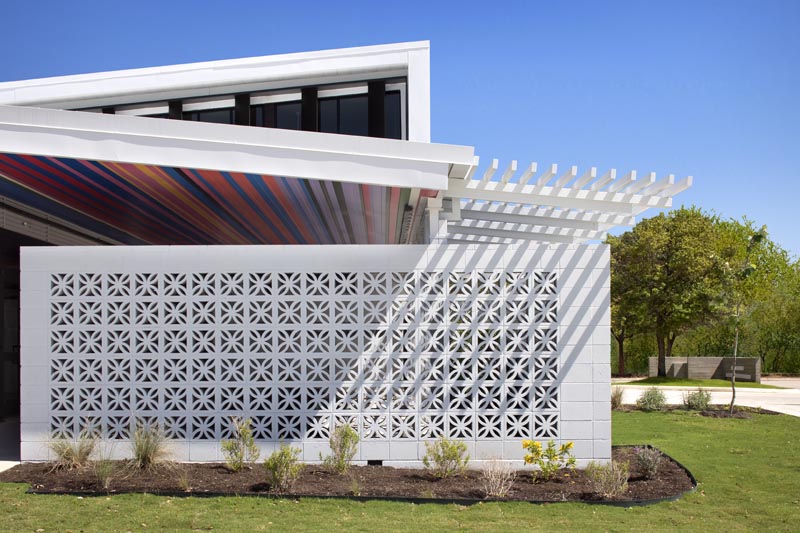 The colorful patterning extends from under soffit to canopy, stretching towards the main entry.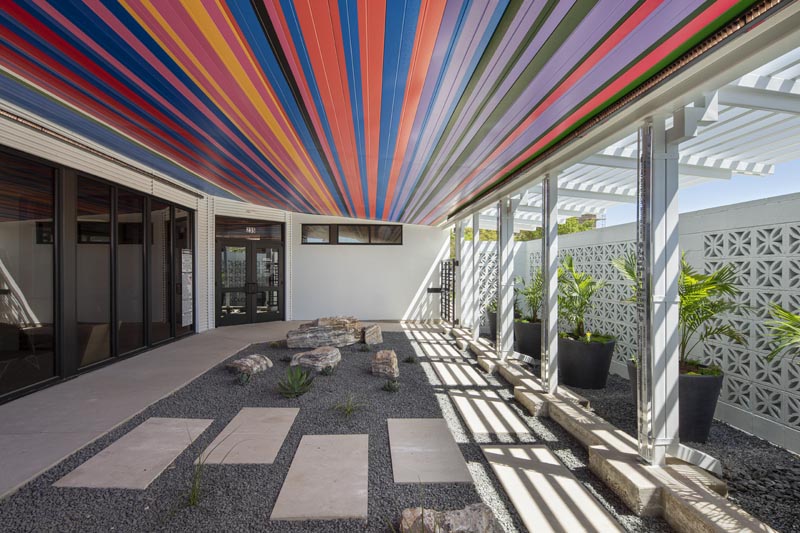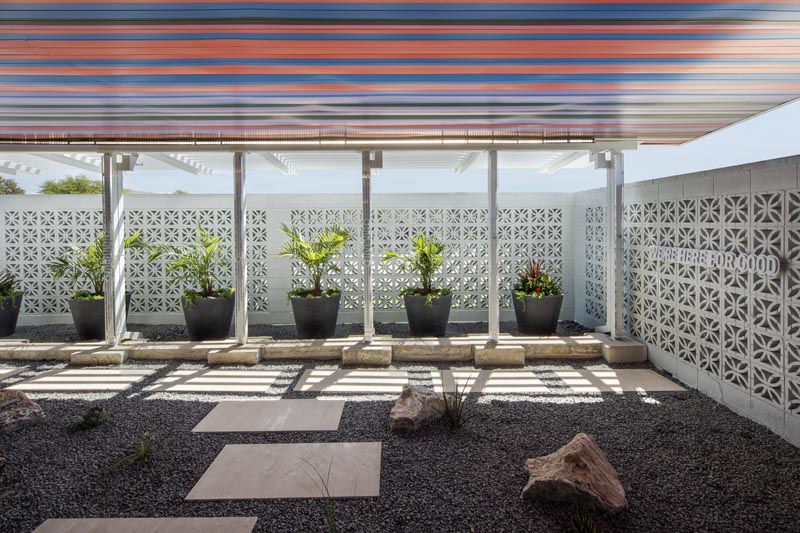 Inside is an atypical material palette for medical office waiting rooms, I love the playfulness of the light globes versus the ribbed wood pattern and white tile, all exposed and accommodating for the HVAC systems above.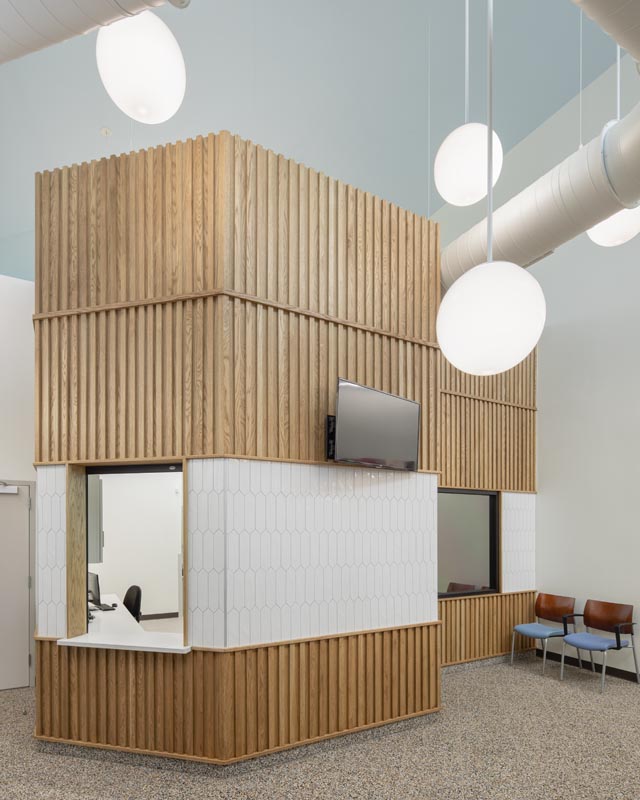 What did I tell you about those cantilevers?  Here you can see the playing of folding walls and roof to align and sculpt mass, layering of parallel planes, and use of implementing different material patterns, even with the exact same building material.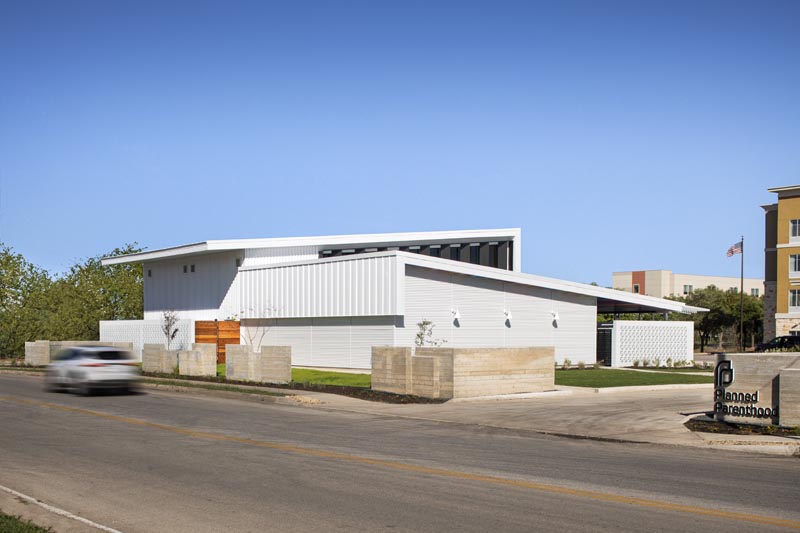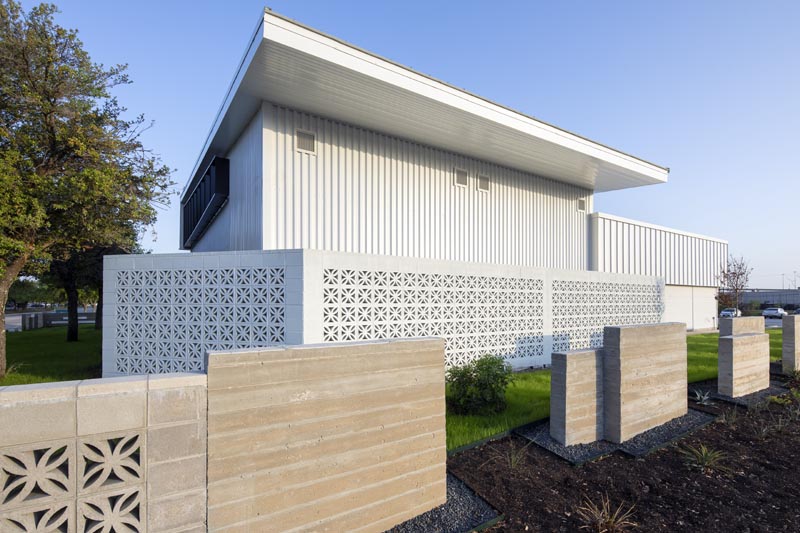 Another detail along the west elevation, illustrating how the different materials reflect sunlight and cast striking shadow lines.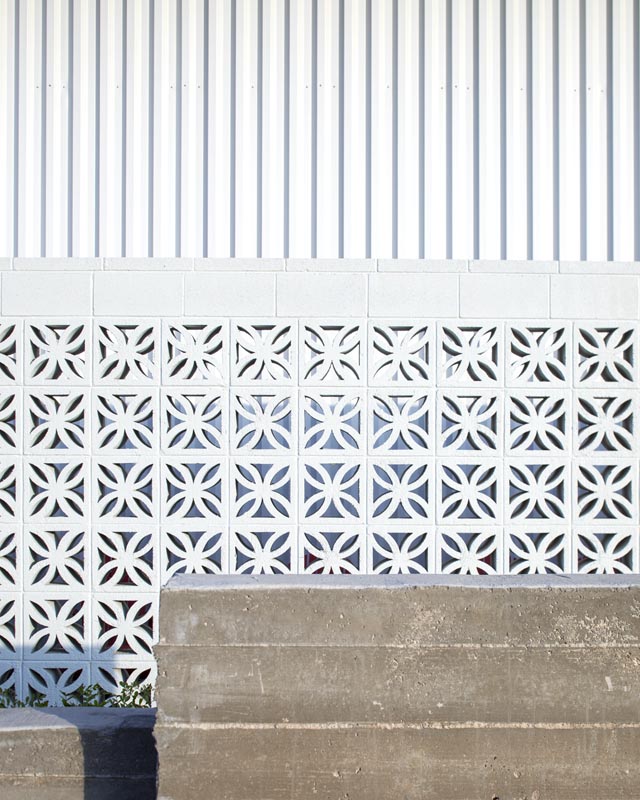 Taking a step across the street, one can see how those details influence the entire elevation.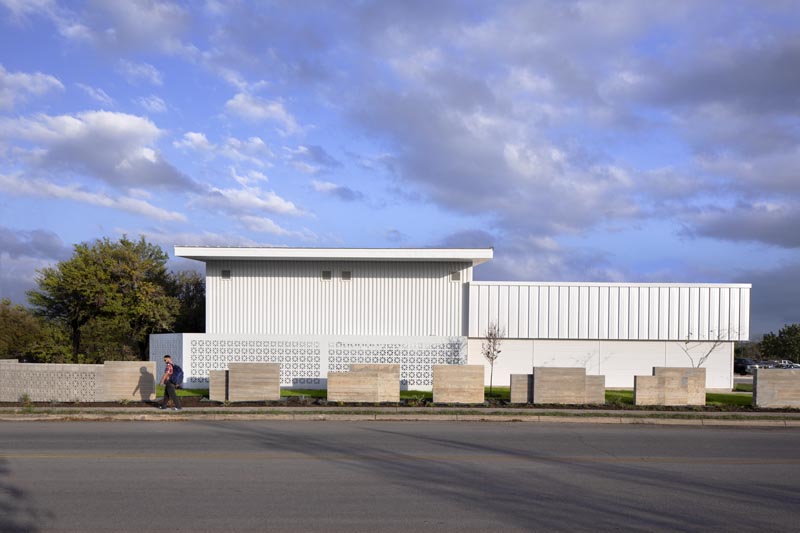 Sometimes I don't know what to expect with lighting and I -loved- the lighting design choice.  Subtle, simple and truly compliments the design, not merely just bouncing light for the sake of it.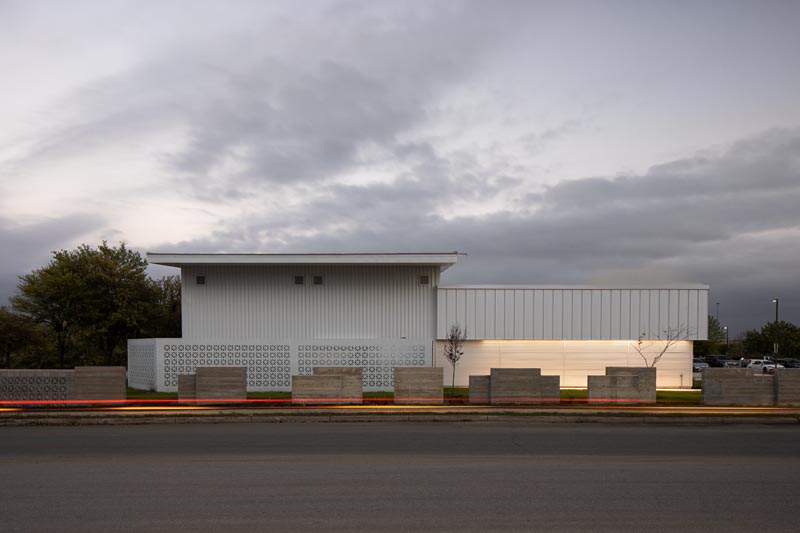 Well that's it!  I had a lot of fun with this project and I'm glad to have more opportunities to work on assignments that strike closer to my heart.