Anyone remotely familiar with me knows I've chafed at the idea of doing any sort of wedding photography to the point I'd shoot down the opportunity the second I heard, "Hey do you do w-". Sure I've occasionally done some stuff over the years for friends and as a second photographer. However, as someone whose past professional pursuits have included architecture and website design, I've been cautious (downright apprehensive) in my approach as a self-taught photographer, especially as I've transitioned from fine art into the professional world of photography. A minimum level of competence is important to me and I personally find it a tenuous balance to strike. On one hand, I've been readily accepted by the fine art and photo community as a bonafide photographer. On the other, there's so much griping (and rightfully so, but really what are you going to do?) about how the world of professional photography is being diluted by untrained, unqualified people who are stepping out because they figured out how to work a DSLR that in the back of my mind I'm like…er, yeah I'm kinda one of those people. Similar to previous ventures, I studied, performed due diligence, and moved forward accordingly. I love what I do, feel I've reached a minimum level of professional competence and technical expertise, understand the business/marketing side of being creative, and most importantly – my client base is happy and gradually expanding.
So when my good friend Ryan up in Wisconsin got engaged and asked me to be his wedding photog, lessee…panic isn't the right word – fright? hysteria? suffering an emotional breakdown and streaking naked down Hillsborough Street? I knew Ryan wouldn't accept "no" for an answer, which apparently is how he met his wife Melyssa. So after I habitually pulled back, he explained why they specifically wanted me. They appreciated my style of environmental photography and it would be a small wedding with immediate family members only, on the beach along Outer Banks of North Carolina. Ryan continued to explain there would no bridesmaids, groomsmen, gaggle of guests or bouquet/garter toss and the reception was in Wisconsin a couple weeks later.
Hm. So that got me thinking.
Okay sure buddy, SOLD!
We drew up the contract and pushed forward. I even had the pleasure of meeting Melyssa during my trip to Madison in April. The marriage took place at sunrise in Corolla, a few miles away from the Currituck Light House. On September 15, I arrived at the beach house the family was renting the day before to scope the scene, nail down my metering and flash settings.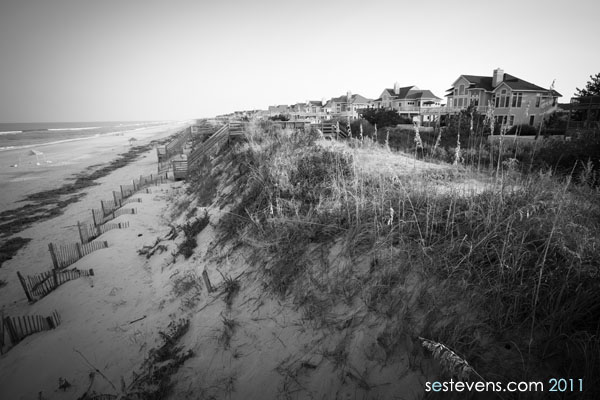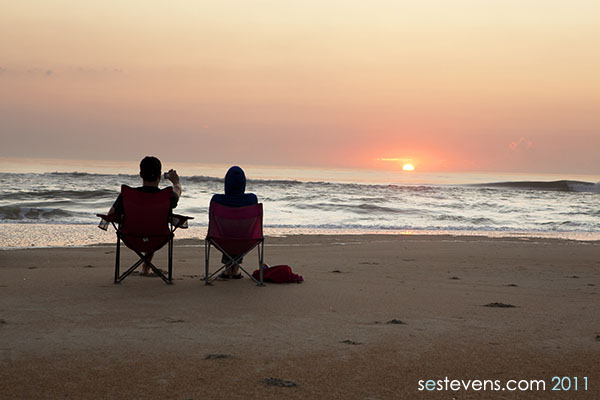 Picture a serene morning scene on the beach, facing a glowing sunrise over the ocean. A violinist plays in perfect harmony with the soothing breeze and waves gently lapping the shore. A simple bamboo structure frames an emerging ball of fire silhouetting the groom and bride as they exchange vows. A series of flowers and crystals are strung over the couple, casting a glittering menagerie of light as the happy family sits beyond basking in the warm glow and colorful brilliance before them.
Pretty cool, huh?
During afternoon, Ryan and a few others built the bamboo structure as final preparations were made. Sunset is when dark clouds started to roll in from storm Mary in the Atlantic. We had precipitously little time to attempt the candlelit picture below and winds quickly snuffed them all out, abandoning any hope of doing an entire series.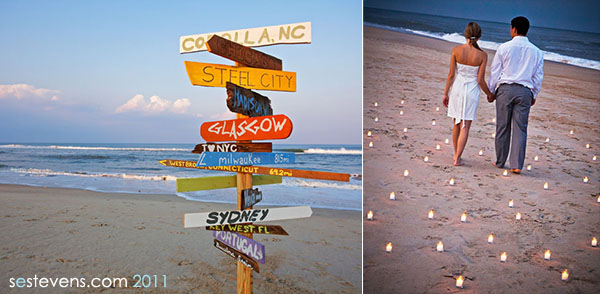 I'm sure you can already tell where this is going.
I didn't gain much sleep the previous evening and went to bed early at 9 p.m in hopes of getting a full night's rest. That night it stormed like CRAZY. I woke up at 1 a.m. to the sound of 25-30mph wind gusts and rain battering the house siding. By 2:30 I had given up on the hope of sleeping and decided to throw on a hoodie to venture outside. I just had to see if the bamboo held up. Fortunately, the structure was very secure at its base (I expect nothing less from an architect); it had fallen down skewed but otherwise remained tied together.
Apparently after 1 a.m., nobody else got sleep either. When the rain eventually broke, Ryan and a couple others resurrected the structure.
Around 4:30 a.m., the makeup and hair artist arrived and I shot Melyssa as she was attended to. I shot full manual on both camera and flash. To reveal how rarely I use my flash (indoor or outdoor), which I adamantly refuse to use for architectural work, the last two dates I used it were: March 6, 2010 and March 28, 2009.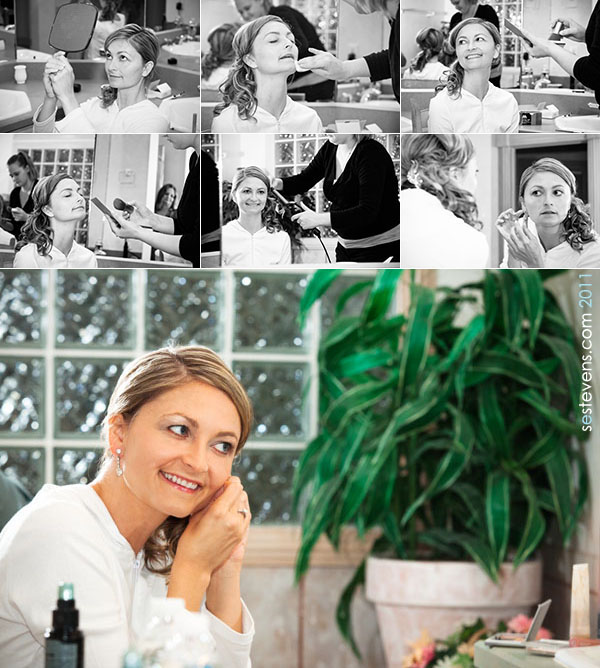 As planned, the wedding began immediately before sunrise. So…remember the beautiful, romantic scene I described earlier? Right – that's not what happened. Welcome to hurricane season in North Carolina, so let me describe what ACTUALLY occurred. Here goes: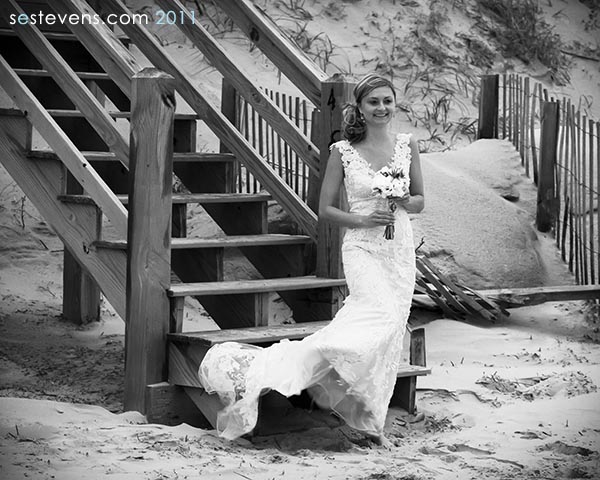 OMG! TURBULENT MOODY SKIES WITH NO TRACE OF SUNLIGHT! OCEAN ROARING ANGRILY, 20MPH GUSTS WITH NO SIGNS OF FADING! MIST AND SAND FLYING EVERYWHERE! WHOA THE WIND JUST CARRIED HALF OF THE VIOLINIST'S SHEET MUSIC A QUARTER-MILE DOWN THE COAST! TIDE CRASHING WAY TOO CLOSE TO THE WEDDING! COVER THE KIDS! IS THAT BAMBOO GONNA REMAIN UPRIGHT? HURRY UP HURRY UP, HERE COMES THE BRIDE! DRESS FLAPPING IN THE WIND, I HOPE HER HAIR HOLDS UP! I CAN KEEP THIS 200MM ZOOM STILL, RIGHT?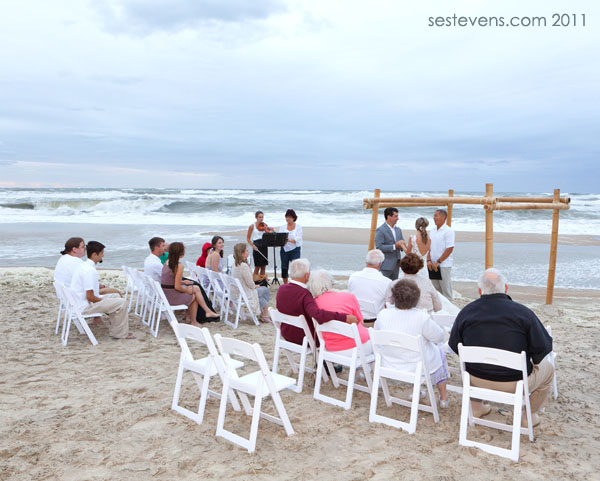 I've been to a LOT of weddings in my lifetime, but had never witnessed anything like this. After all this delicate planning, you had no choice but to admit the sheer comedy behind the rushed chaos surrounding a sunrise wedding during an early morning storm. I idly wondered if the violinist knew "Flight of the Bumblebee". To their credit, Ryan and Melyssa accepted it in great stride. Ryan was more correct than he thought – this scenario was RIGHT up my alley and put me at ease. No WAY I'm gonna screw up these pictures any more than this storm has.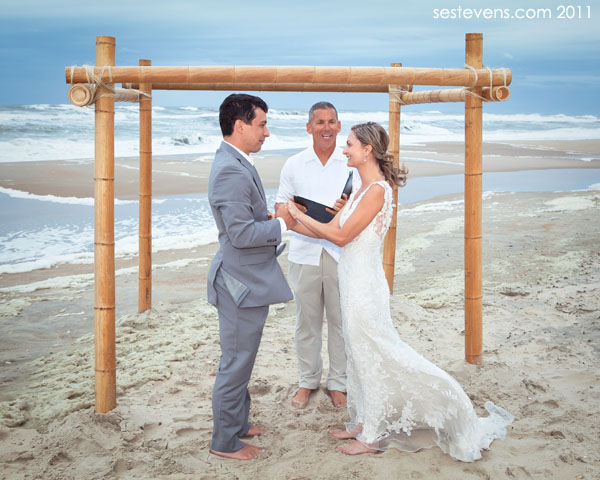 The minister was PERFECT. If I ever get married I want him doing my wedding. He was invigorating, energetic, passionate, and said all the right words – much of it impromptu – as the winds swirled around.
And yes – you kids ARE crazy.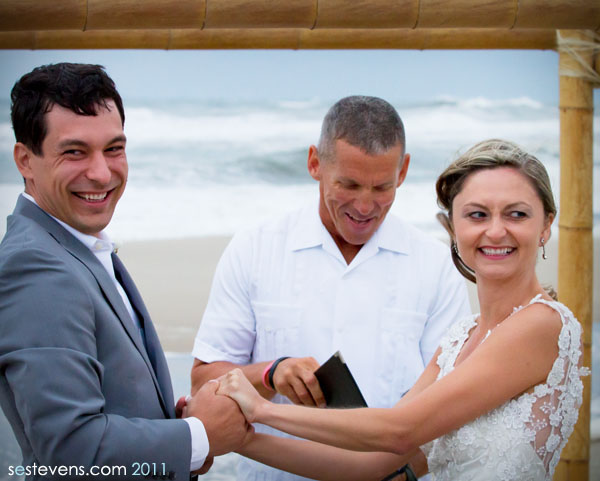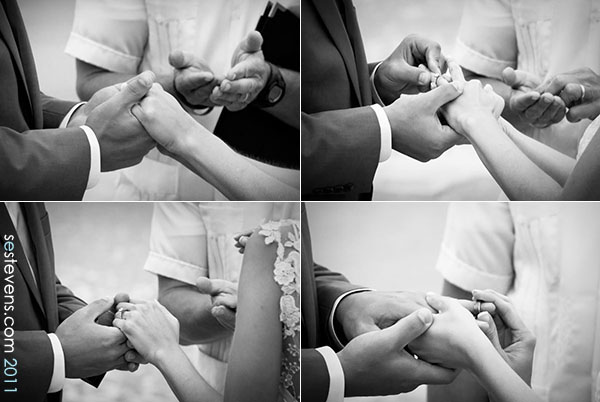 I love Melyssa's reaction after the vows and kiss, like "Yeah this is totally insane but WE DID IT!" And then you have Ryan who looks like he's shivering.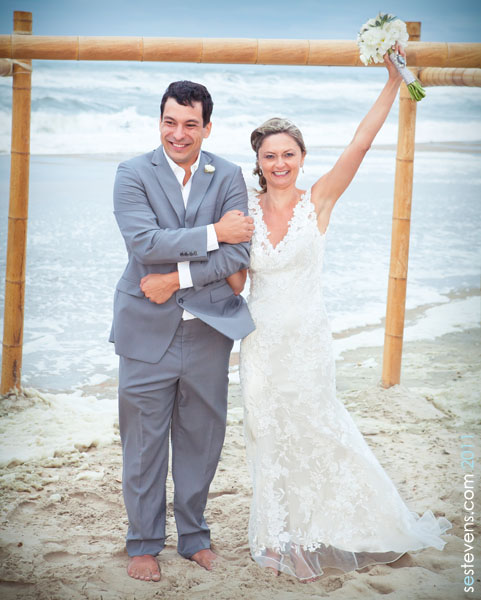 The photos immediately proceeding the wedding were fairly impromptu in the afterglow of just getting hitched. Knowing them both really helped establish the photographer-subject comfort level needed for any sort of portraiture.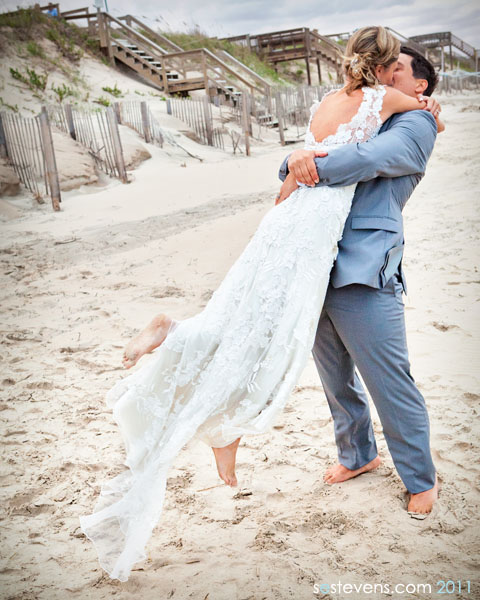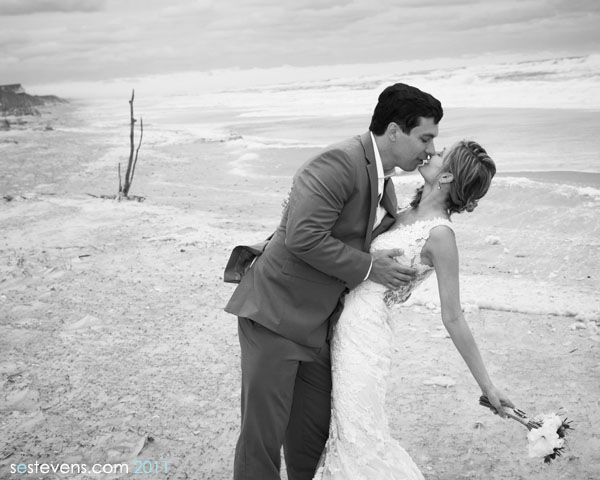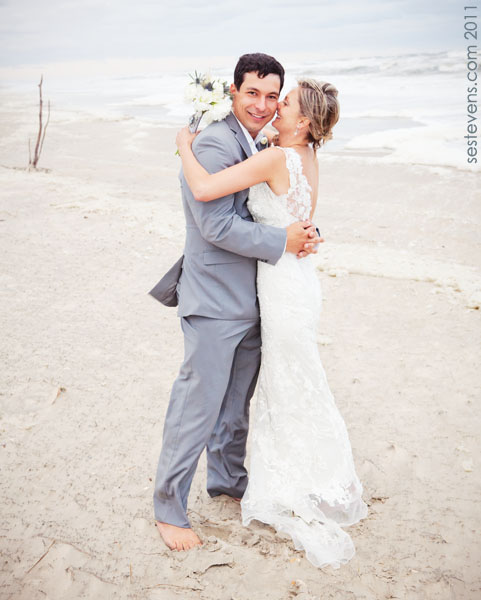 Following the wedding, we did portraits in front of the beach house with Ryan, Melyssa, and all the family members. After, we took a few with just the couple where they decided to strike a pose. Though the weather caused everything not to go as exactly planned, anyone could tell how happy and relieved they were and just as importantly, were able to laugh about it as well. During brunch, Ryan turned to Melyssa and joked, "We are not naming our child Mary".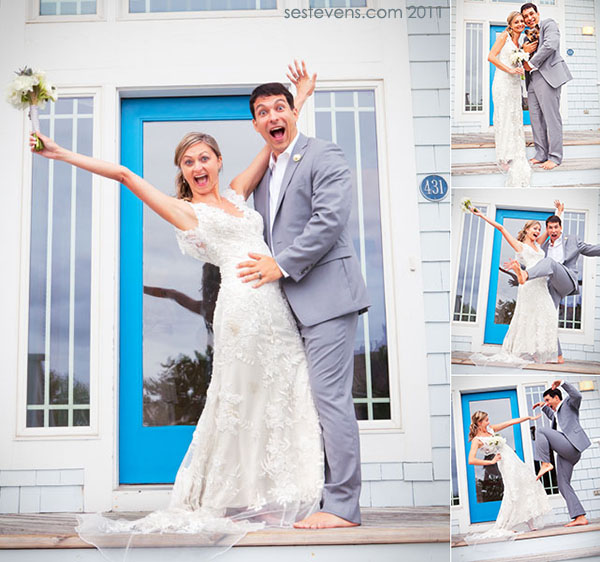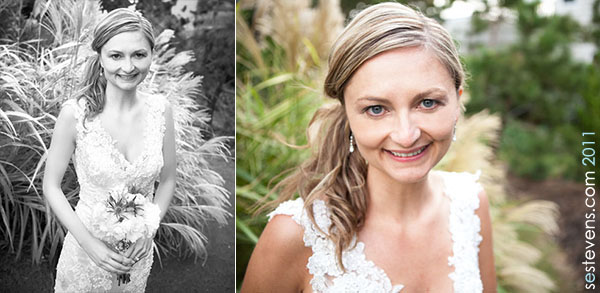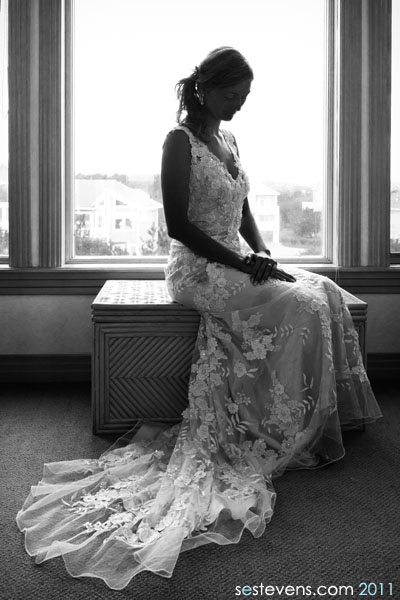 Because it was a small wedding, it allowed the opportunity to capture a few abstract candids when they weren't looking: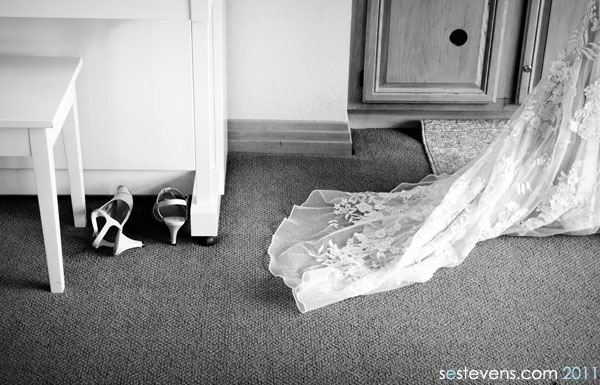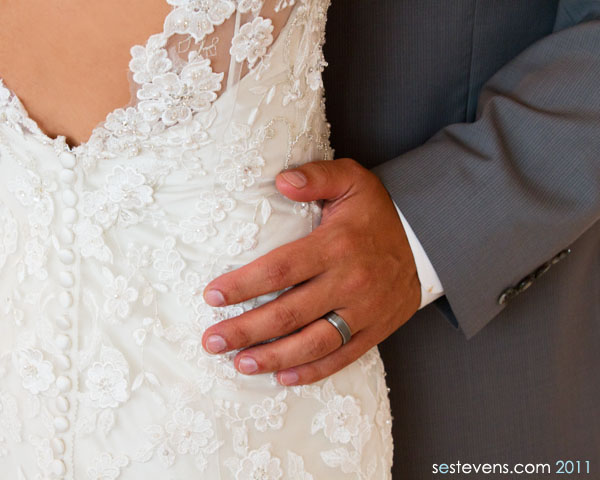 Setting and the wedding cake: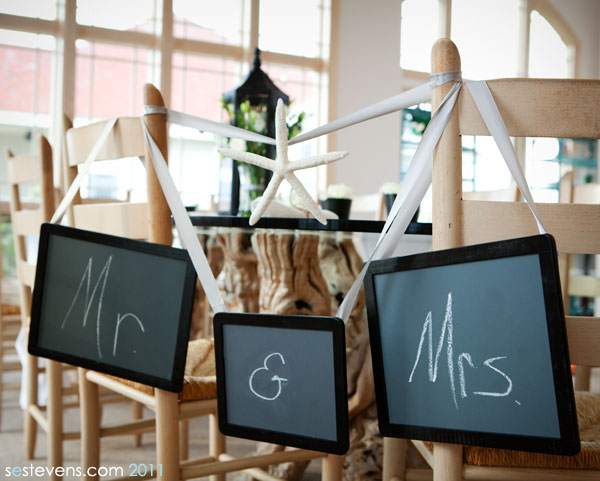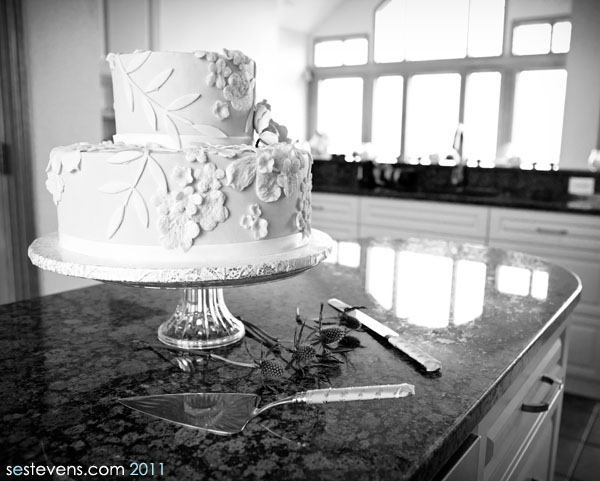 Cake-cutting which they initially claimed they weren't going to do (ha, they did it!) Look at the intensity on Ryan's face in the second frame, he looks like he's carving a frickin' turkey.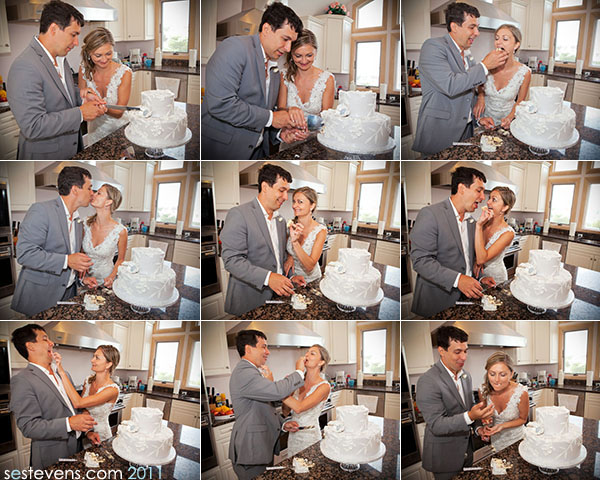 The wind was still whipping around outside but it wasn't raining, so we took the opportunity for a few posed shots.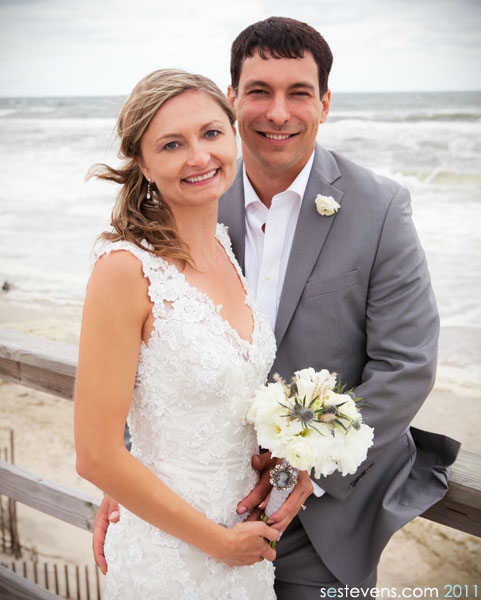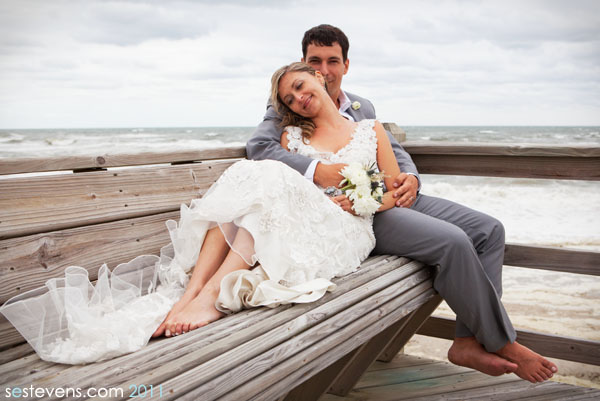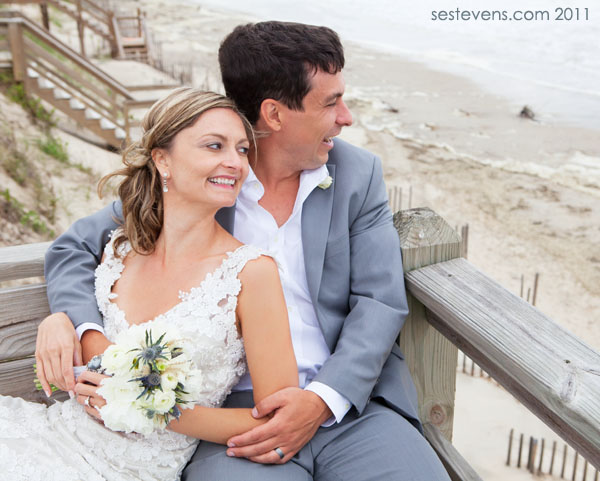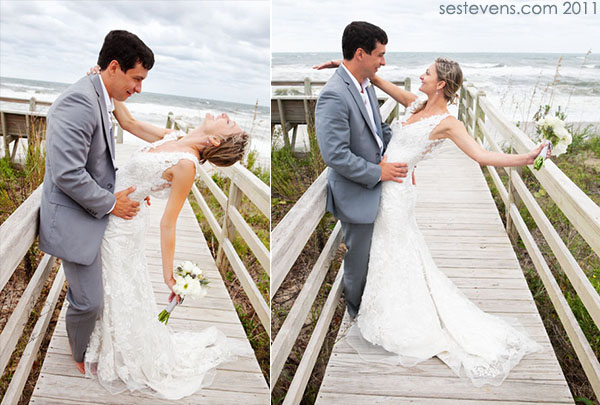 My main thing has – and always will steadfastly remain – architecture and the built environment. I don't yet have a distinct, refined style of shooting people as I do with my fine art and typical subject matter, though that is sure to evolve with experience and time. However I will admit having fun doing this and recent opportunities have changed my perspective a bit. I learned a LOT on this shoot. Though unsure how often I'll be willing to shoot as either a primary or secondary photographer, I won't automatically say "no" each time I'm asked.
Finally, this was the scene less than two hours after Ryan and Melyssa exchanged vows. I couldn't pass it up – now that's what I'm accustomed to.