One of the interesting things about the digital medium of photography is that its increased accessibility and communicability. As a result, the market has been flooded with amateurs and aspiring professionals who have little to no formal training in photography. Naturally, this has been met with a mixed reception by many established professionals, and certainly not without merit. "Now anybody thinks they can buy a camera and be a photographer" is the common lament – which is equally true as it is untrue. On one hand many parts of the profession has been saturated and it's more difficult to earn the same fees. How the public judges "good" photography has shifted (but hasn't always happened?). On the other hand, you can't stop technology or the free market. Further, I daresay photography as a medium has never been more prevalent, integrated, or important into all aspects of our culture as it is this very moment.
This is the way I see it; if you have a talent or skill set and combine it with a bit of business sense, you can develop a niche in any market. The biggest question posed by any aspiring professional is "Can I really do this?" After several years as an amateur photographer with a few paid gigs under my belt, I certainly asked that question before staring my own business. The answer was simple – "Well, I have to."
See, that's the thing – it's the singular and most critical difference between an amateur and professional in anything, or even between working for an employer and working for yourself. An amateur photographer MAY take some good pictures; a professional photographer is REQUIRED to. There's a level of expectation because the professional is getting paid for it. Of course, there's a wide range from an entry-level professional learning the ropes and savvy veteran 20+ years established. Yet it's the question any aspiring professional – classically trained in photography or not – has to face. No matter your training, if you've got what it takes – in creativity and technique, in business, in your work ethic, in your DESIRE, you're going to bust your ass to figure out a way to make it work. So forget all the stigmas, judgments, the whining, all the fragile egos, all the everything you have to deal within any creative profession – it boils down to you and the commitment to your passion.
Architecture is a unique niche within the profession of photography. For one thing – there's not many of us and there are fewer jobs to execute. Though the market is not saturated, it's remains highly competitive. Secondly, within that niche, is a significant percentage of people classically trained in buildings – through architecture school and the profession. Architectural photography is one of those weird intersections where having an architecture background with some photography knowledge can put you just as much in the running with professional photographers with scant in-depth architectural perspective and appreciation. As someone who has spent a good part of their life designing buildings, I can tell the difference between a photographer with a good eye for getting the "gist" of a space and someone who clearly does not. You don't need an architectural background to shoot architectural photos, but it does take a certain sensitivity for space.
That leads me to real-estate. I wasn't quite sure if this was a market I wanted to attempt to break into; the standards are much different than typical architectural photography. After performing a regional market study in the Raleigh-Durham area and talking with various residential and commercial realtors, I decided to only work with certain segment of the real estate market – and to stick with it. Fortunately, this eventually led to a commission to take pictures for the Residences at the Quorum Center in downtown Raleigh. There were certain requirements on type of shots, but I was given free range – and access to three different condominiums – in determining what to shoot and how to shoot it. No time to "test" shots or spin wheels figure things out. Inclement January weather left about a 48 hour time slot to schedule shooting, so made a few snap decisions upon a brief walk through with the building owner, Ted Reynolds, and ran with it.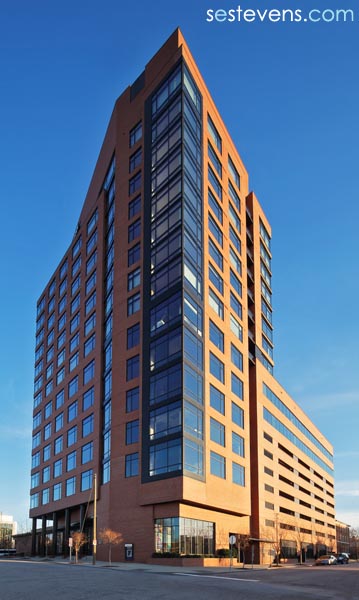 Downtown Raleigh has a lot of exposed power lines, which makes it challenging to shoot a 15 story building. This photo was shot in the middle of Jones St. and Harrington St. intersection and I still had to Photoshop some powerlines going part of the facade (You'll notice no powerlines are emanating from the telephone pole in the image). Also removed the flagpole from the top of the building, which if anyone's seen it – looks a bit stuck on.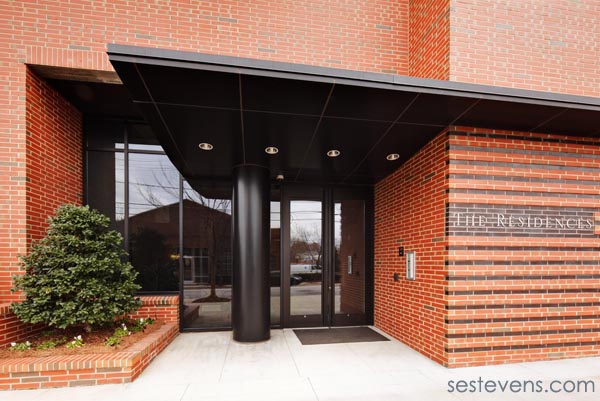 The residential entry.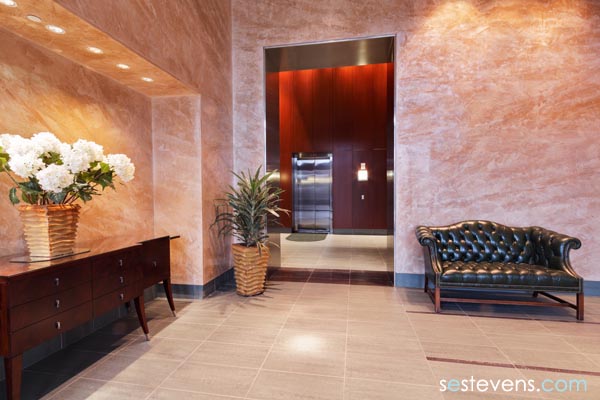 The entry lobby.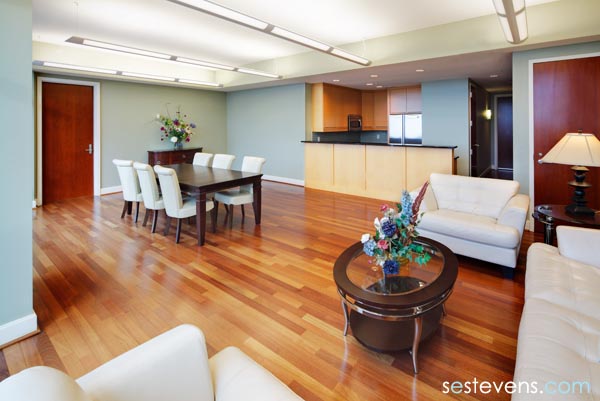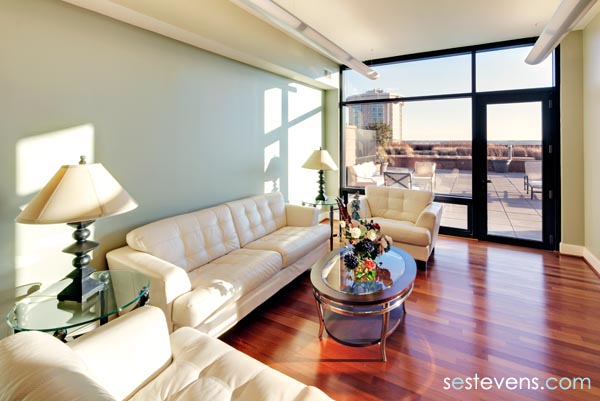 The above two photos are the social room that opens onto the roof terrace, partially pictured below.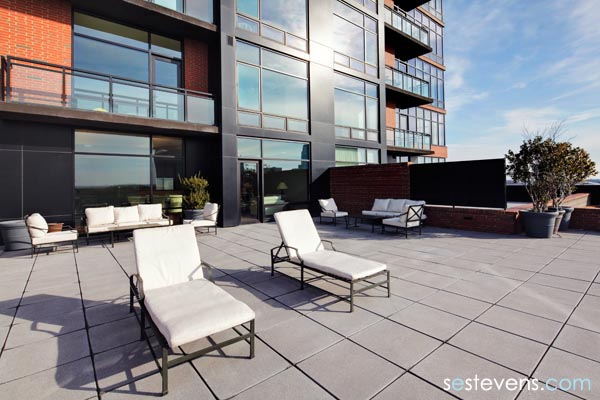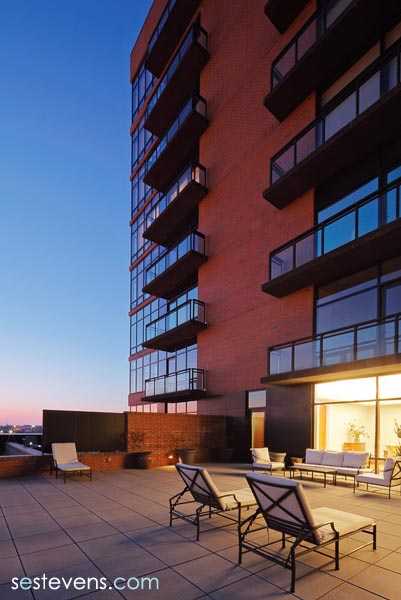 Condo #1
The first condo I just liked the daylighting and bright colors of the kitchen.
Condo #2
The second condo had the most subtle color scheme – earth tones and deep browns. Shot the living/dining area, one of the bedrooms, and the master bath.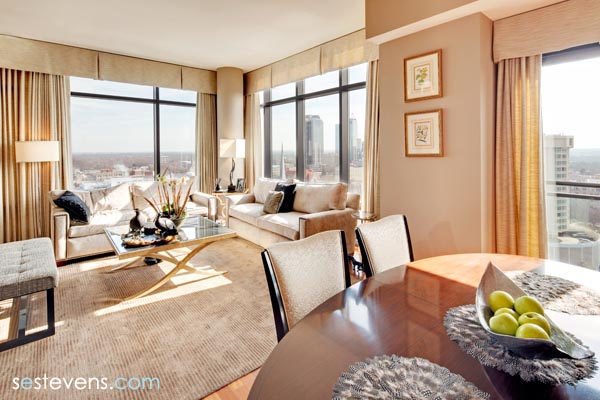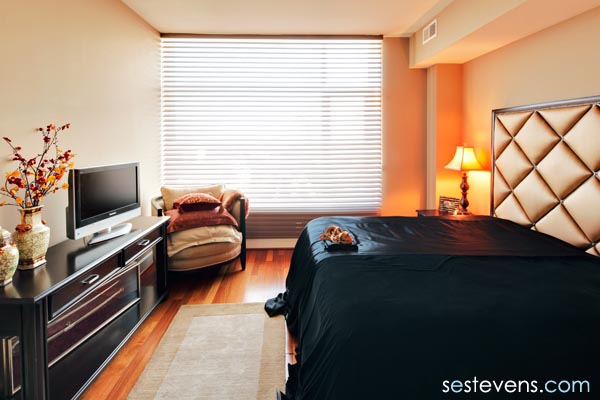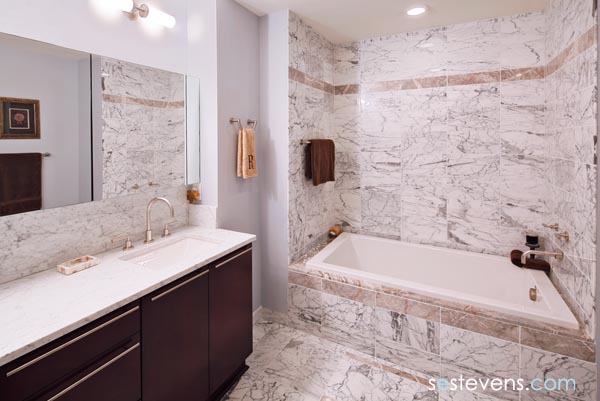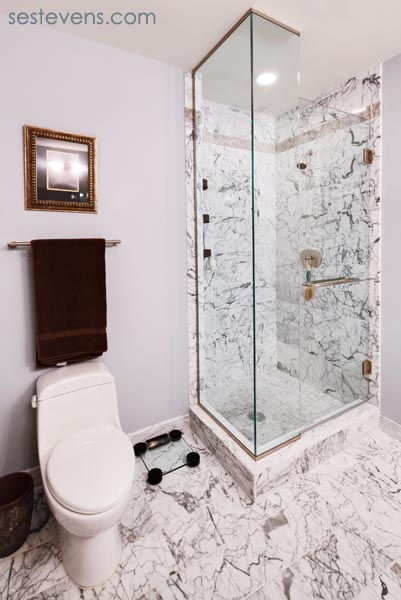 Condo #3
The third condo was the most custom of the units, with special situations that wasn't in the other residences. The main hall was fully mirrored and, the dressing room had natural daylight, and the master bedroom has an overlook of downtown Raleigh that really lights up at night.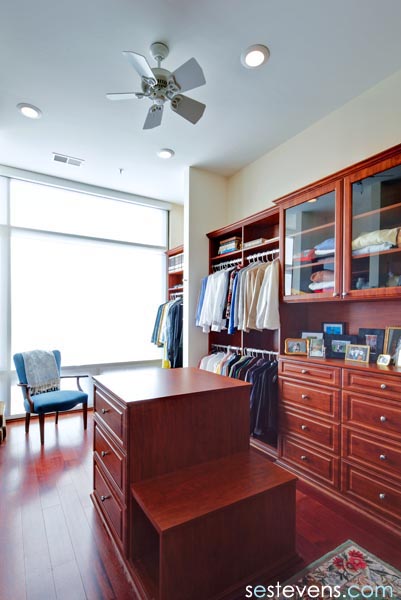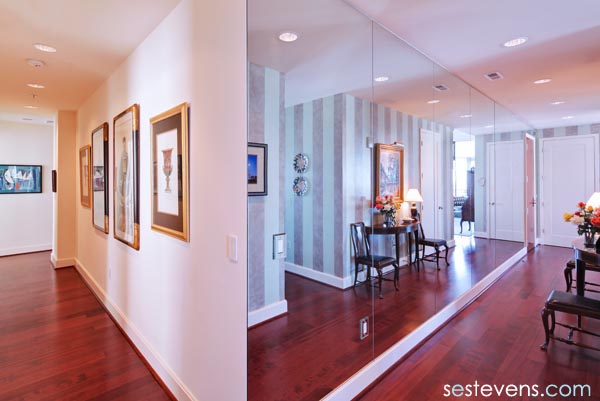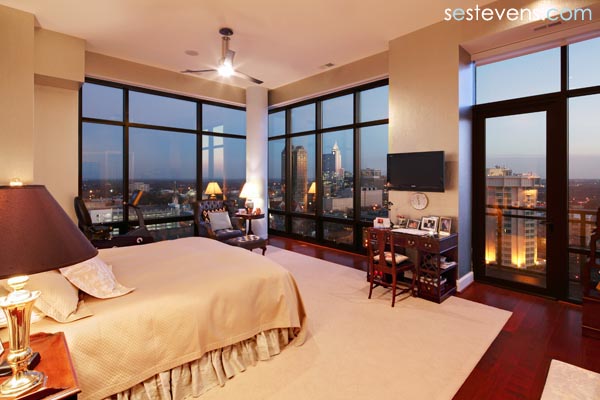 A few years ago I would've been very nervous accepting this assignment but today, feel confident in performing and executing the work. That's the difference between then and now – thinking versus knowing. I'm a beginning professional learning the ropes and in the short term, am still unsure how this will play out. However, I feel confident in the long-term prognosis of my career. Make that careers. I'm resuming my professional boards this summer and plan to have my architectural license by early 2012. If I'm honest with myself, though…I've become better at photography in only a few years than I have in 18 years of architectural education and practice. The latter had a lot to do with the former, and I don't think I'd have it any other way.