During the past three years I've traveled a bunch for work and pleasure, so I'll share some phone and tablet apps I've used on the road to aid me in photography and/or travel. I'll update this blog post as I discover more and better applications.
iPhone, iPad = FREE!
Most photographers prefer to scope out their sites in advance of a shoot. This application has a built-in directional compass, and depicts not only the angle but height of the sun at any time of day, any date, and any location. As anyone who's used a phone compass, they're not perfect especially with magnetic interference; don't be afraid to keep a cheap compass for $10 or less at Walmart or Target on hand. However, I find this app a great way to figure out the best lighting situations on location, no matter when I visit or how far in advance I'm preparing.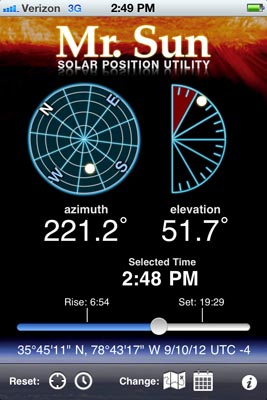 Sunrise Sunset! Free
iPhone, iPad, Droid = FREE!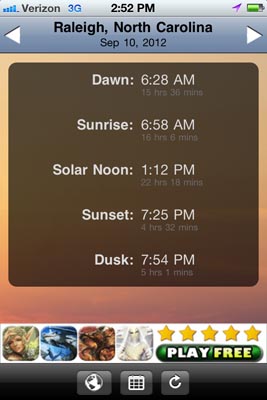 This is a simple app that displays the time of dawn, sunrise, solar noon, sunset, and dusk on-location. This app seems to be inaccurate by 4-5 minutes, but you get a general sense of when things are happening. For the most accurate predictor, visit the NOAA Earth System Research Laboratory.
Desktop = FREE! iPad, iPhone, Android = pay to play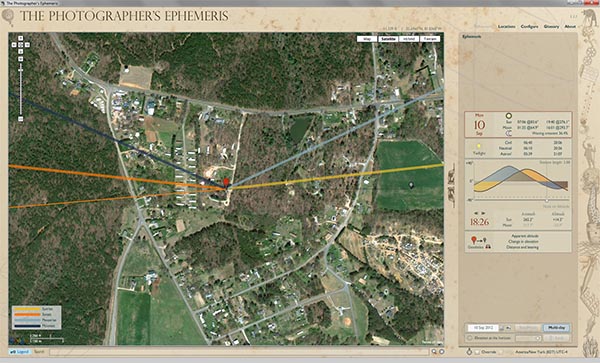 I've never used the phone or tablet app, but have used the desktop version. The Photographer's Ephemeris can visually display any light circumstance which will help with outdoor photography. There's a bit of a learning curve to use this one but remains useful.
iPad = FREE!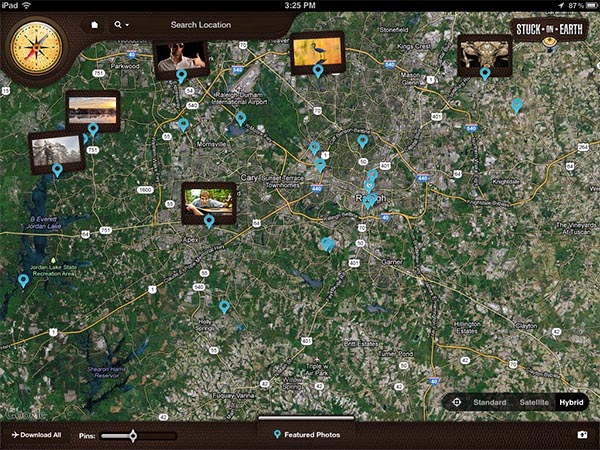 Fun travel and photography application – are you unfamiliar with an area, searching for photography ideas or simply love looking at inspiring images? Use the map to zero in on geo-tagged images uploaded by fellow users and check the location out for yourself!
iPhone, iPad = FREE!
This is my favorite live weather application whether I'm in town or on the road, particularly if I'm forced to deal with variable weather and precipitation. It's sleek, fast, and easy to use. The Weather Channel mobile app is my second choice.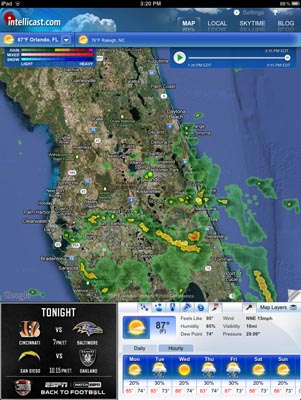 iPhone, iPad, Android, Nokia, Windows Phone = FREE!
I've been using the TripAdvisor.com website for years – it's saved me much headache and even more dollars while traveling. Search for the best hotel and flight buys, avoid the worst stays, and get the best price according to a range of many sites including Priceline, Expedia, and Orbitz. TripAdvsior can also help you find the best places to eat, things to do, and best flights.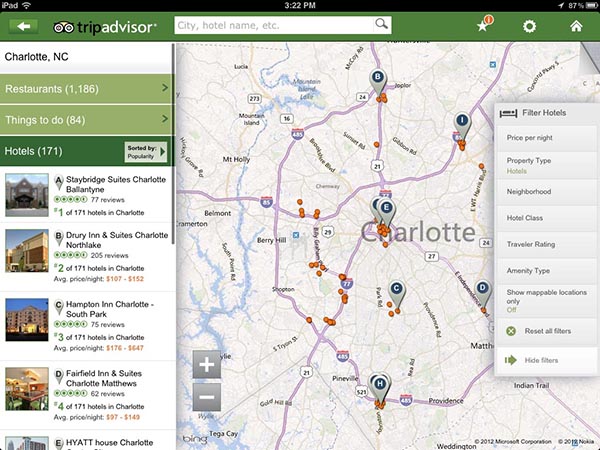 iPhone, iPad, Android, Blackberry = FREE!
I recently downloaded this application on a recent road Labor Day trip through heavily-trafficked areas I was not familiar with. It shows construction, traffic accidents, where traffic is stopped or sluggish, and even grants access to traffic video cameras. I often refer to this application to find out how bad traffic is and how far, then use my GPS to navigate completely around it. It's already saved me hours of travel time.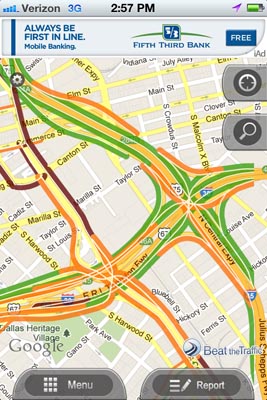 iPhone, Android, Blackberry = FREE!
Attempting to find a reasonable parking spot in a large metro area? You can find the most inexpensive rates and lot locations through this savvy application.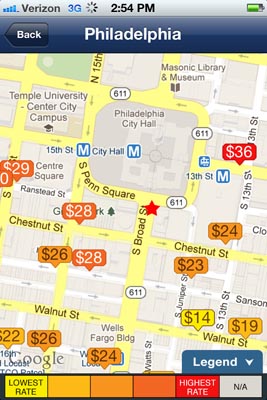 I'll eventually add the CouchSurfing.com app whenever it gets up to speed.
So what are your favorite apps that you find useful as a photographer and/or traveling? Post to this blog or e-mail me at info@sestevens.com.