One of my new clients is HH Architecture, who have been really cool to work with. Among their services is public architecture and they needed documentation of the Sanderford Road center. It's a well-designed and sited building. The clerestory windows in the roof allows maximum sunlight in the morning during cold winter months, but keeps direct sunlight out during the warm summers. Ironically, the Sanderford Road center is only open in the afternoons past 2 pm!
A previous photographer had attempted to shoot the building in the morning, stepped back from it to highlight the clerestory windows as the main design feature. During the morning, the entire east face of the building is covered in shadows from the surrounding woods and the front entry is completely in shade, so the previous photog was heavily reliant on HDR processing to brighten shadows.
I've made a decision not to use HDR on exterior photos. Not now, not ever. I will lightly use exposure fusion on interior shots depending on how much time I have dedicated for shooting. The nice thing about working with design practices, is if the architect did it right and it was constructed properly, it should be well-lit in the first place! As a newcomer to the professional world of architectural photography, I'm not a huge fan of making the building as bright as possible throughout in order to lighten or even eliminate the shadows. As someone who practiced architecture for ten years only to pick up a camera, I'm familiar with practitioners manipulate form, light, and space in conjunction with each other. If I completely obliterate the shadow or anything in the shade, I'm removing a key element from the designer intent. Sunlight doesn't hit any structure from all sides – it just doesn't; I'm beginning to think that's a key reason why so much HDR looks unnatural (besides user abuse). Therefore if the building is properly designed and sited, as a photographer, I'd rather work with the structure than against it, photographing with the elements than heavily rely on Photoshop to reduce them later. That's what the architect has to do in their design process, so I think the photographer should follow suit. Besides, that would make me more of an "imager" than "photographer" wouldn't it?
Anyway, that's how I feel today. I may get browbeat and change my mind tomorrow.
So with for the Sanderford center, instead of highlighting the (shaded) clerestory windows as the chief design element, I waited to shoot until the early evening to step toward the building, and focus on the roof shape and overhang that formed the clerestory in the first place.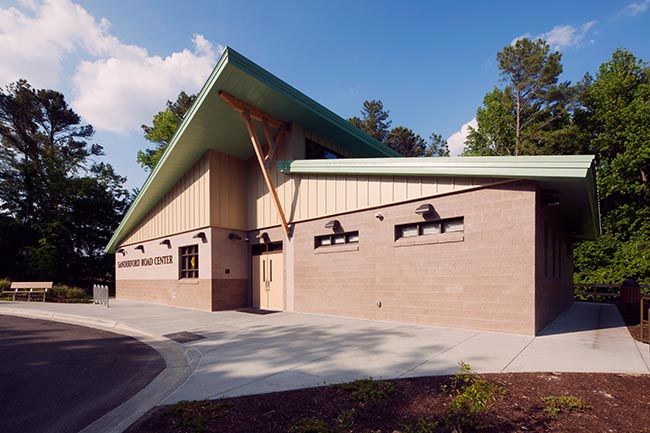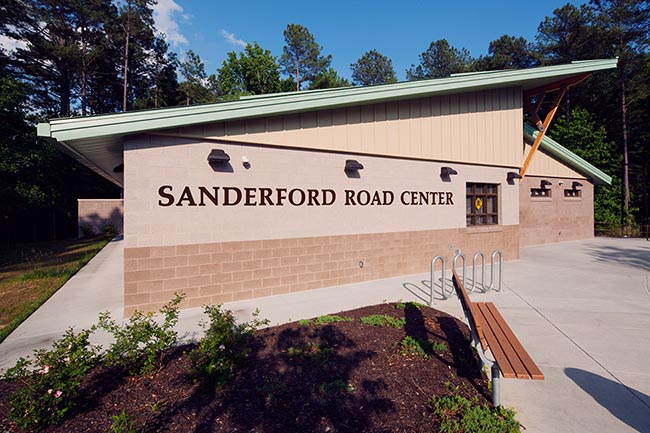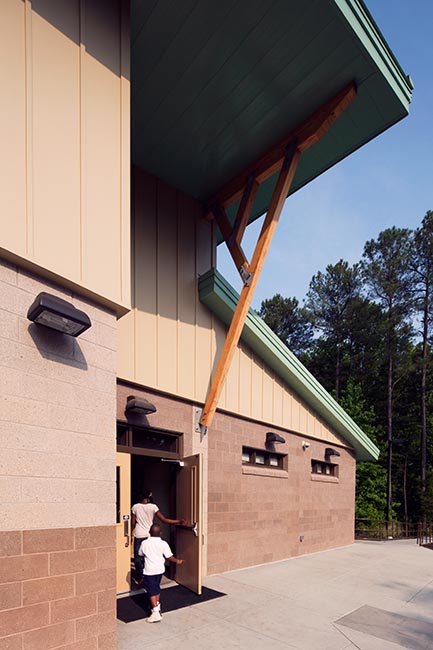 Architectural photographers tend to fall into one of three camps, when it comes to interiors – a) strobing b) hot lights and c) HDR. I've tossed HDR right out the window. Now I admit, I was enamored with trying HDR for about a week. I will do "exposure fusion", which basically merging two exposures rather than full-scale HDR. For Sanderford, I used four tungsten lights to help even out the ground level lighting with the clerestory up above. Everything posted to this blog was taken in one exposure.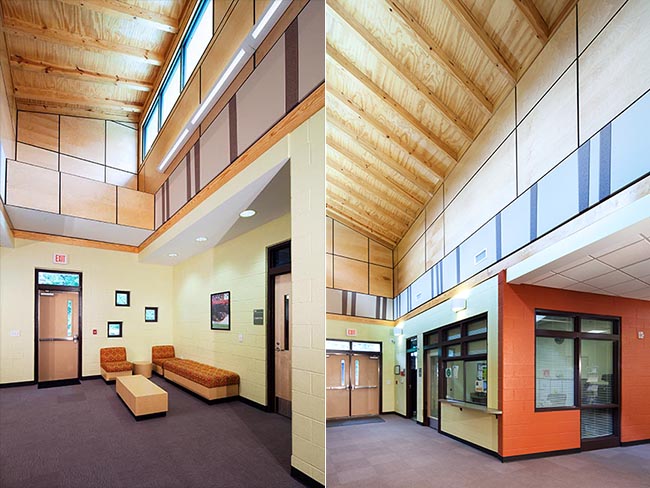 HH also wanted people in some of the photographs; doing public architecture, it makes sense. However, you can't do anything these days without a model release, and most using the facility were under 18. I thought the simplest way to pull things off were to capture children naturally using the facility, either in motion blur or without showing their faces. Easier said than done. I did capture a good amount of images with people in it, exterior and interior, but photographed the main corridor with the building empty. I felt kids and high-wattage lamps probably weren't a good mix.
Below are a bunch of kids who are about 4 or 5 and boy, they are NOT shy. I got them to help me out and it took about ten minutes to pull this shot off. When I eventually explained that I was trying to get them without their faces, one girl gasped and yelled, "I'll call my momma right now and she'll give you permission to use my face!" Just work with me kid! They were cute and gave me some good laughs.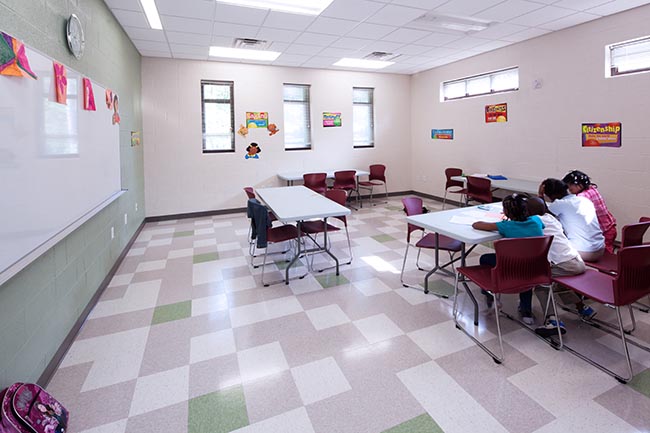 HH is moving to downtown Raleigh and I'll be shooting their new office when they're all moved in. In the meantime, I took a couple of very unofficial quick shots that they can temporarily use for the next month or so. Pretty neat space.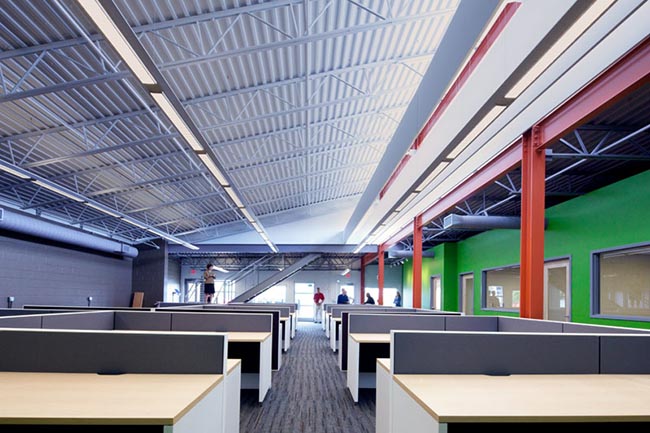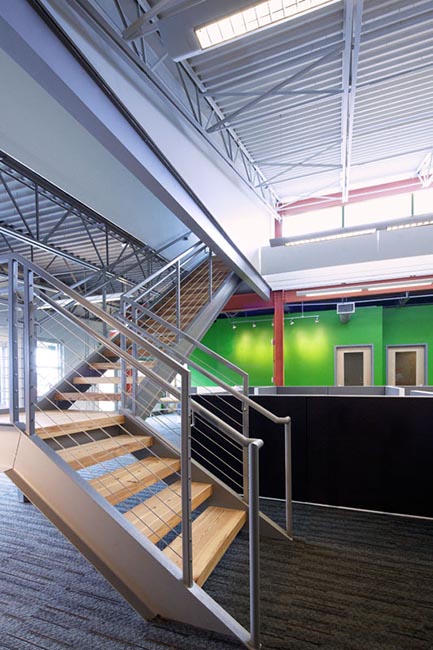 Until next time!
Comments
comments